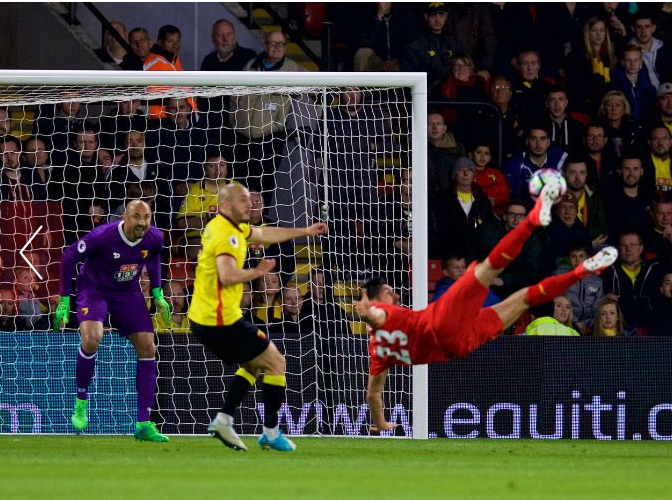 By Daniel Rhodes.
Manchester United drop points. Manchester City drop points. Arsenal drop their dignity. Liverpool travel to their kryptonite. The Land of Watford's Giants (biggest and tallest team in the league, and possibly ever).
Pressure is on. Monday Night Football. Coutinho is injured by the giants. Others are lucky to still have their limbs as a first half passes with virtually nothing happening. Apart from Lallana cracking the Giants' bar with a left foot volley. It keeps on passing. Nothing happening. I look at the clock; I need the loo; I gamble on nothing else happening. Never gamble, ladies and gentlemen, just ask Joey Barton. I missed what follows…
Lallana does a little flick on the near side; the ball makes it way back to Lucas who curls a floating ball aiming for a Liverpool player making his way into space… A Liverpool giant rises: will he head it? What's he doing? Has he been tripped? What's he doing? He's not, is he? He's flying. This is the Land of a Liverpool's Flying Giant. He's twisting in mid-air, he's shaping his body and foot for the overhead kick, his foot looks about 20 feet in the air: he's absolutely flushed it. It's a Giant Overhead Thunderbastard from near the edge of the box. The goalkeeper has no idea what's happened. You could have lined up the whole Watford Giants on the goalline and that was still going in the top corner. Emre Can, Emre FUCKING Can.
Then the second half happened, and not much else happened. A couple of half chances and decent saves from Gomes. A chance for Sturridge. But no bombardment. Liverpool deal with everything, and it wasn't much, thrown at them… until the last minute. When Watford created about 85% of their whole expected goal total. And we were saved by the same crossbar that prevented Lallana's earlier volley. My favourite crossbar of the season. Best crossbar ever. Sign that crossbar!
The rest is for subscribers only.
[ttt-subscribe-article]