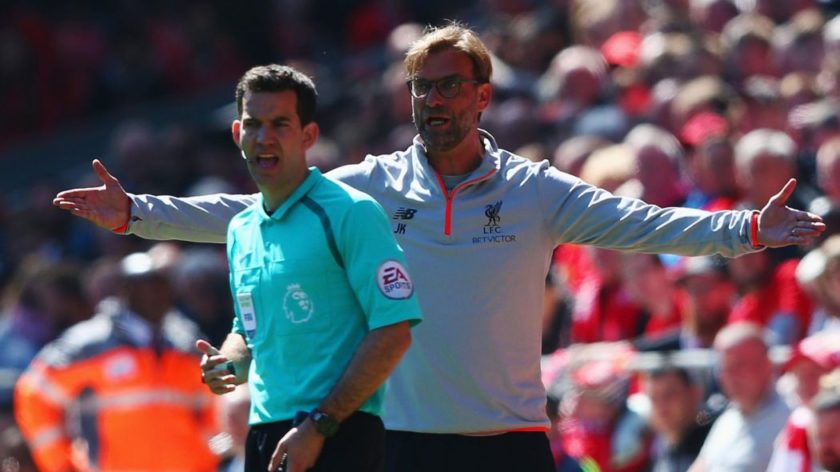 by Chris Rowland.
As ever, transport problems dominate ahead of the game itself. It seems not one but two trains are not running this Sunday, or on Sundays throughout May.
I usually take the train from my local station to Manchester Victoria, cross the platform and take the Lime Street train from there. This weekend I can do neither.
Due to works on the line, part of the Northern Poorhouse sorry Powerhouse initiative, there are no trains at weekends during May from my local station, and those dreaded words 'replacement bus service' appear.
Todmorden is only one stop and about five miles from my home town, and normal service is operating from there, so if I can get to Tod and back I'm in business. However, once I get to Victoria there are no trains to Liverpool on Sunday due to more engineering works. So I check all the other Manchester stations with Liverpool connections – Piccadilly, Deansgate, Oxford Road, Salford Crescent.
I opt for a return from Deansgate to Liverpool. I have 50 minutes to get from Victoria to Deansgate, which I assume allows plenty of time to walk it. Provided the train's on time, of course. I'm not quite sure how you walk from Victoria to Deansgate, but a glance at the map confirms it's easy enough. I'll have only 35 minutes on the return though. The perils of needing to catch connecting trains…
I order my train tickets online and with a heavy heart that something might not work out, hit 'pay'.
I'm sure I remember a time when going to the match used to be fun!
Finally I can start looking ahead to the match itself, almost becoming a secondary consideration to the travel arrangements these days. The win at Watford and the goal that won it, preceded by dropped points by City, Utd, Arsenal and Everton at the weekend, serve to liven up the prospects. A home win here and we're nearly home and dry for top 4. Will I be seeing Coutinho though, after he limped off early at Watford with a dead leg?
And so to match day. I leave home about 08.15 on a beautiful crisp sunny morning. First problem – it seems my replacement bus has broken down and they're waiting for a replacement bus for the replacement bus! You can deal with it if you don't have connections, pre-booked travel tickets and a ticket for a match which will begin at the allotted time whether your seat is occupied or not. I don't rate my prospects of getting a refund from either a train company or Liverpool FC if I miss my connection. The early 13.30 kick off leaves little margin for error.
As it happens it's only a short hold-up and I get to Todmorden in time for the 08.52 to Victoria. The train's on time, I manage the walk to Deansgate in 25 minutes and sit on the platform in the sunshine waiting for the Liverpool train. A series of station announcements strikes me as funny – 'the train shortly arriving at Platform 1 is not stopping here, please stand well back from the platform edge". This happens six times in a row. Ever thought of a station that trains stop at, now that could catch on!
A train bound for Southport does stop, and the noise of chanting, shouting football fans emerges. I check the destination board to see where else it's going, but before I get my answer, I get my answer from inside: 'Marching on together, we're here to see you win …" It's Leeds, on their way to Wigan for a 12.00 kick off. I notice all the non-Leeds fans are huddled together in other carriages, and am glad I'm not on that one. Mine duly arrives, on time, though the toilets are out of order.
It stops ten times on the way to Liverpool. It passes right alongside Old Trafford, which looks colossal, and later past Warrington's rugby league ground, which doesn't. Later, Widnes' rugby leage ground looks even smaller. And I'm surprised by how cutesy Irlam station looks.It does not square with the Irlam that was in my head.
I'm into Lime Street bang on time at 11.48 and head straight to Dr Duncan's, today's designated meeting place, five minutes walk from the station. Eight of us meet up there, including two of the Liverpool contingent, a bit reduced in numbers today because Bob's daughter is having some pre-nuptials (she's marrying a Utd supporter – any ideas how the wedding do will end up? 😉 ) and Bob's on duty.
The rest of this article is for Subscribers only. To become one, click on the tab at the top of the page.
[ttt-subscribe-article]