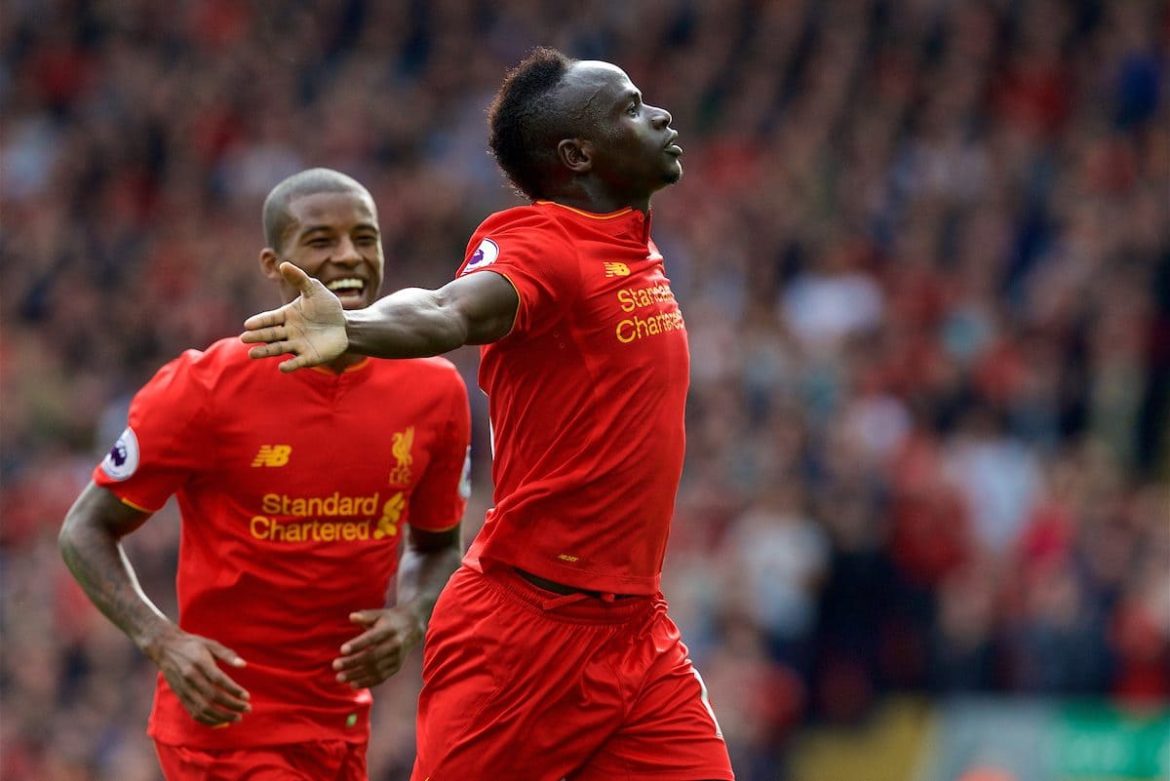 Before the season started I said that 70-points and a 3rd-5th place finish would be my idea of significant (if not mind-blowing) progress. That looks like being one of my rare good predictions. It may not be a magic mark in comparison with the halcyon days, but it's been almost a decade since the Reds fell within that range, with only two forays into the 80s in that time; otherwise it's been 50s and 60s.
It doesn't help perceptions that the great stuff – and the majority of those points and goals – came in the first half of the season, but as with a goalscorer getting 25 a season, as long as they're not mostly notched in a handful of games, you will often get them in streaks. Two seasons ago Chelsea had an unusually exciting start under Jose Mourinho, but then crept over the line in the second half of the season with dull, dogged football. Last season, Leicester tightened up in the second half of the season and dug out results, often with narrow, low-scoring wins. Chelsea have not been as unbeatable of late as they were from early-season onwards. And even Newcastle this season, in the Championship, had an amazing run of wins from the autumn through the winter (after losing their opening two fixtures to the tune of a "crisis"), but grew edgy by the spring. (I saw some Newcastle fans going mad a few weeks ago about how their side had collapsed in 2017.)
And okay, Liverpool now officially have a mental block against Southampton, given the lack of a goal against them in four games, when almost no other team can stop the Reds scoring. But it's not like there haven't been good chances. Andrew Beasley tweeted that "Liverpool have now missed a penalty and four other clear-cut chances against Southampton this season. 2.8% chance they score zero from those." So there's some randomness at work, too. Perhaps on another week Liverpool would have drawn 0-0 at Watford and beaten Southampton at home due to a James Milner penalty, to get the same number of points, but with no outrageous Emre Can goal to show for it.
I thought that the way Southampton had been a bogey team might have actually helped to motivate Liverpool that bit more – as an easy home victory was slightly less expected; this was not a formality like people saw the Bournemouth or Palace games, for example, and as such, some slack might be cut. And obviously buying their best players riles their fans, and perhaps motivates their players to say "Why didn't you buy me instead?" or "Buy me this summer!" They must feel like they all have a point to prove, whatever that is.
Liverpool seem mentally fazed by playing Claude Puel's team, but perhaps it's his type of "dull organisational football" (according to the Southampton fans unhappy at the lack of excitement) is Kryptonite to Klopp's Reds – who have created those aforementioned chances, but never looked totally convincing against the south coast side. Liverpool have lost league games to "deep banks of nine" sides, who have out-powered Klopp's team at set-pieces, whereas Southampton take a similar defensive approach but with pace on the break, rather than a set-piece fetish. To me, Southampton are clearly a really good side, whose Europa and League Cup forays have taken points away from their league tally, but today they seemed freed up to just enjoy a game.
And any game at home is just too edgy for Liverpool right now, with the wins of late coming on the road. That can happen – those strange switches. Anfield just transmits nervousness now, much as Old Trafford has since United fell off their perch almost four years ago now. The Kop tried to get behind the team today with a good, rousing start but within five minutes there was near silence. That feeds into the players, which feeds back to the fans, and you have a negative feedback loop.
As someone who got to know him, I've obviously been following Rafa Benítez's fortunes at Newcastle and the same thing happened to them a couple of months ago: they couldn't win at home, where expectations were huge, but with the flowing football of the first half of the season totally dried up, grinding out wins on the road kept them in contention. Of course, in their situation it needed Brighton to be hailed as Champions upon promotion – all the plans to celebrate it were in place – to remove the pressure from Newcastle, and instead, as soon as it was 99.9% Brighton's to lose, they lost it. (I always say this – as soon as the underdog has it in their hands, and has time time to think, they almost always struggle, Leicester last season being a rare exception. Perhaps they were helped by being chased by favourites who themselves hadn't won anything.) Promotion was the aim for Brighton, of course, but they were already celebrating the title; it just shows how mental – in all senses – the pressure can be, and how it affects performance. Likewise, had Newcastle been ahead going into the last few games their performances might have been affected, when instead they racked up a couple of big home wins. So I wouldn't read too much into Liverpool's edginess, particularly without their player of the season and key cutting-edge forward.
That said, for probably the first time since he arrived, I was disappointed with Jürgen Klopp today, in that he didn't change things early enough. This is probably the only consistent criticism of the manager that I see from fans, but he may still have got a win – with no changes – had James Milner not 'chosen' today to miss his first Liverpool penalty, and his first miss in years, and Fraser Forster's first-ever Premier League penalty save; but again, that's pressure. (It wasn't a bad penalty, but the pressure made it a bit more of a 'safe' penalty: low, hard but not hard enough, and not right in the corner.) This very weekend Sunderland showed the difference in pressure being on or off. One goal in nine games, get relegated – then two goals in the next game, when it really doesn't matter. That's football.
Before Milner's penalty, the game was crying out for Adam Lallana and Daniel Sturridge. I'm not usually too fussed about managers and the judgement calls they have to make, and Klopp certainly knows that Lallana and Sturridge have only been back in training for just over a week. So it's not like they were 100% fit, but it felt like it needed them, even if they were in wheelchairs.
I don't see how Klopp can plan anything around Sturridge, such is his awful fitness record (which is not his fault), but when you see him play as well as this it's hard not to feel sad at what's happened to the player. He was rightly kept out of the side when the front six was fluid and scoring freely in the first half of the season, but when Sadio Mané has been away or injured, Sturridge has rarely been fit.
Today also reiterated that Liverpool clearly need more quality on the ball in both full-back positions if they are going to be the outlet players in this system. Both James Milner and Nathaniel Clyne are good defenders, with Milner the only current Liverpool full-back who is decent in the air (Clyne and Alberto Moreno are hopeless on aerial duels). Both are worth keeping, but both should be squad players / specialist choices next season.
Milner, who can go outside, chooses too frequently to come inside on his favoured foot, and drift soft or mid-pace crosses into the danger area, with no clear target to hit. And like Milner, Clyne had a good first half of the season in terms of creating chances, but that quality from him looks a fluke now, as it's been three-quarters of his Liverpool career bombing forward (with good pace and energy, to burst into space) to only waste the opportunities with hit-and-hope crosses often lacking in technique.
Full-backs who can attack, defend and who are a minimum of 5'10", seem vital, as they have done for a while. Finding that kind of all-round full-back is not easy, though, especially as they also need great stamina, too, to essentially play as wingbacks within a full-back system. It's probably the most demanding position in this Liverpool team.
Klopp can't really do what Gérard Houllier did and play centre-backs out there, as he needs them to be quasi-wingers, and wants to be an attacking side and not to just look to grind out results or just play on the counter. But that will always put some pressure on your own defence, to have only the two centre-backs in the XI defending at times.
A more mobile holding midfielder would be nice, too, to do what Lucas Leiva does but with more pace and stamina (although Lucas should be kept as a reserve, if he's happy with that; if not, that's fair enough). Then again, I think Jordan Henderson was becoming that man, so we can only hope he's injury free by the summer.
The need for a new goalkeeper and a new centre-back seems less vital when Simon Mignolet is playing like he has this season, with particular improvements of late; and the mix of Dejan Lovren and Joel Matip providing aerial power and in Matip's case, class on the ball. Crystal Palace aside, these two have formed a fine partnership.
Lovren has been outstanding in the past two games, since his utter abomination against Palace (followed by the new contract), and both are only entering the imperial phase of a centre-back's career (25/26 through to 31-32). But do I fully trust Lovren? No. No chance. But maybe, like Mignolet, he'll become the player we hoped (and he's bounced back from a nightmare with great character, perhaps boosted by Klopp's faith), but with these players there's always the sense of going back to where they started. We don't know if they'll be the ones who turn out to be career recidivists, or those who go on to settle into the role and grow. We can only hope and pray that it's the latter.
A beast of a centre-back like Virgil van Dijk – to add real pace as well as aerial supremacy – would be lovely, but in the second half of the season the failures of the full-backs has seemed more pressing, especially with Joe Gomez likely to be fitter and competing centrally next season. And at least one more top-class attacking player, with pace, would add a new dimension.
Sadio Mané remains the big addition of the season, and the big miss when he's out – but it's a sign of where Klopp and co. are seeking to take this team. It will just have to done be in stages, rather than all at once. You can see from what was added last summer that Klopp, his assistants and Michael Edwards get it; but this is a building job, rather than a throw-everything-at-it-at-once job.
Obviously getting into the top four, even if it's scraping in, will affect the quality of player that can be attracted and the budget that can be applied to the task. But missing out wouldn't be a disaster, and with a young squad, there's the logical chance of natural improvement next season even without any changes (although that's not to say making no changes would be acceptable. You always have to freshen things up and look to add quality and depth. To not do so would be a dereliction of duty, unless big bids were turned down for all the players the club tried to sign; you can't kidnap players, after all).
Other clubs will strengthen, too. Man United will buy a load of expensive, established players, and Man City, you sense, could be unplayable if they make a few good signings. But United have lost Zlatan Ibrahimovic for £0, and others may lose their key men; but bar a crazy bid for Philippe Coutinho, Liverpool won't be losing any key players.
Arsenal and Spurs may be the ones it's easier to get above next season, with Arsenal's ongoing uncertainty surrounding their manager, and with Spurs playing their games at Wembley likely to destabilise them and inspire opponents. But there's no point thinking too far ahead, as we don't know what they'll all do.
You can always dream of all of Liverpool's weaknesses being solved in one window, with a mighty splurge, but adding four players who can make a difference – even if only two or three are starters – could be huge, especially if fewer key men are out injured next year.
With the season almost over we probably have as clear a picture as we're going to get, and that's one of an improving team, possibly going places, but a work in progress. It just seems that it'll be a case of fine margins as to whether it's a top-four finish or not.
(Of course, in re-reading this before publishing, Arsenal have just scored two goals, so it might prove to be a good point won today; it just didn't feel like it at the time.)