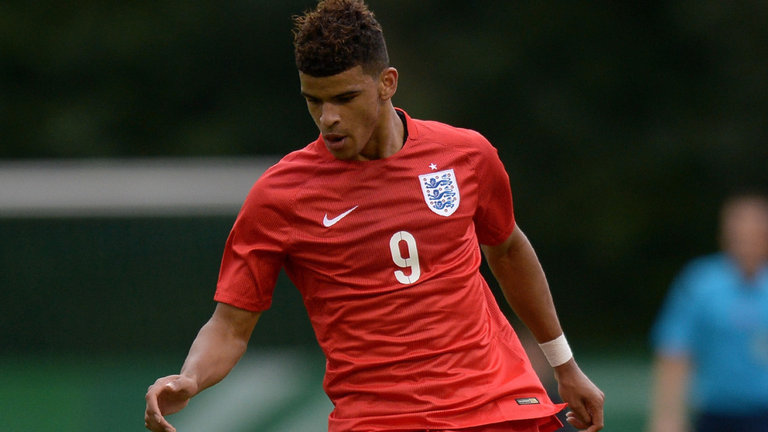 I don't know all the youth players in England, but one has stood out to me since banging in a hat-trick against the Reds' U21s two years ago, when aged just 17: Dominic Solanke. He got 41 goals that season.
A year earlier, Jose Mourinho had said: "My conscience tells me that if Baker, Brown and Solanke are not national team players in a few years, I should blame myself." Obviously Mourinho isn't noted for bringing through young players, particularly during his time at Chelsea.
Solanke is precisely the type of player I didn't see coming through in Liverpool's Academy at the time – a proper no.9 who could also work the channels. Wow, I thought. He's one to watch.
This is a special teenage talent that Liverpool are apparently signing for c.£3m, because he refused to agree to a new contract at Chelsea. At the age of just 17 he scored 7 goals in the Dutch top division, on loan, in 26 games.
While he didn't force his way into the Chelsea team under Antonio Conte after that year abroad, Conte pretty much only used Diego Costa. Even £33m new signing Michy Batshuayi only really got on the pitch at the end of the campaign, and for all his appearances, they totalled just 236 minutes of game-time. So you can't say Solanke stood much chance. Chelsea didn't need him then, but they may have in the future.
The Dutch league isn't the strongest, but these days it's so rare for teenagers to play even half a season in a big league. To do so at 17-18 is special. And yet I've seen Liverpool fans having their typical meltdown, as if this is going to be the only signing; just as they melted down over the waste of money that was Sadio Mané, and so on.
The uproar about signing unproven young talent is so tedious: while football has changed, the need to have an eye for untapped talent remains the same. When Bill Shankly brought in unknown Kevin Keegan, and when Bob Paisley brought in unknown Ian Rush, it was based on talent spotting, and developing that talent. And although they weren't strikers, the same was true with Ronnie Whelan, Steve Nicol and Alan Hansen. Liverpool were the best team in Europe between 1977 and 1984 and Paisley signed mostly unknowns. There are many different ways to achieve things in football, but finding unpolished gems is never a bad idea.
When Robert Lewandowski signed for Jürgen Klopp in 2010 he was 22 and had only scored goals in the Polish league, where he only played in the top division once aged 20. He didn't break into double figures in his first season in Germany. Nothing special, you might conclude.
Pierre-Emerick Aubameyang joined AC Milan as a kid, but didn't establish himself as a good player until the age of 22 after various loans, and an elite player by the age of 24-25. Solanke is arguably ahead of both of these players at the same age; and certainly not behind them.
Harry Kane only kicked into gear aged 20-21. Spurs were reportedly close to releasing the youngster, who had failed to impress on various loans to lower division sides.
Both Kane and Solanke played a lot of age-group games for England, and Solanke was far more prolific at U17 and U20 levels; Kane having a better season at U18 level. Both are a similar size: fairly big but mobile strikers. Aged 18-19, Kane got seven goals in a season with Millwall; aged 17-18, Solanke got seven in the Dutch top division.
At 19, Luis Suarez bagged a respectable ten goals in the Eredivisie with Groningen; three more than Solanke, but when a 1-2 years older. Ajax liked what they saw, and at 20 he got 17 goals for them. But only at 21 did he go stellar.
At 17-18, Fernando Torres got six goals in 36 games for Atletico, in the Spanish second division. His youth record for Spain is much like Solanke's with England. He improved a fair amount the next season, in the top flight, but was 20 when he clicked into gear; and aged 23 when he went to a whole new level with Liverpool.
Thierry Henry only became prolific at 22, as did Alan Shearer. Didier Drogba was nearer his mid-20s. And of course, Jamie Vardy was nearer his late 20s. Diego Costa had only one double-figure season before the age of 24 and that was in the Spanish second tier. Daniel Sturridge didn't break into double figures until he was 22, but his England youth record was always good (similar to Solanke's. And Sturridge was someone who impressed me against Liverpool's youth team a decade ago.)
These are all 20-goal (or more) strikers in the Premier League, even if they're very different types of players.
None of this is to say that Solanke will go on to be as good or better than any of these players. You don't know anything for sure. But if you're as good, and in some cases better, than almost all of them at the same age, then you have the talent. You have the raw ingredients. Next, you need a manager who has faith in you and a team that suits your style of play; and you need to continue to apply yourself. You need to avoid injuries and have a bit of luck, too.
Liverpool presumably have doubts about the fitness of 4th-choice striker Danny Ings, and if he's loaned or sold after two seasons out injured then it would be sad, but understandable.
The next in line is Rhian Brewster, who has only just turned 17. He has a youth record like Solanke, and indeed, joined Liverpool from Chelsea for the same reason: no path to the first team. But Solanke is almost three years further down the line. Brewster is nowhere near as physically developed as Solanke, and needs a season in the U23s.
Anthony Martial didn't break double figures until he was 20, and he cost almost £60m. He got nine goals in 35 Ligue Une games at a year older than Solanke was when he was in Holland, for a similar one-in-four goal rate.
Marcus Rashford, for all the clear talent and the hype, still hasn't scored more than five Premier League goals in two seasons in the Man United first team (for various reasons, including the first season being only a partial season), and had a totally unremarkable youth record with England until his one U21 game, where he bagged a hat-trick. The same age as Solanke, his lack of youth caps is probably down to the proposed new Liverpool signing blocking his path. The difference is that Louis van Gaal has always been happy to throw kids in, whereas that's not been the way at Chelsea for donkey's years.
Divock Origi is another ex-teenage prodigy, and although he has his critics, 10- and 11-goal seasons with Liverpool, as a back-up, isn't bad at all, given that he's only just turned 22.
Aged 18-19 he got five league goals in the French top division. Again, just to be in the team in a top division of a good European league at that age is good. Very few teenage strikers get past double figures these days – very few are even getting on benches – but if you've already had a season in one of the better (if not best) European leagues, you're doing something right.
Solanke strikes me as a bit more physical than Origi; a bit more aggressive, direct. Origi always struck me as a goalscorer in the Thierry Henry mould: good feet, drifting wide, but not very aggressive (although as Henry got older and stronger he became a beast). Origi likes to score long-range goals, curl shots in from out wide, whereas Solanke looks a bit more rounded; indeed, a  bit more in the Costa mould.
You can see in this video that he runs in behind defences, with pace and power; and at this point he's only 17. He shows great awareness, and looks a top-all round player for his age. So he's different to anything Liverpool currently have.
[not_mobile]
[/not_mobile]
And we have to accept that Klopp is a developer of talent, rather than a buyer of the finished article. (And as I always note, Chelsea had a nightmare with two finished articles in Fernando Torres and Andrei Shevchenko – they both just seemed finished.) Solanke may disappear like some other young players, but Liverpool have elite coaches who bring players on. It's about development – just listen to Klopp talk about the issue, for crying out loud.
Indeed, for all the stick John Achterberg has had, Simon Mignolet is the most improved goalkeeper in the league, with his poor aerial statistics improved to the point where he just posted stats that put him up with the best seasons of any goalkeeper since 2011 in terms of catches and punches under pressure. If they can turn Mignolet into a high-claiming beast, then anything is possible.
Liverpool will still sign established players (like they did with Sadio Mané and Gini Wijnaldum), but not megastars. Get over that idea now; this is not Real Madrid or Bayern Munich. The budget is completely different.
Spurs just got 86 points whilst playing in Europe and reaching the FA Cup semi-final by bringing through good young players and not buying big names. They did it with talent-spotting and coaching. You can say that this is Daniel Levy penny-pinching, but it's damned clever business. You can say that they won nothing, but if you get 86 points, top score and have the best defence, you're damned unlucky to not be champions.
As I said well over a year ago, Liverpool fans wanted Klopp's Dortmund when he arrived but not the process that made Klopp's Dortmund so special: the time it took (over two years), and the development of young players from unheard-ofs into world-class stars. Indeed, the most established player he signed was probably the Italian Ciro Immobile, aged 24, after 22 goals in Serie A. He then got just three in the Bundesliga for Dortmund. The most established player Spurs have signed is probably Moussa Sissoko, the one really dumb bit of business they have done lately.
Tore André Flo had nothing but good things to say about Solanke when the player was in Holland.
"He takes things the right way," Flo told Sky Sports in 2015. "He doesn't get big-headed, he keeps his feet on the ground and of course he's very good going forward.

"Dominic also works really hard and young players need to do that, especially if they want to get into Jose Mourinho's team.

"He's got a very good physique and I think he's got great touch on the ball. He's quick but often what impresses me the most is when he looks like he's lost the ball, he somehow manages to get out with the ball, no matter how tight the situation is or how difficult it looks."
For £3m, it could be one of the steals of the century.