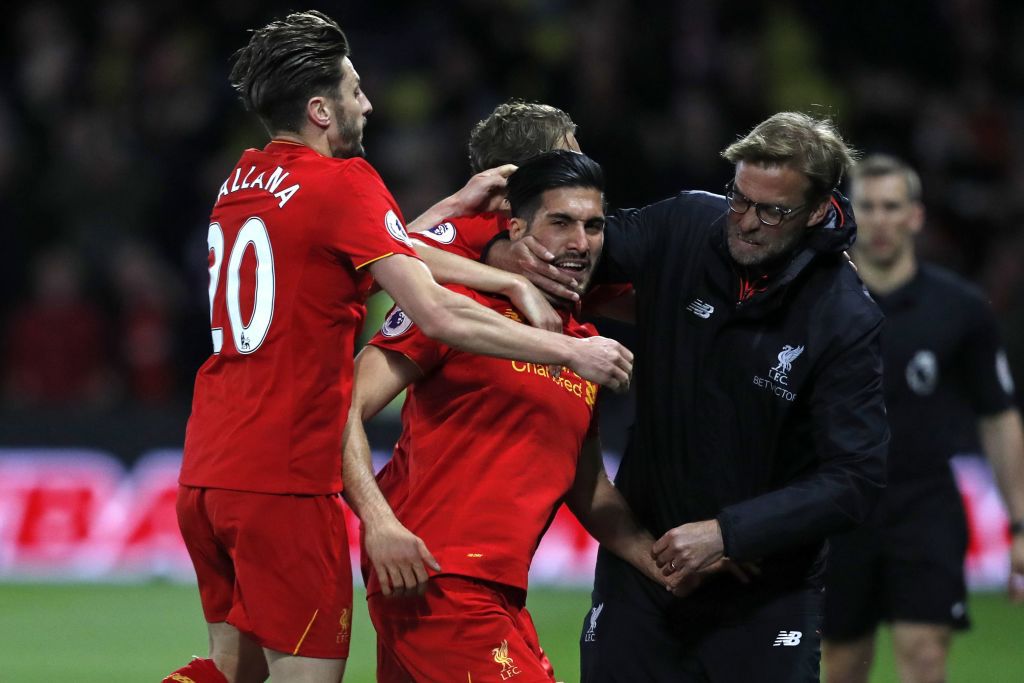 Aside from the home defeat to Crystal Palace – which was in part due to a nervy home crowd transmitting edginess rather than being the bastion of invincibility of yore – Liverpool have dealt with the Land of the BFGs (Big Fucking Giants) really well lately. Three wins on the road, at the three "biggest" teams in terms of sheer physical size.
And who knew that the key all along was the creativity of Lucas Leiva? Sadio Mané and Philippe Coutinho be damned; the message is clear: give Lucas a new contract and play him as a roving no.10, with Emre Can as the centre-forward.
Joking aside (and it's easy to joke after the relief of a head-worn victory), Watford were the latest to cause some panic with long-ball, long-throw tactics – from what are by far the biggest and heaviest side in the Premier League.
Ever since Leicester away, the long-throw has been added to every opponent's repertoire, leading to an injury-time glaring miss by Burnley; a late, late equaliser for Bournemouth; and an injury-time crossbar-rattle by Watford (although this time they took the throw short and launched it in by foot). This is pure chaos theory: in the mixer, see how it bounces. There was the crazy sight of 6'5" Joel Matip being levered off the ball by someone of similar height but five times his weight.
By the end it was like playing against a load of heavyweight boxers whose fathers were basket-ballers and whose mothers were rugby players. They almost grabbed an underserved point, but while both teams hit the bar, the game was deservedly won by the superior side with one of the best Liverpool goals I've ever seen. (And Adam Lallana's effort that hit the bar wouldn't have been too far behind.)
To scissor-kick a ball coming in whilst on the run is almost unheard of. You just don't see it; knees are dislocated even thinking about it. Every week lately I've spoken about how yet another "unmissable" chance pundits can't believe wasn't converted is from a ball coming in from wide, across the player (two more by Spurs at the weekend), and that the one-touch finish to a moving ball is many, many times more complicated than striking a ball sitting nicely on the immaculately manicured turf right in front of you. Yet Emre Can nailed it to within a millimetre of perfection; the only thing that could have improved the goal, aesthetically, would have been had it grazed the underside of the bar before thundering in. But even that would have not had the perfect up-and-down trajectory of Can's actual effort.
I'm always far more impressed by sumptuous team-move goals, and solo dribble goals, than a pile-driver. Anyone can whack the ball hard when it's nicely on the ground. But to scissor-kick a ball coming in high and at an angle? As soon as it left Can's boot I thought "that's in!", and then somehow there was time to tell myself to not be so fucking stupid – that kind of thing just doesn't happen.
But it did. Hell, it did.
Emre Can yet again proved that he's a go-to player; a young man who'll stand tall (in part because he is one of the only literally tall players), and hopefully his contract can be sorted soon – not least because he has that drive and aggression that's needed to bolster the small creative types (and he's still only 23). He's a warrior, but a fine footballer too. To have racked up five open-play goals from midfield, despite missing games and suffering from injuries, is the mark of a greatly-improving player. At times he takes too many touches, but he can also drive forward with the ball like no other Liverpool midfielder.
Can, like Jordan Henderson, has put in poor displays at times when carrying a bad injury, and as fans, if we want players to play through the pain we have to cut them slack when they do so. We're equally quick to moan at those who don't. Ditto Coutinho coming back too soon from his injury lay-off due to injuries (and Mané's absence) and being well off the pace (and then losing his confidence as a result), and even Lallana coming on minutes into a game after two training sessions since March.
Lucas Leiva's three assists in the last five games are less easily explained, although Lucas was a previous boo-boy; something I just don't get when it comes to fans giving Can stick (and didn't get with Lucas). There are always far worse players – these types seem to get grief for not being as good as the elite players.
The second half of this article is for subscribers only.
[ttt-subscribe-article]