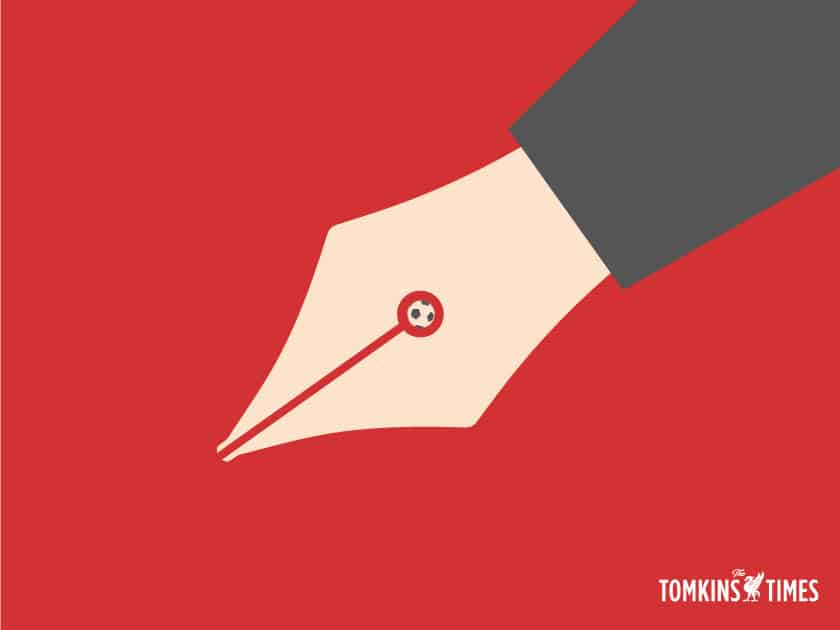 We asked our Old Boys' Pen panel to share their thoughts on the most memorable European match they'd been to. Here is what came back:
Mike Hajialexandrou (MikeH):
A close call between the Chelsea semi at Anfield and the final in Istanbul.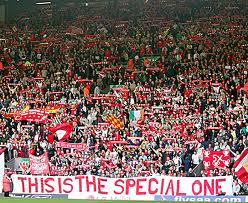 The sheer immensity of the crowd at Anfield for the Chelsea semi-final. Raw, naked desire to sing the boys home. A sense of emerging from the wilderness after 20 years. We just wanted it so badly. If Anfield was like that every week, we'd crush every team. The mythical 12th man was a reality that night. We needed to remind the world what the Red army looked like and why we're the greatest fans in the world:)
Istanbul was just crazy! I'd had tickets for Heysel 20 years before which had clashed with law exams. I wasn't going to miss out again. The trip to the ground in the middle of nowhere, snipers in the hills as we got out of the taxi and traffic jam. Carrying a crate of beer to the ground, sharing it with fans on the way.
We were still in a daze when they scored so quickly. They gave us a football lesson for 45 minutes. A family next to me left at half time – insane … what were they thinking? We wanted our respect back at least. I spoke to my eldest daughter on the phone at half time. My beautiful 12 year old told me "don't worry daddy, it only takes a second to score a goal,we can still do it". Went back to my seat and YNWA started up, a song of defiance and support and solidarity. We then started singing we're going to win 4-3, the Turkish fans who'd replaced scousers at half time looked at us with incredulity. Do these crazy Redmen mean this shit??!! The Turks around me were as fanatical as us in the 2nd half, we were insane. Stevie's first goal…respect in the scoreline. When Vlad scored it was all over…it was destiny if there is such a thing. We knew it, Milan knew it…God had changed sides at half time.
By the time penalties came it was a formality :). I knew we'd do it … the weirdest thing was the silence on the buses going back. There was nothing left – everything we had, we gave that night. We were drained on every level. That's what support is, unconditional love! Even now I can see that scoreboard 3-3 shining Red in the black night, nothing is ever done till it's done … miracles can happen.
The hairs are tingling just writing this. The collective desire to make a difference … make no mistake, fans can make a difference. We became complacent about success in the 80s. 2005 was about the reawakening of a giant. Now we need to complete what we started 12 years ago!
Graeme Riley:
It would be easy to pick St Etienne as the most memorable European game I've attended, but I'm sure someone else will go for that, so instead I'll go back a couple of seasons. I'd been to a couple of league and league cup matches when young, but evening games were more or less forbidden due to "school in the morning". When the Reds lost to Crvena Zvezda (Red Star Belgrade to you and me) I was so jealous of my Dad that even now I can still remember exactly what I did that night – listened to a Carpenters LP and wrote out the Liverpool FA Cup results from an old News of the World Album.
So when the chance came to go my first Anfield European night a year later, it didn't matter that it was against some strangely named Norwegian side, Stromsgodset. It was at the beginning of the school year and so still light until late into the evening and so hardly felt like a night game, but still the excitement lingers in the mind over 40 years later. No queues outside the Kop, the attendance was a paltry 24,743 (there must have been some away fans there as well, as Liverpool supporting Norwegian friends are to this day incredibly proud of their little team on account of the score).
The game opened in dramatic fashion, with the Reds winning a penalty at the Kop end in the third minute- Alec Lindsay lashed it past a stationary keeper to put the home team a goal to the good. I can't remember much about the other 87 minutes' action or any of the other ten goals except to say we had nine scorers and only Hall and Clemence failed to find the net – I am sure the latter would have been given the chance if we had got a late penalty. Although we lost in the next round to a strong Ferencvaros team after narrowly winning in the Norway return, even at his stage the core of the team which would do so well in Europe the following season had begun to gel as a team.
I was truly privileged that my first venture into Europe saw Liverpool's biggest ever win.
Jeff Reed (Jeff):
The world of a Liverpool supporter and Europe was very different in the 1966-67 season. European club matches were not televised and for the most part European Cup ties involving Liverpool were not televised. Therefore, if you were a Liverpool supporter, you knew about the players you had seen in the World Cup and you knew about some of the legendary clubs in Spain and Italy and elsewhere, and not much else.
Therefore, while you were aware that Liverpool would be playing Ajax of Amsterdam on the 7th December and you were aware that Ajax was generally considered the biggest and best Dutch club, Dutch football was not considered top tier and Ajax was not considered a top tier club.
I woke up on the 8th and went to my college's common room to look at the sports page of some paper and was shocked to see that the final result was Ajax 5 Liverpool 1. I simply could not believe the result. Furthermore, I had never heard of a young Dutch player named Johann Cruyff who reportedly was the man of the match.
The father of my best friend in Cambridge, and someone from whom I received a letter last week – yes, there are some of us who still write letters – was a professor at the university, and the term was over and the cost of getting from Cambridge to Liverpool minimal which meant we had to go to the 2nd leg at Anfield on the 14th.
The match was a 2-2 draw and you could see that in fact Johann Cruyff was an unbelievable talent. At his best he is the best footballer I have ever seen. In addition, you could also have seen Piet Kiezer play on the left wing for Ajax and he is the best left winger I have ever seen and on this point Cruyff would have agreed with me (Keizer was an amazing player and he sadly passed away earlier this year which means that in the recent past we have lost both Cruyff and Keizer.)
To me I have talked about the two most important European matches Liverpool ever played. Why? They convinced Shankly that Liverpool needed to become the most European club in England and it laid the foundation for roughly 30 years of Liverpool not only being a power in English football but a power in European football.
Simply put, these two matches changed Liverpool and these changes led Liverpool to become the Liverpool that most younger people relate to.
David Perkins (Stevenson1988):
I was very lucky with my experiences during the 70s and 80s, so many great memories of an all conquering Reds dynasty. I've been to 2 European Cup Finals, 2 home legs of UEFA finals and countless matches in between. Choosing the best from the list is an almost impossible task, but I can definitely narrow it down to 2, both of which stick in the memory for different and also similar reasons.
In 1977 I was lucky enough to stand on the Kop when we beat St Etienne with that late Fairclough winner. They were arguably the best team in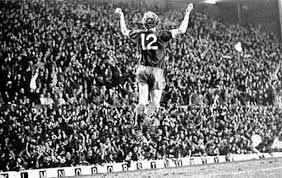 Europe at the time so it was tough to be drawn against them in the quarter finals, although a typically gritty 1-0 defeat in the away leg had put us in a decent position, and the Keegan goal soon levelled things up at Anfield. The script went somewhat awry when they deservedly equalised on the night and the tension really ramped up from there. We got one back but it just didn't look as though it was going to happen for us until the super sub himself delivered the goods. I think we probably covered every square inch of the Kop that night as we sang, jumped and celebrated non stop. For those supporters raised only in all seater stadia, it is almost impossible to describe the sensation of being hemmed in with 25,000 or so other nutters all screaming your heads off and dancing your way through a game of football – not for the fainthearted quite frankly! This was going to be our first European Cup, so it just felt a very special night, almost as though it was somehow meant to be.
Fast forward nearly 30 years and we have the Chelsea semi-final. In contrast to the St Etienne game I was seated (not!) in the very last row of the main stand. Not the ideal place you would think to be able to soak up the atmosphere, but bloody hell I have never experienced noise like it. The goal almost came too early as it left us in a bit of a quandary as to whether to continue attacking or try to hold on to what we had. By and large we got it right until that communal holding of breath as Gudjohnsen shot wide in the 20th minute of injury time – or so it seemed. The noise levels had been loud throughout the game, but really started to crank up with around 15/20 minutes to go and by the last few minutes it was truly astonishing. It was almost impossible to breath with the tension, the atmosphere, the sheer volume of the noise, and I have absolutely no idea how the players managed to keep going. The final whistle brought an even louder explosion of noise if that was possible and my ears were ringing for days afterwards. Like 1977, it seemed as though the script had already been written – as proved by the events in the final.
I know other clubs have great European pedigrees – including our friends at the other end of the East Lancs Road – but there is just something magical about European nights at Anfield. We never seem to do things the easy way which, of course, just serves to crank up the tension still further. Yet, somehow, more often than not we manage to win through, albeit maybe slightly less so in recent times. I'm not sure that I can split the two games – 1977 was going to be our first, yet 2005 was the first in so long and so unexpected and perhaps that just about gives it the edge.
Simon Keating (Simon Klopp AKA 1Hanmdd: 
I was wracking my brains about this one… I wasn't at the real classics… St Ettienne and Chelsea in 2005.
I did see lot of European Games but one I went to, which I think is a bit underrated in the 'famous nights' is Barcelona in 2001. A semi final no less, UEFA Cup, 2nd leg. A team that had Kluivert, Overmars, a goalkeeper called Pepe Reina and a decent lad called Rivaldo…
We won the game with Barca conceding a penalty right on half time. Handball bizarrely conceded by Kluivert. Gary Mac did the business. We went through 1-0 on aggregate.
PS – another was Benfica in 1984. Kenny broke his cheek bone v Man U… He was out for a couple of months. And came on at half time. The roar from the crowd was as loud as any goal!
Chris Rowland:
So many epic nights to recall… but I'm going to miss out most of the more obvious or more recent – Chelsea or Istanbul 2005, Dortmund last year, the insane Alaves UEFA Cup final in Dortmund in 2001, St Etienne 1977, Inter Milan in 1965.
Instead I'll mention Liverpool's first European trophy (though not the first final, having lost the European Cup Winners' Cup final in 1966 to Borussia Dortmund at Hampden Park), the UEFA Cup, in 1973.
The opponents: Borussia Moenchengladbach, who we would meet again four years later in Rome in our first European Cup win, and one of the best sides around at the time. In their side were Berti Vogts, Rainer Bonhof, Jupp Heynckes, Herbert Wimmer and the imperious Günter Netzer.
As was customary at the time, the two-legged final took place after the league season had ended, with Liverpool emerging as league champions, making it the club's first double trophy season. There would be many more.
The first game, at Anfield, was abandoned after torrential rain, but lasted long enough for Shankly to notice the Germans' vulnerability in the air at the back. Enough for him to make a team change when the game was replayed the following night, with the towering John Toshack replacing the diminutive Brian Hall. It paid off. Keegan scored twice in the first half (and also missed a penalty), one from a Toshack header, and Toshack caused chaos. Another goal by a towering player, this time central defender Larry Lloyd, gave Liverpool a 3-0 lead. Then, crucially, Clemence saved a penalty from Heynckes. Liverpool survived -just – a bombardment in the return in Germany. They trailed 2-0 at half-time to two Heynckes goals, but clung on for a 3-2 aggregate win to secure the club's first European trophy, the first of eight, so far, discounting European Super Cups and suchlike.
For this teenager on the Kop, and for the whole 41,000+ crowd, there was no trophy yet to be seen with the second leg in Germany still to come, but it was a first intoxicating taste of what was to come on European nights at Anfield. We started getting a real taste for it when trophies started appearing at the end of it all!
Allen Baynes:
The most memorable, enjoyable, thrilling European game? There are just so many.
The first highlight for me was being on the Kop in 64 to see us stuff Reykjavik 5-0 in our first ever European Cup game. I was 13 and thought it was great as the Kop started supporting the Icelanders after we got the 5th and booing every touch by the reds. I wasn't to know then that this was the first of so many memorable nights.
1965 and days after our first FA cup, we took apart Inter Milan, arguably the best club side in the world at that time. The injured Gerry Byrne and Gordon Milne did a lap of honour with the cup just as the teams came out. We were already 1-0 up and the Boys' Pen was rocking as was the rest of the ground. We won 3-1 in the very first of those really memorable European nights. Liverpool just seemed like the best place in the world to be growing up.
The home game against Celtic in '66 and a limping Geoff Strong leaping like a salmon in front of the Kop. We were in our first final. The jocks were nae happy at the end and bombarded the pitch with bottles, it seemed like there were two bottles for every Celt. Someone must have made a fortune on returning the empties!
The Cup Winners' cup final in 66 against Dortmund was marked by a mammoth trip by road to Glasgow in the time before motorways. We lost, it lashed down on a roofless Hampden Park, I got back on the coach soaked to the skin after the game, got back to Kirkby at 07.00 and was sent to school. No one believed that I had gone until I pulled out the programme.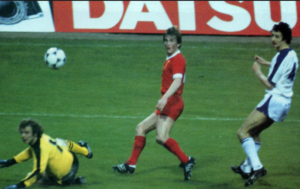 Wembley in '78 – another year, another European Final, I was not going to miss this one. I sorted cover for my afternoon teaching lessons and legged it out of the back gate where our kid was waiting with the getaway car. Not a great game but the King saw us lift the cup with the most delicious of dinks over the keeper.We were off to the West End to party, I arrived back in Smethwick at 05.00 and was teaching from cloud 9 all day. The Head was keen to know how I managed to get to the game after school, I was just lucky with the traffic was my smiling reply.
Then family life curbed my travels until 2001 when I went off to Dortmund. I was Head of Inclusion in a Local Authority by now and was met by the Lead Labour Member as I left the Council Offices in all my match gear to get into our kids highly decorated minibus for the journey to Europe and greatness!! Where are you going she enquired? I am off to Germany to see the mighty reds, I replied.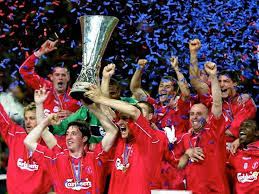 To Germany? To watch a football game? Are you mad? She said with a look of bafflement on her face that was a joy to behold. The look on my face after the match was also a joy to behold. What a game, the first of the trilogy of the world's best finals, Dortmund 2001, Istanbul 2005 and Wembley 2006, Mad? No, the happiest man in town. We bounced out of Dortmund and didn't stop bouncing until we got to Calais.
Then came Rafa, I was with him every home and most of the away steps of our journey through a European wonderland of unbelievable mid-week nights at La Coruna, Leverkusen, Turin, Chelsea. Magic followed euphoria followed ecstasy as we roared our way to the match of the century.
Istanbul in '05, the game that everyone remembers like you remember where you were when JFK got shot. An epic game. An epic day. I remember being in the park behind Taksim Square, the whole place was red and we spied an empty ice cream fridge outside a cafe, as I carefully placed a tray of lagers into it, the owner ran out shouting and gesticulating. Bugger I thought, but he ran up to the fridge and switched it on.Priceless, and an act of human kindness that makes you forever remember Turkey and its people with affection.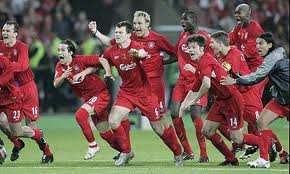 The journey to the Ataturk was the most amazing drive, the soundtrack was like being in a Johnny Cash tribute concert as 'Ring Of Fire' was belted out from every bus and taxi that formed the great yellow taxi  snake out of Istanbul centre. The route was lined by families, wearing red scarves, waving Liverpool flags donated by fans and, applauding the passing wave of belief that was later to win the game.
Rafa departed and now we have the wonderful, inspiring Herr Klopp. He had hardly been here two minutes and he's given us Dortmund home and away, Villareal and another wet night, this time in Basel – we never win when its wet – in my experience, oh and who can forget OT away?
The best thing and the moral of the tale is, how lucky was I to be born a red?