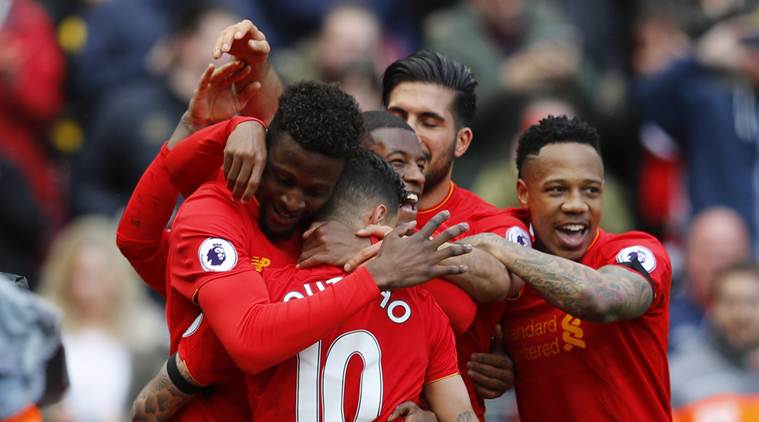 It's fair to say that Liverpool have had a few players off form early in 2017, including Philippe Coutinho, Emre Can and Divock Origi. (And of course, poor Sheyi Ojo, who missed the first half of the season, hasn't yet pushed on as expected, although he only gets a mention here for the rhyme. If he changes his name to Sheyi Mojo he may have more luck.)
Coutinho returned too early from injury in the winter (to help out in a crisis), but couldn't ghost past players without the extra fitness. (He, like Emre Can and Jordan Henderson, was struggling when not fully fit, and not getting cut any slack for it.) Then the little Brazilian's previously sky-high confidence plummeted, in part due to the team also being weakened in general by injuries and that crazy schedule. But a goal for Brazil in midweek was one of the rare good things to come from an international break.
A total of three players missed the derby due to midweek injuries for their countries, but weirdly, Everton paid tribute to Seamus Coleman's terrible double leg-break (in a horribly "British" international) by trying to end a few Liverpool players' careers in return. Then, Ronald Koeman, who'd been livid about the tackle that ended Coleman's season, said – with all the self-awareness of a punctured basketball – it was a "man's game" and that Liverpool should essentially stop whingeing. This from the man who was tweeting about Martin O'Neill, Coleman's international manager, the night before the derby.
This notion that late, lunging tackles is all part of a "man's" game is a wonderfully British thing – which imported managers can end up buying into – is what holds this country back (and I'm sure Koeman would have been spitting fire had it been the other way around).
It could also have held Steven Gerrard back – another derby-day red-mister – had Rafa Benítez (a Red Mister) not got him to stay on his feet more often, in a midfield where Xabi Alonso was baffled by England's obsession with the tackle. Of course, Javier Mascherano soon added a few late tackles of his own, but did not always get sent off in the way that some aggressive players do. Is one tackle ever worth a three-game ban?
While Jürgen Klopp is more visibly passionate than many previous Liverpool managers, he has assembled a team of flair players, and fair players. He was badly let down by the referee, Anthony Taylor, who seemed to think that terrible tackles are okay because it's the derby; too stupid to see that if they happen, they should still earn red cards, especially if only one team is trying to play football. (If both teams are kicking the shit out of each other, c'est la vie.)
But as bad as Everton were – and Liverpool made them look like part-timers – this was about the resurgent Reds; and in particular, those players finding form after difficult periods.
This article is for subscribers only.
[ttt-subscribe-article]