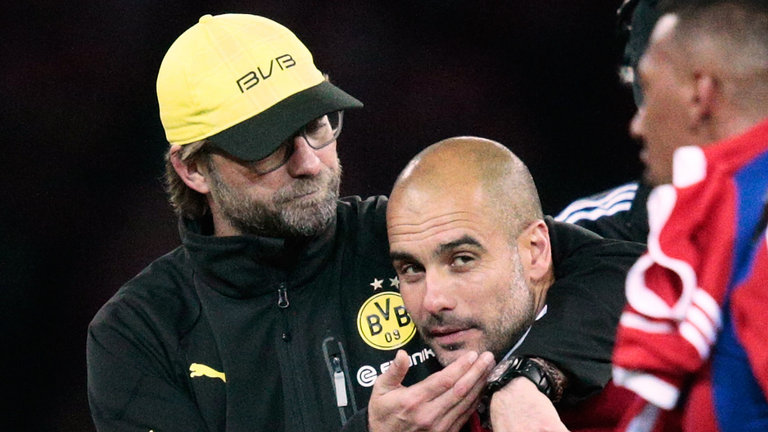 I thought that, for once, the glaring cliché was true: that game had everything (including a glaring Clichy). Played at breakneck speed, it had chances galore, penalty claims, red-card offences, great saves, superb blocks, interspersed with some terrible finishing and some terrible defending, and capped by a quite stupendously awful refereeing display, albeit in difficult conditions. (And I really want to have sympathy with refs, as it's a tough job. But they don't help themselves.)
Michael Oliver started the rot when didn't book Emre Can for what is a definite yellow-card offence, but then booked Roberto Firmino soon after because David Silva rolled about (and because, you sense, he hadn't booked Can). Then, despite a perfect, unimpeded view he didn't red-card Yaya Toure for an incredibly dangerous lunge: imagine that mass sliding into your chest, studs up; and the wet surface is surely a reason to be more careful, not an excuse, and at no point did Toure try and lower his foot. Then the ref missed two penalties in the same move for Man City, perhaps letting it go because Fernandinho missed an open goal – to play the advantage? – shortly after Raheem Sterling had been clipped by James Milner, which looked odd at the time (I assumed it would be a penalty to miss from a yard out). Still, that all happened very quickly. But of course, by then City should have been on the ropes, down to ten men, with Toure off. None of this should have happened. The game got away from the referee.
Joel Matip got booked simply because Agüero rolled around, and it's got almost comical in how they referee the reactions, not the offences. (Although perhaps as the game moves so fast, the reactions live longer in the mind: a split-second impact is gone in a flash, but 10-15 seconds of howling and screaming is easy to witness. And it's not like Liverpool haven't had players like Luis Suarez, who was a master at it, albeit perhaps to the point where refs got wise. But if Emre Can made more of Toure's atrocious tackle, as he was entitled to do, it would have increased the chances of a red card. Because Can got up, the ref bottled it. It rewards cheating, and also, it makes you feel like you have to cheat to get given the decisions, such as going down if you're held back, because if you stay on your feet and lose the ball you get nothing. Liverpool are top of the fair play league, whereas other teams have no qualms about the dark arts.)
The only two things the ref got right were the Reds' "penalties", with Sadio Mané kicking Nicolás Otamendi's calf on the one not given, and on the one that was given, a dangerous high boot from behind, by Gael Clichy, may have nicked the ball but he ploughed into Firmino. To put that into context, late in the game Milner was rightfully penalised for a challenge where he took the ball but followed through onto the man, and that's a foul. But even on the penalty, I think the ref might have bottled it had he seen Clichy's touch; from his angle it just looked like the defender clattered into Firmino from behind.
Still, Liverpool had ample chances to win and lose this game, often within the same 60 seconds. So a draw seemed fair, especially given how few chances City usually give up at home (unless Monaco are visiting). Weirdly, I also can't remember many saves Simon Mignolet had to make, maybe because City either missed the target or totally missed the ball. But it was a game rich on penalty box drama, and openings. There weren't many long-range shots as both sides preferred rapier-like incisions to create chances to score. In that sense it felt like a pure form of football.
With both teams managed by imports from Germany, the two sides played a beautiful, fast-moving style that looks like the future of our game. (Of course, Pep Guardiola made his name at Barcelona, but maybe he learnt a few things in Germany too, including a few from facing Klopp's Dortmund.)
This article is for subscribers only.
[ttt-subscribe-article]