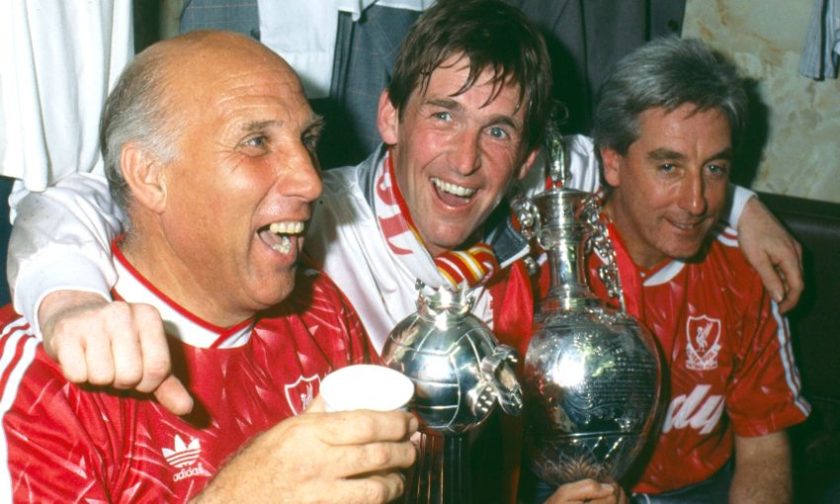 By Chris Rowland.
The word 'legend is overused, of course it is. In today's society it is used in a blokey, bantery, in-the-know sort of way, and almost always inversely proportionate to the actual legendary status of the person in question.
Well today Liverpool Football Club lost a proper, bona fide, 24 carat legend.
Ronnie Moran died today, aged 83. He represented the club with great distinction and dignity for 49 years (if anyone had called it half a century he'd have corrected them!), as a player, coach, physio, reserve-team coach, assistant manager and caretaker manager. During that time Liverpool put 13 league championships, four European Cups, two UEFA Cups, five FA Cups and five League Cups in the heaving trophy cabinet.
As a player, the Crosby-born local joined Liverpool FC as a 15 year old in 1949, signing professional terms in 1952. He established himself as a full-back, experienced relegation and was club captain by the time Bill Shankly arrived in 1959. He was in Shankly's squad that got promoted in 1961/2, although out injured for most of it, and part of the side that won the league in 1963/4. He also featured in both legs of Liverpool's European Cup semi final with Inter Milan in 1964, but had lost his place at full-back to Chris Lawler and Gerry Byrne by the time of the 1965 FA Cup Final.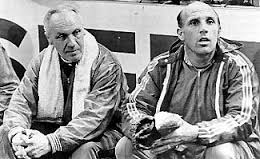 When his playing career came to an end after 379 appearances, Shankly has been sufficiently impressed by Moran's enthusiasm and total commitment to invite him to join the backroom staff.
Look at all those photographs of Liverpool's trophy-laden period of the 70s and 80s (you can see photos of Ronnie Moran's 49 years at Liverpool FC on the official site here). Moran will be on all of them – with Shankly, with Paisley, with Fagan, Dalglish, Evans. He was there throughout, a founder member of the Boot Room dynasty and a key component, providing an element of continuity and stability right through to his retirement in 1998.
In all he was at Anfield during the reigns of nine managers – George Kay, Don Welsh, Phil Taylor, Shankly, Paisley, Dalglish, Fagan, Roy Evans, Gerard Houllier – as well as being a caretaker-manager himself for two short spells, first following Dalglish's sudden shock resignation in 1991 and again after Souness' heart op a year or so later, leading the side out at Wembley for the 1992 FA Cup Final against Sunderland.
He was known as the Melwood sergeant-major, a coax as much a coach, not letting grass grow under anyone's feet and never letting anyone make the mistake of thinking one success was enough. As John Barnes puts it:
"We won my first league championship and we thought it was going to be one hell of a party. It was, but when you came in off the field having just won the championship, all Ronnie said was 'pre-season training on July 7', or whenever it was.

"He didn't get carried away, because he understands that to keep that hunger and desire for success, when you get it you have to forget about it and move on."
Robbie Fowler had a similar story to tell about Moran.
"At Liverpool we are all taught to keep our feet on the ground and I, for one, have reason to remember that no-one subscribed to that theory more than Ronnie," Fowler remembers. "After playing against Fulham and scoring five goals I was feeling well pleased with myself when Ronnie came in the dressing room and said: 'I don't know what you`re looking so smug about. You should have scored seven.' Those words will live with me forever and I think they sum up the greatness of the man."
Other club greats have commented on the official club site:
Kevin Keegan:
"He's almost the foundation that it was built on, because he was there as a player before Shanks came, he was there with Shanks, he was there with Bob Paisley, he helped when Joe Fagan took over, he was there with Roy Evans. So, if you think about it, he is the one link to it all."
Phil Thompson:
"I think he's probably one of the most important people that this football club's ever had. He's up there, in my opinion, with Shanks, with Kenny, with Bob Paisley, because all of what they did, you need somebody to keep that cog ticking, day after day. Ronnie Moran was that man."
Phil Neal:
"That was the drive that Bugsy had, to keep us all going through 60-plus games a year. Imagine the motivational skills just to keep you on line to win another trophy. And if you'd won one trophy, he wanted to win another one."
John Aldridge:
"Simplicity at its best – pass and move. That's what teams do now, that's what Liverpool do, that's what Barcelona do. And he was one of the main instigators of that."
Ian Rush:
"In training, it wasn't the nine good things you'd done, it was the one bad thing and he kept on going at you. At one stage you'd think he was personally having a go at you, but looking back now he did it to every newcomer. Everyone used to say 'watch out for Ronnie Moran, if he gets at you you're in trouble', and I was scared of him then!"

"There could be 100,000 at Wembley and you could still hear his whistle! No matter what, you could hear that whistle, and everyone would think 'is that for me or is it for you?!' and that's the power Ronnie had.

"It was a pleasure for me to be coached by him."
Other tributes have appeared on BBC Sport from Ronnie Whelan, Luis Garcia, Jon Flanagan and from Everton FC, paying tribute to a 'Merseyside football great' on their official website tweet.
Current captain Jordan Henderson said this this morning:
"The reason being captain of Liverpool Football Club is such a huge honour is because legendary figures like Ronnie Moran held it before I did.I wasn't lucky enough to work with Ronnie but I had the great fortune of being in his company on the occasions when he came to Melwood to walk around the training pitch and although we all regarded him as a true great, he was as humble and down to earth as anyone you could ever come across.I know I speak for all of the current players when I say that we are all deeply saddened by Ronnie's passing and the greatest tribute we can pay to him is to give everything we've got for Liverpool Football Club just as he did each and every single day during the 49 years he spent here. YNWA."
Jamie Carragher tweeted: "The man who decided at 18 I should play centre back before anyone else had even thought of it.
Thank you Bugsy! #LFC"
Former manager Roy Evans:
"I joined in 1964 and he was playing in those days, then he became a coach. He was one of those guys, Mr Liverpool.

"Any player will tell you they've had a spat with Ronnie. He'd be the first to tell you off and the first to be on your side to become a better player. He will be remembered with great love and affection. Ronnie Moran is one of the greats of Liverpool."
Gary Gillespie:
"Player, caretaker manager and first-team coach. You look back at his track record and it speaks for itself. I arrived as Joe Fagan's first signing. Ronnie made a new signing's life pretty miserable. He always said if you hadn't played 100 games for LFC you can't call yourself a Liverpool player."
Ray Clemence:
"He had such an influence on all of us, a driving force in the dressing room who would accept nothing but 100%. He would let nobody get above their station. A great, great man."
Ray Houghton:
"He loved being at the training every day. The two words I remember at Liverpool were attitude and commitment. I got that from Ronnie. He could be tough. I remember when we won the league, he went around with a box of medals asking who had played enough games to deserve one. That was his way, forget what you'd did in the past.

"I learned so much from him and he nurtured so many good players. A very humble man and a very honest one."
And the last word (as so often!) to Kenny Dalglish:
"The contribution and help he gave me was enormous and I'll be eternally grateful for that – both as a player and a manager. I don't think anybody that worked with him during his spell at Liverpool will have anything but total admiration and respect and gratitude for what he did for them.

"I don't think it's a coincidence that in the most successful spell in the club's history, Ronnie Moran was of great importance to it. He was there at the outset with Bill Shankly, and the football club as it stands today is because of what Bill Shankly set in place and Ronnie was a big part of that.

"His contribution to the football club should never, ever be underestimated. Although it might be understated, and he might be understated, he made a massive contribution."