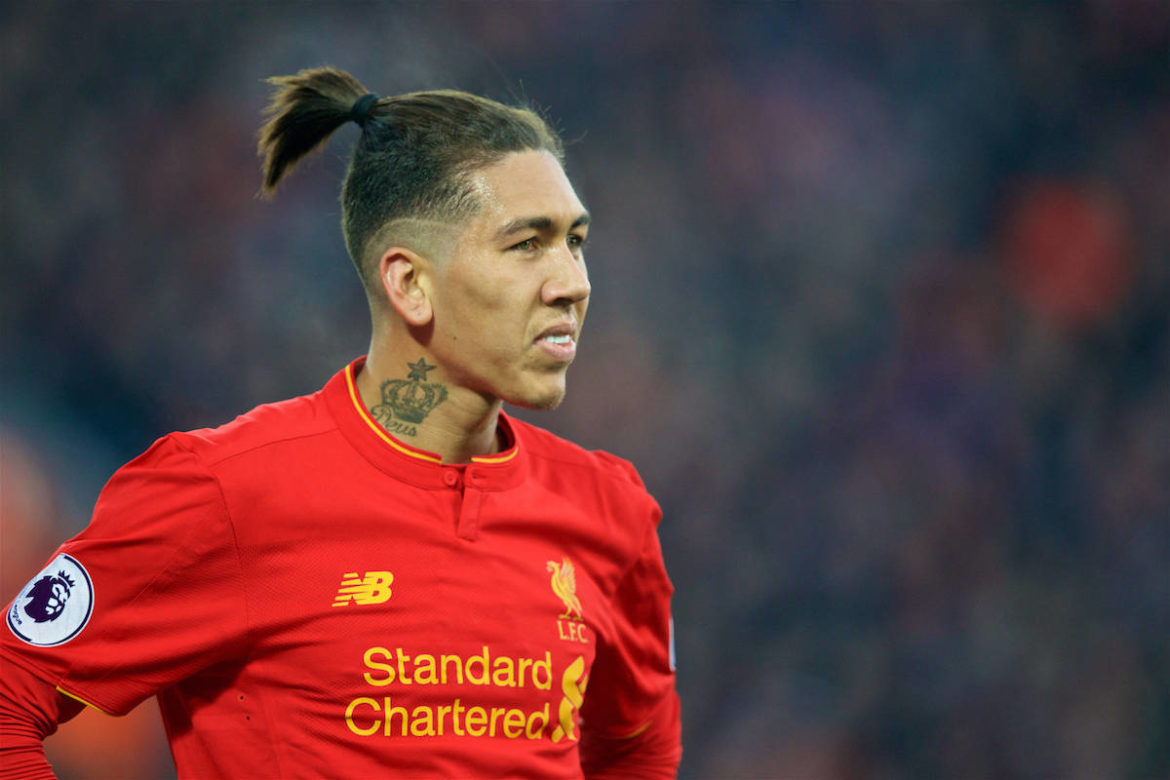 When it comes to finishing, Roberto Firmino is not in the elite band of footballers in Europe. But in terms of all-round game, he most definitely is. Indeed, when it comes to doing a bit of everything, he's probably the best. Which is odd, as he's not the tallest, nor the quickest, nor the strongest, nor the most gifted. But he's smart, has good feet, a great attitude, and can do most things really well. (Although if it was based purely on brightness of teeth, he'd win the Ballon d'or.)
In his own way he's like Didier Drogba in his first two seasons at Chelsea (when they won the league both times) – he makes others shine, whilst likely topping out at a maximum of 15-or-so goals for himself. He doesn't have Drogba's physical attributes, but he makes so many things happen for those around him.
Indeed, Drogba is a strange anomaly: he scored 20 league goals the next season, when Chelsea didn't win the league; and 29 in 2009/10, when they did. However, in all his other seasons, aside from those two prolific ones, he scored, in chronological order: 10, 12, 8, 5, 11 and 5 (plus 4 when he returned in 2014); and in all competitions, six of his original eight seasons saw 13-16 scored. Remembered by me as a beast of a goalscorer after a slow start, based in part on the goals he scored against Liverpool and the freakish peaks of those two seasons (33 and 37 in all comps), the true record is that he was more of a facilitator.
Of course, Firmino doesn't take penalties, but with nine league goals he's only one behind Sergio Agüero for non-penalty goals, and level with Jermain Defoe – two strikers lauded for their finishing, but who have scored a third-to-a-quarter of their goals from the spot. Had Firmino taken all the penalties Liverpool have won, and scored them like James Milner has, he'd be in the top five goalscorers in the division, and be perceived as a finisher. This is why penalty goals are so misleading, and removed from a lot of analysis, because you wouldn't say Milner is a good "finisher".
And so Firmino, without the bonus of penalties, ranks as just above mediocre as a goalscorer. As I get older (and move away from memories of myself as a selfish semi-pro striker brought up on the notion of goals being everything), I appreciate the team-player striker more and more. Goals are still a hugely valuable commodity, but if your striker can be a decoy – by vacating the space and taking defenders with him – he can make it easier for others to score. And, of course, Firmino still scores himself – just not at an elite rate (in part because his job is to pull out of the space where most goals are scored). Perhaps vitally, he sets up chances for others with his use of the ball too, and not just with movement or harrying.
The Anfield Index "Under Pressure" account tweeted about Firmino last week, before the Manchester City game:
Bobby Firmino against all CF in Europe that played>15games:
Passes 1st
Chances 1st
Assists 10th
Goals 57th
tackles 1st
Sprints 1st
Dist 1st

— AIUnderPressure (@AIUnderPressure) March 11, 2017
(Note: chances = chances created.)
You can look at the one big anomaly – ranked 57th for goals – and say that he therefore shouldn't be playing as a centre-forward. But I don't think the job of the centre-forward is to score goals, per se – his job is to help the team win. Indeed, that's everyone's job. People must start to see football this way, as that's the reality. It's about winning games, and while goals do that, the striker doesn't have to be the one that's relied upon.
Remember, Liverpool are still the top scorers in the Premier League, and I feel that this is because of Firmino's qualities, and not in spite of any perceived failings. If the Reds dropped Firmino for a better goalscorer but scored fewer goals as a team, how does that help? How would a selfish striker bagging a goal a game in a losing team be a bonus?
In a way it's like Pep Guardiola with John Stones: he loves him, despite his mistakes, when the mistakes are the most visible part of his game; but the Man City manager loves him because of the times he helps the team play out from the back – the innumerable (and/or less-measurable) chances created later in moves because Stones passed the ball rather than hoofed it forward to three tiny attackers. What sticks in the mind is when he falls over, or gives the ball away, so his best work can go under the radar, unless that's directly assisting or scoring a goal, or making a great block, as he did at the weekend. But if he's starting moves, then in a way he's a key attacker.
To be in the top ten for assists makes Firmino an elite creator, but also, to be no.1 for chances created (and Adam Lallana was a beneficiary of yet another against City, in which game Firmino also won the penalty), as well as passes, tackles, sprints and distance covered, shows the all-round game he brings. I don't think you can underestimate the impact of that.
Maybe his skill-set would more suit the no.10 role, but a more static and central striker ahead of him wouldn't necessarily help create the space for others.
It's often said that the tone of a team's pressing starts from the front (which perhaps dates back to the days of Ian Rush – I'm not sure if many before him worked so hard?), and I think if your striker works his socks off closing down there's no excuse for the midfield not to follow; but if the striker stands around sulking, it can create a schism in the side. As with a tug of war, everyone has to be pulling in the same direction, all at once.
Liverpool's best sustained Premier League form came between 2007 and 2009. This was in part down to Fernando Torres, who (at first, before the strops set it) worked hard, had pace, was big and strong and could finish – one of the few players who, in his peak, I'd take above Firmino right now, in that he had the full skill-set. But it helped that Dirk Kuyt was there to help run, and run, and give the opposition no peace.
I recently dubbed Firmino a 'chaos bomb', and that still strikes me as an apt description. In some ways he's like Kevin Keegan, who in six full seasons at Liverpool – where he played regularly, including in three title-winning campaigns (and in his final season also securing a European Cup triumph) – scored only between 9 and 13 league goals every time. That's not particularly prolific (rather like Drogba's stats, in fact), but Bill Shankly, his first manager at the club in 1971, told the future-permed, silly-singing, aftershave-selling Superstar: "Just go out and drop a few hand grenades all over the place son". I feel that's exactly what Firmino does. He detonates his chaos bombs. (Hopefully he won't also drift into MOR ballads.)
The key is for the Brazilian to chip in with goals too, but it's vital that others occupy the spaces he vacates, when he drags defenders away from the central area, and for those players – Lallana, Gini Wijnaldum and Emre Can from midfield; Sadio Mané and Philippe Coutinho running in from wide – to score too.
Indeed, Mané has 12 league goals, and Coutinho was on six at the time injury struck (which cost him a couple of months of appearances, and then his form, too). Meanwhile, Lallana (7), Wijnaldum (5) and Can (4) have netted 16 between them, as part of the art of sharing around the goals and rotating who appears in the box.
Klopp has urged Wijnaldum to get into the box more, and Liverpool essentially have two deep-lying forwards – Lallana and Wijnaldum – playing in midfield. They can play that deep because they work hard, win the ball back, and use it wisely, but Lallana has 83 career goals to date, and Wijnaldum 103. How many teams have those kind of goal-getters in midfield? In a way they become like Frank Lampard running off Didier Drogba, although in their case they are finding pockets of space opened up by Firmino.
The final third of this article is for subscribers only.
[ttt-subscribe-article]