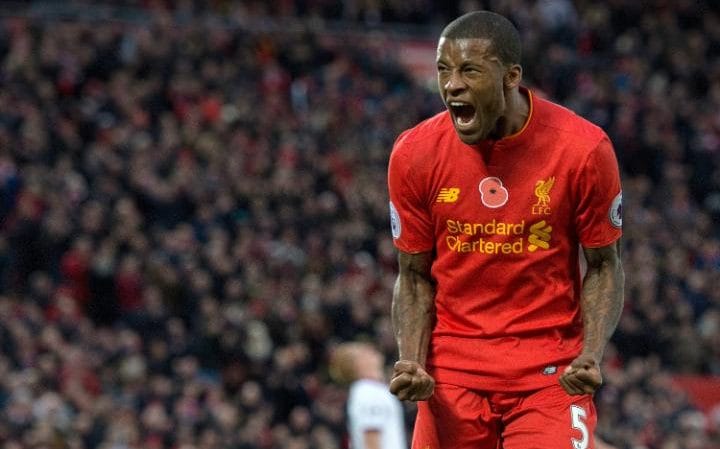 Since the chastening defeat at Leicester I've been trying to look into Liverpool's weaknesses, and what Jürgen Klopp can address to take the Reds to the next level. Despite the very good job he's doing, there's still quite a lot to work on – as I'll explain in more detail in some upcoming pieces. And of course, few teams are ever perfectly complete bodies of work; they all have their flaws, which are sometimes exposed more than others. The quality of any given team is always in some form of flux regarding form, fitness and all the other variables.
Equally, there's quite a lot that has worked wonderfully well on the balance of the season, with January a major aberration, in amongst a winter of exposed weaknesses, crazy scheduling and misfortune.
But for now, rejoicing over three absolutely wonderful goals – after yet another win against a top team – seems the right response, especially when considering how hysterical the reaction to some of the defeats has been (although dropping from 1st place, and then from keeping pace with Chelsea, to fighting for the top four, has been understandably frustrating, even if it's little more than a rough regression to the mean).
As things stand – therefore putting aside the good runs and the bad runs – Liverpool have improved. But of course, if the Reds were to lose several more times this season, the balance will tip on that judgement.
Right now, the 'swing-o-meter' is in credit, based on where Liverpool were when the German took over, and what we expected in the summer. The new additions have increased the upper limit of the Reds' football, so that at their best Klopp's side are perhaps better than any time in the past 29 years, at least in an overall attacking sense.
But it's no longer looking the best balanced Liverpool team in that time, which, for a while earlier in the season, looked a possibility (with 2008/09 still holding that crown, and for me, still the best Liverpool side since 1987/88). It also hasn't always got the necessary answers against packed defences. And it doesn't have the outrageous individual brilliance of Luis Suarez or Steven Gerrard in his pomp to call upon; so there's no reliance on one megastar – but no over-reliance, either.
Other problems persist that make consistency the next issue to address; and when building a young team it's virtually impossible to pass through that phase, as Klopp alluded to this week.
Some things Klopp must improve upon will relate to personnel in the summer; he's not daft, and he'll see where there are issues that training cannot cure. However, just because he's persisting with things that aren't working does not mean he cannot see them: just that the alternatives may just bring different problems; while improvement always comes from repeated practice. Making mistakes – including what people simply perceive as mistakes – is a process that you can't really skip; there's no switch to flick from "work in progress" to "perfection".
For instance – and this is just one example – why would you stick with a young penalty taker – or one who is relatively new to taking them – who misses too many penalties? Who would persist with someone who has a below-average conversion rate after almost two-dozen attempts? It's madness, right?
Well, think again. Because in trying to find Steven Gerrard's record from the spot, I found this article from the Telegraph c.2012, "Steven Gerrard – Premier League's worst penalty takers". It points out: "Penalties Taken: 21 … Penalties Scored: 15 … Pen Success Rate: 71.4 per cent". So, despite his technique, and his oft-proven display of the balls of a rhino, he stood below the league average. This was taken over a period of nine seasons (the first league penalty he scored was in 2003; I made his 15th league success vs Stoke in December 2012).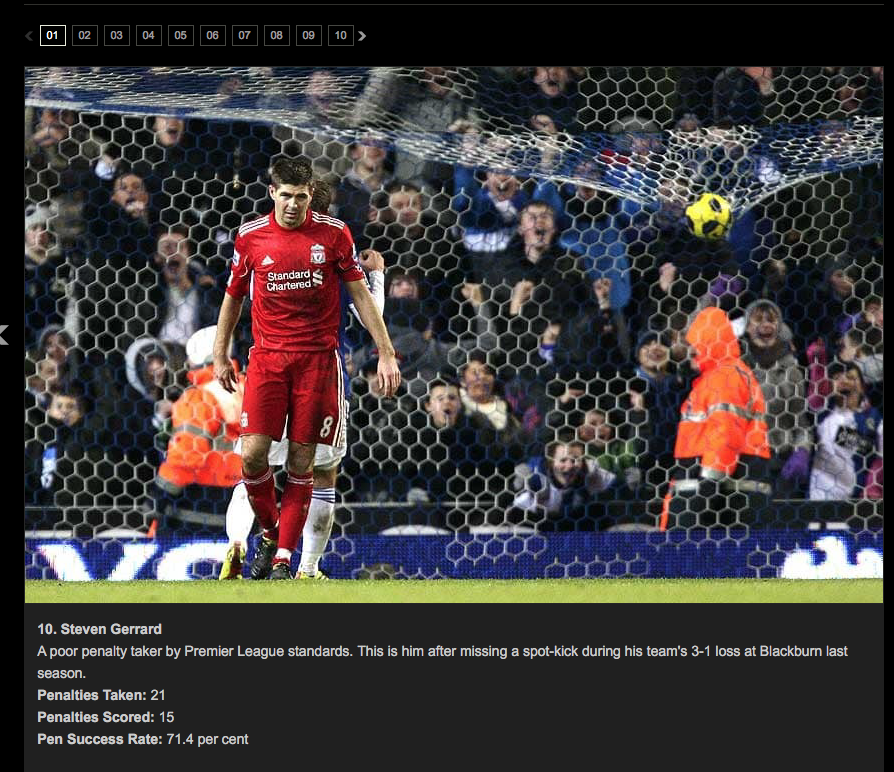 But Gerrard kept taking them. A hugely experienced footballer by 2012, who'd played at World Cups and been man of the match in a Champions League final, he'd still taken only 21 penalties in the league. He must have taken thousands in training, but only 21 under that pressure, plus obviously a few more in the cups. (Practice in training is very helpful, just like practicing your parachuting technique is handy when jumping repeatedly from a platform onto a giant airbag – but nothing replicates jumping from a plane at 10,000 feet.)
With a below-average penalty conversion rate at the age of 32, you wouldn't necessarily expect much improvement, right? Why keep letting Gerrard take them? It's foolish, surely? It's a repeated mistake, right? How the hell can that make any sense?
Except that from February 2013 to February 2015 – just two years – he scored a further nineteen penalties for the club, at an almost 100% clip. He scored more league penalties in two years than he had in the previous 15.
He became arguably the best penalty taker in the Premier League at that point. The mistakes – the misses – were all part of the process; persisting with a "bad idea" made it a good idea, through the development under the pressure of match conditions.
Similarly, James Milner's success rate at Liverpool with penalties is 100%, but he missed three in earlier in his career; not as drastic a failing as early Gerrard, but equally, he wasn't always a perfect penalty taker. Finally, Jermain Defoe is rated as the 2nd-worst penalty taker in that Telegraph article, with a 57% success rate, from his time at Spurs and Portsmouth; yet he's scored five this season for Sunderland, two of which were against Liverpool. At the grand old age of 108 he's finally cracked taking penalties.
So we have to accept that managers commit what we see as mistakes – and I include myself in this, with my frustration with the persistence with Adam Lallana – only for those things to become successes. Perhaps tactical shifts help too, but all players can develop and improve. And if you'd told me in the summer that Lallana was going to be played in midfield I might have silently wept. But of course, Lallana has mostly been a huge success there. (The next phase is finding out if he can excel there in the more bruising contests, but overall it's been a successful expriment.)
Getting back to the main point, other necessities for the remainder of this season will involve getting more from what Klopp has now, to try and secure a top-four spot, and eradicating the problems that are solvable – or mitigable – with training and coaching. Nothing, for instance, will turn James Milner into Cafu. But Liverpool can still win games with him at left-back, making the most of what he can bring to the team.
The second half of this article is for subscribers only.  
[ttt-subscribe-article]