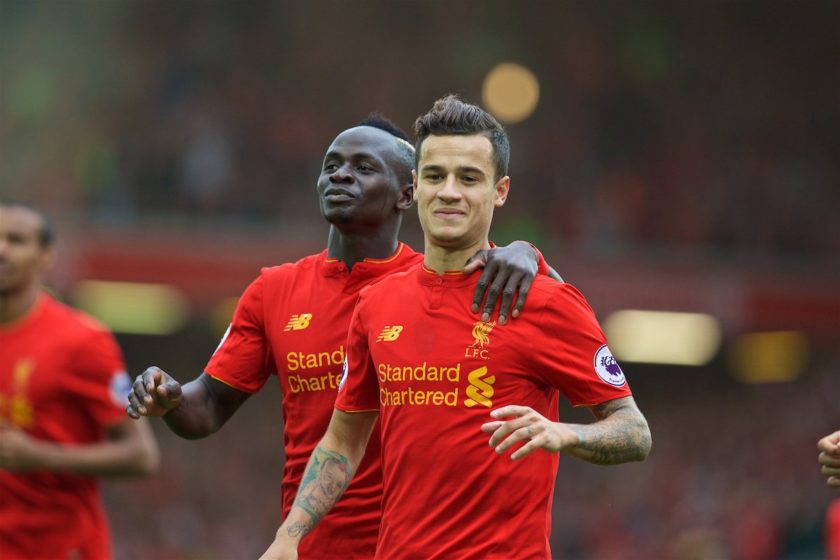 By TTT Subscriber Si Steers.
When at our best Liverpool are one of the most fluent, attacking teams in Europe. Jürgen Klopp has built a team that relies on the functioning of a system over individuals, and has a clear idea of the attributes he wants from his players.
Although our style is built upon pressing the ball high up the pitch, it is the speed we move the ball once winning it back which is the real identity of Klopp's Liverpool. The difficulty we have is that although we have some top class players in our squad, some don't naturally slot into the roles that makes our system function at its best. And when your system is your star player, shoehorning in players that don't quite fit makes you look disjointed.
We are a team that works at its best when it is greater than the sum of its parts; which looks something like this.
The Defence
Our defence under Klopp has often been criticised for conceding too many goals too easily. But the role of the full-backs in the Liverpool team is multi-faceted, and often they are expected to provide the width in a team that doesn't play with natural wingers. This leaves gaps in the wide areas and can pull the centre-backs out of position – unlike some teams, our instinct is to push forward as a team rather than build cautiously.
The goalkeeper is often a position that comes under real scrutiny. Although individual mistakes have been made by both keepers, it isn't an easy role, especially at Liverpool. We don't play with a deep defence or a deep defensive midfield, and we aren't the tallest team in the league (as Paul rightly pointed out last season). This means that our keeper(s) are more likely to be exposed to situations where they are under pressure.
Klopp obviously wants his keeper to be comfortable on the ball, and to act as a ball player meaning the team can push further up the pitch.
Defence is probably the one area that needs real work to bring it up to the level that Klopp would expect. Some of that work may need to be changes in personnel, but I am sure Klopp also believes that coaching has to play a part as well.
The Midfield
In the system we play under Klopp our midfield has to work incredibly hard. Although they don't lead the first wave of press, they play a key role in defence and attack. They are often the players that set the tempo of the game which, for us to function at full throttle, needs to be fast. This is why Henderson has become such an important cog in the machine – he has infectious energy but also moves the ball quickly.
Wijnaldum is also under-rated. He gets through a great deal of work in midfield and is a great facilitator of possession. Our most effective midfield partnership is Henderson and Wijnaldum who complement each other well. I think there is more to come from Wijnaldum in the attacking third as well – when we face teams who defend deep at Anfield, there is opportunity to release Wijnaldum further forward as there are goals in his locker.
Although the defence and midfield two are important cogs in the Klopp machine, it is the front four players that create the chaos. Each of the four forward players has a key role in the system – and they all bring certain attributes. Without those attributes in those roles, the system doesn't function in the way it should.
The Playmaker
At the tip of the midfield is the playmaker. This is the role that Adam Lallana was performing earlier in the season to great effect. Lallana is great at collecting the ball in midfield and finding space with and without the ball. He is also brilliant at the press when he is at the top of his game; although his role is central he plays between the lines and interchanges well with the three forward players.
The single biggest attribute you need as a forward player in Klopp's Liverpool is footballing intelligence. For our system to function at its best, the speed of our passing and movement has to be slick. We move the ball between our front players quickly which creates space – and Lallana is a player that can take advantage of that to get himself into goal scoring positions.
The Creator
The difference between the playmaker and the creator is that the creator is the player that is always looking to play the killer pass. We are lucky at Liverpool to have one of the best in the world in Coutinho. His vision and ability to find space is absolutely critical to how we play. Not only does he possess the ability to find a killer pass, he also has that ability to create something out of nothing.
Coutinho and the position he plays give us a little bit of unpredictability. It is important we retain that unpredictability in the system – Coutinho probably has the most creative footballing mind at the club, a little bit like Suarez he sees a picture that isn't always an obvious one.
The creator is probably the most important role in the system – we have seen that without Coutinho we have really struggled. Although Firmino and Lallana are both great footballers, they don't possess the same attributes as Coutinho. In the system we play Coutinho doesn't start centrally, but he drifts – we'll struggle to find a player at Coutinho's level that is happy to play second fiddle, but finding a backup with similar attributes has to be a priority in the summer.
Securing Coutinho for the next five years is a critical part of evolving Klopp's Liverpool as well.
The False 9
This is probably the role that creates the biggest headache in our current squad. The system we play under Klopp isn't a natural fit for a traditional striker. There is a correlation between Liverpool's form and Firmino's form – and the latter is at his best when he is leading the line. That isn't a coincidence.
Firmino is one of the most intelligent footballers I have seen – he remains criminally underrated by many fans, pundits and journalists. It isn't just his ability on the ball which makes him a great player – it is his intelligence off it. As he isn't a natural striker he is always looking for the best option – which isn't always a shot on goal. But – when he is in the right position, he has great goal scoring instinct.
It is Firmino's movement that really makes the system function. He is able to think and act at speed, and that is key to how we play.
We have seen the difference in our style and results when we try to shoehorn in a Sturridge or Origi into the central striking role. Although they are both good players, they don't have the same attributes as a Firmino.
I genuinely believe we are at our best when we play with a false 9 – we move teams around far more and are less static – creating space for others and making us much more unpredictable.
The Inverted Winger
The big difference in the other three forward roles is that they do not rely on pace as an attribute. But pace is one of the biggest attacking attributes you need in football – so the role of the 'inverted' winger is also absolutely vital.
The signing of Sadio Mane was met with a little bit of scepticism by some, but he has turned out to be the exact fit we needed in our system. He has all of the attributes required; he has pace, intelligence and is a natural finisher. Although he is probably our biggest goal scoring threat, he isn't a natural striker, and moves the ball well. He doesn't think like a striker until he is in a goal scoring position.
The biggest attribute Mane brings is his pace. It gives us an outlet and his ability to beat players at pace is another aspect of our game that creates space for others.
In many ways, the likes of Sturridge and Origi are a more natural fit into the Mane role than the Firmino role in the Klopp system.
The Squad
We have seen at times this season that when we don't have players (or attributes) available that the system doesn't work. I am sure that Klopp knows this, and also knows that he has players in his squad that although are at an elite level, do not naturally fit into how he wants us to play.
We are still very early into Kopp's tenure as Liverpool boss – so it isn't a huge surprise we haven't yet built a squad that reflects his vision – even if we have built a team. It is easy to say that we should sign 'x' player or 'y' player – but the reality is it isn't that simple. Klopp knows exactly who he wants; he knows the attributes he wants.
We've seen how good we can be when his vision comes together – it is now a case of being patient why he builds the squad that will gives us the consistency.