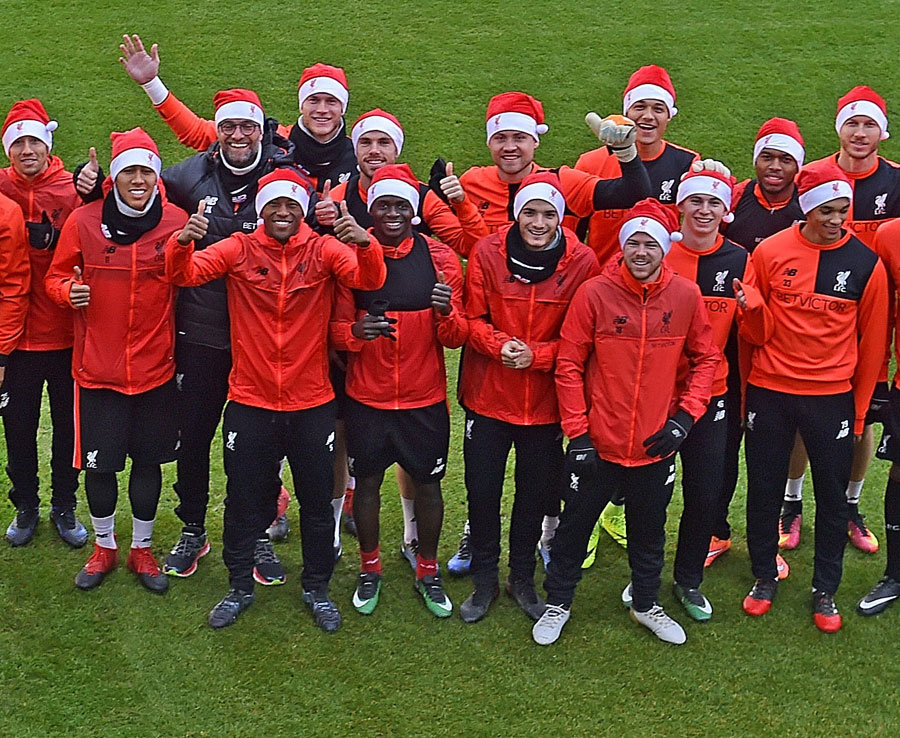 If ever a record was destined to finish top of the UK charts it was Wham!'s Last Christmas. It had it all: melody, a popular band, a Christmas theme, big teeth. In fairness to the recently departed George Michael – who died on Christmas day – that man could write a timeless tune, even when still in short shorts stuffed with shuttlecocks. And yet it ended up second. Number two.
Chelsea right now are Band Aid, a group of stars arriving out of nowhere to let them know it's Christmastime. Except Chelsea aren't exactly a charity (quite the opposite), and although written off going into October after a winless September, they were champions as recently as 2015 – so it's hardly like they're a surprise package. (And by the way, why do people from places like Stoke sing "Feed the Scousers" to that song? Have you been to Stoke?)
As in 2008/09 and 2013/14, Liverpool are now really, really good – timeless, almost – without it actually counting for anything silver. Eight years ago, 86 points and the best goal difference in the league, and players like Pepe Reina, Steven Gerrard, Xabi Alonso, Jamie Carragher, Javier Mascherano and Fernando Torres – about as good as a spine to a team gets – were narrow runners-up. Five years later, Gerrard again, but now joined by Philippe Coutinho, Daniel Sturridge and Luis Suarez, registered an amazing 101 goals with an 84-point haul, only to fall two points short of City, who bagged 103 goals.
This current team, and either of those two Liverpool sides, could 'easily' have won the league in 2015/16, and indeed in other seasons; but maybe their own qualities pushed the Manchester clubs – with more expensive teams and very recent title-successes under their belts – to greater heights.
And of course, Liverpool also have an additional mental pressure of a heavy history that no club since Manchester United in the early '90s has faced. Perhaps that's why Anfield was so nervous against City today (at least until around 85 minutes) when last season Leicester's fans would have been singing and dancing in the same situation, high on the euphoria of an unexpected ride.
None of us can escape the dread of expectation, and an early Gini Wijnaldum goal – and what a goal! – effectively set up a game of shutting-up shop. And in fairness, Liverpool passed every test, with City unable to fashion anything of note in what was an odd, mistake-ridden game (but where the mistakes were in the final third and not at the back; I've never seen so many misplaced "he can be in here" balls). Dejan Lovren was beastly, and Ragnar Klavan would be the centre-back bargain of the season were it not for Joel Matip.
Quite simply, none of the big teams turned up last year. This year they've all turned up, and even then, Liverpool are on 43 points, on course for 86, and still … 2nd. Close, but no cigar.
But the Reds do have a chance to stop Chelsea at Anfield in a month's time, if no one has bothered to beforehand. If the timing of everything looks bad now, then it may appear different further down the line.
Still, had Jürgen Klopp been appointed last summer (2015) then he would not have had the time to assess things and bring in the right players, bring through the right youth players and ship out the distractions.
The bad timing of sticking with Brendan Rodgers 18 months ago led to the good timing of Klopp being available after his sabbatical. But otherwise the timing appears to be frustrating, with Chelsea on course for a record points haul and Liverpool putting in title-winning form on the one season (okay, the second season in 25 years) when a team goes and wins 13 on the bounce. If only it had come a year earlier…
No matter how good Liverpool are this season, Chelsea right now are better; but not that much better. That may all change, but that's how it looks right now; even though this is Liverpool's best start (19 games) in the Premier League era. Chelsea sucked last season more than any Liverpool side has in the Premier League era, finishing below the Reds' worst of 8th since 1992, and yet here they are, restored to their factory settings.
And of course, all we can do is be grateful for the Reds' current form, just as we are still grateful for the teams of Torres and Gerrard, and Sturridge and Suarez; for what they gave us, if not in terms of silverware then in joy. Still … if only Torres hadn't missed so much of that season. And if only Gerrard hadn't slipped against Chelsea (not that a single incident decides a season unless it's the last minutes of the last match – there's always time to redeem it otherwise). But shit happens; just as we thank Andrei Shevchenko inexplicably turning into Sean Dundee in the latter stages at Istanbul.
With the treble of 2001, and the outstanding patches under Roy Evans, it's fair to say that we've had some pretty damned good teams over the past 25 years, punctuated by spells of torpid torture (although I imagine most forms of torture would wake you up; but oh no, not Roy Hodgson's Reds).
This team looks as good as any we've seen in red since 1987/88, including a title-winning team back in 1990. But just as Wham! broke records for the best-selling no.2 in history in 1984, Liverpool may have to settle for being outdone by a team that are on a virtually unprecedented run.
And with Liverpool having to play after Chelsea every week, for what has felt like every month, it's been a gruelling ordeal of winning just to stand still. There's no time to savour the victories because all it is ever doing is reverting the table to what it was at the start of the weekend. But for that we might all be even more excited by this team.
But let's also remember that Liverpool have had some pretty damn good timing over the years, too. Funnily enough, I mentioned George Michael in the introduction to Dynasty, my book from 2009 on Liverpool's previous five decades. "A Different Corner" was number when Liverpool won the double in 1986, and its lyrics seemed to apply to 1959: what if Bill Shankly had turned another corner? What if some flavour of the month was appointed ahead of a Scot with no prior history of success? Shankly could have walked off to revive someone else.
What if Liverpool felt that Bob Paisley was inferior to a bigger name in 1974, when replacing the totemic Shanks? What if Paisley himself hadn't been successfully talked into the job, or if he backed out after an underwhelming first season?
What if Liverpool went for anyone other than Kenny Dalglish in 1977 when Kevin Keegan left? There'd then have been almost no way he'd have got the manager's job in 1985 otherwise, after eight years of excellence on the pitch, which coincided with three of the four European Cups the club won in that era. Kenny won three titles and two FA Cups in just five years as boss.
Maybe in its history Liverpool has also won titles, promotions and trophies on account of the other teams not being as good as usual. AC Milan certainly weren't as good in the second-half in Istanbul, and some years the best challengers to Liverpool were also-rans like Watford and Aston Villa. If a lot of any club's glories are hard-earned and utterly deserved, some will be on the more fortunate side.
Leicester had their luck, too. They were probably the worst Premier League champions (in technical terms) whilst achieving the most remarkable feat arguably in the history of football in England. Everyone would have been amazed if they'd finished in the top four, and yet they won it, with organisation and just three standout players (plus a lack of pressure). Liverpool are picking up points at a far better rate than they did, but again, timing is everything.
Still, maybe the Reds' timing will be better in the next year or two? Maybe even in the next few months. Perhaps Chelsea will ease off, or get cocky, or get injuries. Maybe they'll have that weird thing that can happen to a team that can't stop winning when they finally drop points – it feels huge, and they inexplicably unravel.
With the crazy pressure that mounts every time Liverpool are top of the league – will this be the year? – it may need a sly, blind-side run to lift the title, as leading from the front causes us all to get carried away (just like leading from the 8th minute against City leads to nerves rather than noise).
But all Klopp's team can do is to keep winning, and keep in touch. And all we can do is appreciate our own team, and the joys it gives us, even if those joys are tainted by the timing of the games.
And whatever happens, this team will be looked back upon with fondness. And hey, the average age of the XI is almost two years younger than those of Chelsea and City, with only Spurs younger, so this could just be the start.
As a man once said, you just gotta have faith.
This is a free read, but please support our work by subscribing for £5 a month or £55 a year, which enables you to join in the debate. Or just help by spreading the word about TTT. Either way, all the best for 2017, to all our readers and subscribers.