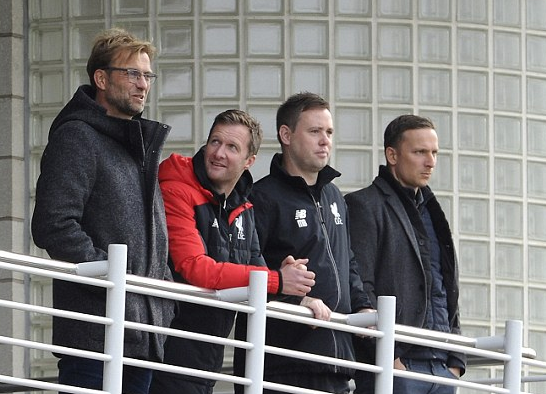 By David Fitzgerald (TTT subscriber Madchenkliop).
Trent, Ben and Ovie were amazed when Professor McInglethorpe allowed them to visit the grounds of the giant Klopp and his ferocious Hypergriff Pepjin. There they encountered all manner of fantastical beasts such as the Serious Mané, the Slippery Firmino and the little magician, Coutinho.  They learnt all kinds of wizardry and even that they possessed magnificent powers they never knew existed. Apparently some of them may even be the chosen ones! But who was the powerflisst?  
At Hogwarts Kirkby Academy they always stuck together so it made all the difference that they could take on this daunting new adventure with their pals.
Storm clouds were gathering on the horizon and there was an intense series of battles where Serious and Slippery fought valiantly but were spent having pushed their powers to the limit. To compound the situation, the little magician had been banished to Arsekabin. It was the final battle and the death-eaters were running riot striking cheap low blows on our depleted heroes' weary brows. 
It was obvious their help was needed, so our three young wizards were frustrated not to be allowed to fight, but the giant Klopp insisted their time had not yet come. The mood across the city became restless and people began to ask, 'does he know what he's doing?' 
Well, maybe Klopp is more like Dumbledore than Hagred to be fair, but the point is, of course he bloody well knows what he's doing! He's a top wizard and he can see a darn sight further into the future than you or I.
Now the Plymouth match (Part 1!) has happened, the youngsters have played and still for many Klopp's plan (after an ambiguous result and performance) is shrouded in mystery. But really it's not.  He and Lijnders consistently try to make their philosophy as transparent as possible, as demonstrated most recently in an excellent interview with Jonathon Northcroft in the Telegraph. The structure of the youth set up is clear. We know what the hierarchy is with the 'elite group' training at Melwood and beyond that the U23s and U18s. They've already shown a commitment to giving youth players opportunities in proper matches and we know well in advance what the pecking order is.
The Elite Group
I must say, even when I get disappointed on behalf of those passed over, I tend to trust Lijnders, Inglethorpe and Klopp's judgement about who should be in the elite group implicitly. There are borderline cases and a small amount of movement in and out of the group, but on the whole, when you listen to them talking about the philosophy behind it, there is a holistic vision for the chosen ones' development and it makes sense that they have to commit to a small group long term if it's going to work.
For all the positives there must be a downside where U23 players lose motivation when they see themselves as also-rans. But there's also a lot of clarity about everyone's role at the club and perhaps it's a good thing that the dreaming of glory aspect is not randomly encouraged. There are other pathways for those who aren't 'chosen' and it's quite obvious that Klopp and Inglethorpe are on the same page in cultivating a familial atmosphere where the club will put itself out in order to facilitate good careers for everyone on its books. I believe Klopp when he says 'I feel so responsible for these boys'; he's obviously a very moral guy.
Back to the chosen ones, what I find interesting is the long term planning that is clearly such a core belief for both Lijnders and Klopp. The whole notion of 'development' is going to take time. The discussions we've been having around team selection for the Sunderland and Plymouth games need to take this long termism into account. Klopp wanted to win both games, but he also wanted to protect some of the younger players from having their development stunted by potentially traumatic experiences in the tough Sunderland game. And on the other hand, the controlled environment of the Plymouth game, with his young projects all taking on the challenge together, was a unique developmental opportunity. It seems to me that each game for Klopp, at whatever level, is like this; as much a learning experiential episode that provides information for the next game as a result in itself. Personally, call me a fantasist, but I find their deep-seated conviction that this methodology is going to work wildly exciting. Both Lijnders and Klopp have seen their methods bear fruit at prestigious European clubs so, incredible though it seems, I'm convinced they do know what they're doing.  Lijnders, from the Northcroft interview:
''There's a saying that talent needs models, it doesn't need criticism. I really believe in that. So at the moment we bring Trent (Alexander-Arnold), Ovie (Ejaria) and Ben (Woodburn) up and they can watch Adam Lallana, the way he prepares himself in the physio room, the way he prepares himself before the training session, how he puts his shin pads on, how he treats his boots – everything. All these small things, these unwritten things, for young players to learn from their models is so important.

That's before you even speak about the pitch: how Phil (Coutinho) controls the ball and turns away, how Hendo is the playmaker from out the back, the motor. And training. They see how Sadio is creating space for himself before he receives the ball – that is one of his biggest strengths, so he plays one v ones in the areas we want him to.

And Ovie and Trent and Ben, they can learn from that. And now when the new talent group is in, Paul Glatzel, Luis Longstaff, Curtis Jones (all Under 16s) – they learn from Trent, they learn from Kev Stewart, they learn from Pedro Chirivella.''
I think you can clearly see this culture is running through the club at all levels. Just today watching the U18s, the number of times I saw players performing what I'm going to coin as the 'KevStew rotation out of trouble' which he in turn has learned from Emre Can who has learned it from Coutinho and Lallana. They all do it now.
The U18s
The rest of this review, which covers the U18s and U23s as well as drawing some interesting conclusions, is for Subscribers only.
[ttt-subscribe-article]