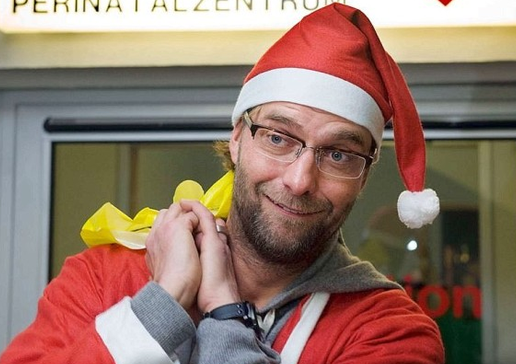 From TTT Subscriber Mark Cohen
Note: this piece is now entirely free.
Now hear this:
Let's be honest here, Liverpool are utterly rampant.
I am not talking about the results, because, as Mihail spent five years on this site explaining, it's not about actual scores or results so much as it's about performances. In this regard, we are not only dominant in an attacking sense, but the balance required to defend properly is also seeing us through to positions of control in almost every game.
Look at our preceding fixtures, and an anecdotal assessment of these games:
Arsenal (A) A dominant spurt over about 25 minutes hands us four goals and a great win. On balance, we are better and worth the points
Burnley (A) A dominant 90 minutes, but short on creativity and spark, we lurch to a deserved defeat on the basis that Burnley executed their game plan perfectly and we couldn't unlock them.
Spurs (A) A dominant 70 minutes where the game should have been won. An incorrect offside call stopping a 2-0 lead and strong Spurs ending sees them eke out an undeserved point.
Leicester (H) Total domination over about 80 minutes, little period in second half where Leicester played with freedom, 4-1 fair score.
Chelsea (A) Domination for around 65 minutes. Held Chelsea at arm's length once we conceded and never looked anything other than value for the win.
Hull (H) Total domination over the 90 minutes. Correct score.
Swansea (A) Very lacklustre first half display, but very dominant second half one. Save for a Karius brain freeze in the last second, Swansea never got a look in in the second half. Once they failed to make their dominance pay with more than a 1-0 half time lead, we were worth the win on balance.
Man U (H) Sterile domination in first half, more aggressive domination in second. United effected defensive game plan perfectly but still had to rely on two outstanding saves, one off Can and one from Coutinho. A draw the least we deserved.
West Brom (H)Total domination for just about the entire 90, we made life hard for ourselves by being so wasteful in front of goal, but justice served with the 3 points.
Palace (A) Domination for about 70 minutes, some sumptuous football and another deserved 4 goal burst sees the win in.
Watford (H) Total domination for all bar about 6 or 7 minutes when we were 5 up, allowing Watford some good chances and a consolation goal. The score of 6-1 is at the very lowest end of the range of what the game could have produced. Liverpool were superb.
Saints (A) Total domination over almost all of the 90. This, against a side who enjoy playing an attacking game too, is impressive, but our finishing is wasteful and we drop two points.
Sunderland (H) Sterile domination against a side well drilled who execute a defensive game plan to perfection, this was a lucky win because, without a moment of genius from Origi, we weren't opening them up.
Bournemouth (A) Strange one. Total domination in attack for around 65 minutes, always looked off our game defensively and once they had the bit between their teeth, they ran out deserved winners, but it should have been so different. A lesson in focus and complacency.
West Ham (H) Again, rather sterile domination, looked off our game in an attacking sense, but this was a more dominant display than Sunderland and West Ham by rights should never have scored a goal let alone two, so a draw was harsh all things considered.
Boro (A) Total and utter domination over the 90. A very impressive display and one which banished the hit-and-miss nature of the previous two weeks.
Everton (A) I think we all knew that Everton would start at a 100 miles an hour and the trick would be to let them tire themselves out. The second half was total domination and the win was deserved, that it came so late only served to highlight the justice of it.
Looking at these previous games and my anecdotal reports, I am struck by the fact that there is barely a 45 minutes in there where we were well and truly on the rack. If I'm honest, I'd call the opening half at Swansea a chastening experience and Bournemouth got a hold of us for the last 20, and that was impressive but that's about it. That's just over one half in seventeen games, but beyond that, it's been Red.
To go back to Mihail for a moment, we are looking at performances, not scores, and even in the performances which we have judged harshly – West Ham and Sunderland come to mind -it must be remembered that our opponents barely had a sniff all game. Indeed:
West Ham managed 6 penalty box touches to our 65, and Sunderland, a slightly more respectable 10 to our 44. Shots in the box were an identical 14 -2 for each match, highlighting that our 'poor' performances were quite rampant really.
In fact, the more I look at these 18 games, the more I begin to see a domination not seen since Rafa's 08-09 season, when we were eventually outdone by the sheer attacking brilliance of the Tevez/Rooney/Ronaldo trio. Fair play to them.
The difference for me now, is that when we use the term 'sheer attacking brilliance', we are referring to Liverpool. This bodes extremely well because, if as historical figures prove, leagues are more likely to be won by the team scoring the most than conceding the least, we have the edge. (In the last twenty seasons, the top scorer has won the title on 13 occasions, whilst the least conceder has won it just 9 times.)
Consider our defence for a moment. We are maligned in the press because our goals against column makes for inferior reading compared to Chelsea and Spurs, but we are level with City and just one worse off than Arsenal. This whilst playing more away games than all of them.
More important than that, and this may not be the most popular opinion, but we fielded a keeper who was definitely short of confidence but probably quality too for many of these defensive lapses and still came out with positive results. Chelsea have been able to call on Courtois all season and are benefiting from being far superior in this department to us.
A quick word on Mignolet. I was of the opinion that he was not a Premier League top-four quality keeper because his feet are so poor and his ability in the air is mediocre, but with all due respect, he is head and shoulders above the present form Karius in all departments, particularly his shot-stopping technique and command of his area.
In fact, I was strongly biased against him from the start of this season because of his past form, but he has barely put a foot wrong this term. The relief I feel to have him between the sticks now seems to exist for our players too, and the performances against Boro and Everton bear this confidence out.
The rocket up his backside he received from being relegated to number two should serve his focus well, and it is worth recalling that he did well in 13-14 in our title challenge and seems to relish the big stage in spite of the pressure of his errors.
All this should also be seen in the context that Liverpool have conceded the fewest shots on goal too, as well as scoring the most. This seems to suggest that goalkeeping errors, defensive lapses and strange occurrences like the wild deflection which played Antonio in for West Ham's second are more to blame for goals than a poor defensive system. I predict we will tighten up in the second half significantly too, only adding to our attacking dominance.
Also, given that we have played Arsenal, Chelsea, Spurs, and Saints away already, representing 4 of the top 7, we will be visiting only United and City of the big boys in the second half of the season. Couple that with the fact that we remain with 12 home games (Chelsea included), and the best is yet to come for us.
Once the second half of the season kicks in, and teams begin to lose their collective shapes through injury and fatigue, you will see the very best of what Klopp's training regime is designed for. We trained triple sessions in pre-season and put in far more hours than anybody else and this, whilst only giving a marginal gain in the first half of the campaign when everyone is fresh and not yet jaded, will produce a clearer edge in the second.
I said at the beginning of the season that this is not a fair fight, and I stand by that.
Liverpool are stronger/fitter and faster than anybody else and we don't have European competition to contend with. How can this be fair?
Of course the 'no European games' advantage exists for Chelsea too, which means that this title race will probably shape up as a two horse race between us and them.
I would favour us all day long in such a slog, as I still don't think it possible that Conte's system will not find a huge challenge somewhere down the line. It was an oft-cited issue with a 3-4-3 (I believe beautifully dissected by Mihail himself during Rodgers' good run with the system in 14-15) in that it causes an issue in transitioning because various triangle permutations are removed.
When the system is put under pressure by opposition teams holding higher lines Chelsea can become stifled. We saw this when they were outplayed by City and Spurs for long periods. This pressure results in the full-backs (effectively the two wide midfielders in the 3-4-3) getting hemmed back.
Under this sort of game context, Chelsea function as a 5-2-3, which leaves their transition options very limited. We saw this effected perfectly by Van Gaal at Anfield against Rodgers' 3-4-3 two seasons ago with Champions League qualification on the line.
Now, Chelsea are a superior outfit to 14-15 Liverpool, but they are heavily reliant on the form of Hazard and Costa (more on this later). Remove either of these two from purple patch form, play a couple of games where the ball doesn't go in and opposition teams effect a counter strategy to the 3-4-3 well, and suddenly their form will suffer.
Chelsea's issue is that their purple patch failed to give them a winning buffer. Six points is useful, but when it's off the back of a 12 game run, it is probably worth less than they think. Counter-intuitive maybe, but remember Liverpool held a five point advantage as late as round 35 in 13-14 off an eleven game winning run and it wasn't worth a thing once we had lost just once.
In contrast, Klopp's superb structure (I am loathe to call it a formation) is something different and new. I would argue it is a quantum evolution on the superb football he produced with Dortmund, in that it combines all the best elements of possession football with all the best elements of counter-aggression gegenpressing.
If one considers Klopp's brilliant Dortmund side, the one possible Kryptonite which he faced in the final year of his tenure was teams implementing a low block against his counter-attacking masterclass. Opposition managers realised that if a team is set up to destroy you with a high press, don't play and allow them the opportunity, keep a very deep defensive block of 8-10 players and play long ball.
In simple terms – you can't play counter-attack against a team that doesn't attack.
Klopp's answer has been the new structure. It's a team that is no longer set up predominantly to counter, but rather to advance with the ball from any given area on the pitch whilst regaining it quickly if it's lost. If your team is incredibly fit and comfortable on the ball, you will doubtless see a lot of it.
Looking at Liverpool's possession statistics thus far makes for ridiculous reading. We average almost two passes for every one made by our opponents (598 – 349 before the Stoke game).
The beauty of the Klopp system is that it doesn't rely on possession or even preach it. The possession comes as a function of being stronger, faster and fitter than your opponents, thus being able to hold the ball for much longer and regain it much quicker. For me this is a fundamental shift from a manager (for example Van Gaal) who looks to hold the ball as a mantra.
If we were to list Van Gaal's prime directives ala Robocop they'd read:
1. Hold the ball
2. Hold your shape
3. Use your creativity with the ball
4. Create Chances
Klopp's are different, very much so:
1. Have technically gifted players who are the fittest in the division
2. Advance with the ball
3. If you lose the ball, get it back as quickly as the game context will safely allow.
4. Repeat 1-3.
This means, that contrary to a highly controlled environment like Chelsea, Liverpool are based on a very strong core structure of fitness, technical ability and above all else rigorous coaching which is designed to allow for better decision-making at all times during the game.
The big difference here is in the number of players entitled to make fluid 'decisions'. Chelsea have three or four. Liverpool possess eleven.
Now, I am not being argumentative for the sake of it. It's not that the Chelsea players can't do it, it's that the system is rigidly designed to allow for only a few decision-makers in the team. A well-drilled side like Chelsea can go very far with such a tactic. Excellently coached defence and a few world class players will see many more games won than lost.
We are different. We are trained to make decisions on the field. We are trained to see the field as a maze with many different paths to success, but they all rely on extreme fitness and high technical ability.
For interest sake, I believe Pep to be the most like Klopp in terms of team set up, and Mourinho extremely similar to Conte albeit possibly a bit behind in terms of the most modern executions of this type of rigid plan.
City will be a far stronger outfit next season as this type of system takes longer to perfect. More repetition is needed on the training ground for this to work as it requires more game intelligence. I always felt they'd battle to get more than 80 points due to the inconsistency of the team whilst they learn Pep's ways, and this still holds.
Arsenal aren't too far back either, and would warrant far more discussion if they could produce consistently against the other top sides.
Their record in at least the last five seasons against the big six is not good. They've won just 10 of the last 45 of these games, and this season's showing, barring a super display against the still 4-at-the-back Chelsea, has been poor too. This will continue to hamper their upwards movement in the table.
Given they are also playing a couple more CL games (I actually think they might advance against a Bayern side having an off season), I don't think they will breach the 80 points necessary to keep them in the hunt come May.
Manchester United are not in the title race. This is a wonderful thing to say, because it doesn't come from a place of cheek, rather, from a place of fact.
They remind me a great deal of a Liverpool of old. Swap Pogba for Gerrard, change Ibrahimović for the young Owen and you have a side who have the world class potential to roar to many wins on the bounce but are not quite there when it comes to the consistency needed to challenge.
This is likely due to the difficulty in learning the rigid tactical set up they employ and the sad fact, for them, that football is evolving all the time and this Mourinho stuff stinks of days gone by:
1. Spend half a billion pounds on talent. Check check.
2. Fill 'key' positions (Klopp would say there are 11 'key' positions) with world class players. Check.
3. Attempt to build a hyper strong defence. Check or kinda check.
4. Suffocate other teams by perfecting low-block and look to advance into attacking areas. Check.
5. Stop other teams creating, and create quality chances yourselves. Check.
6. Win.
So what's the problem – this has worked wonders in the past?
That's right – in the past.
The problem is that the mathematics is against this type of defensive system these days as almost every team has the weapons to hurt you from time to time.
See Stoke at home – United create some lovely chances, should win 3-0, but its 1-0 when Allen equalises. Ditto Arsenal. Ditto Burnley without the goals.
In clearer words: Mourinho's system is designed to allow his team a handful of good chances a game whilst allowing opposition maybe half of that. This is a problem because if your striker is off, like Ibra was for two months, you don't score enough goals. All it would then take is a better than average performance from your opposition and they will nick something. Liverpool don't have this problem, our dominance is so total in most matches that even if we miss multiple chances, we are not allowing our opposition enough genuine threat to hurt us (see Southampton, United, Sunderland)
Mourinho's system has a clear front 5, and a back 5. Goals must come from the front 5, without much strike output needed in an attacking sense from the back 5.
This season they have 8 scorers producing 24 goals in 17 games.
Liverpool have 12 scorers producing 46 goals.
Bearing in mind that Sturridge has only just opened his league account, but has been involved plenty already and is our most natural scorer, we are some way ahead of them in output with 37% more scorers and 70% more goals!
Also, Ibra has scored almost half of United's goals, showing just what a focal point he is, whereas we are shifting our attack relentlessly, with nobody on more than 8 which is less than 20% of our total goals.
This little titbit provides ample evidence of what I am referring to when I say that Klopp's system, whilst hard to perfect, is far more difficult to stop when in full flow as the threats come from everywhere, and the fitness of the players mean the threats come all game long.
Chelsea too have Costa on 13 and Hazard on 9, so two players are responsible for 60% of their goal output. If just one is missing or off the ball, they won't manage to keep up with Liverpool. This is a supposition, but one that is strongly borne out by the numbers.
What Klopp has gone and done I believe will only truly be seen in years to come, once this side has evolved into its grandest, fullest version. If this is a second year (and the first year was not a full year) representation of this new ideal of 'structure' football as opposed to 'formation' football then it should get stronger and stronger as the learned structure becomes more and more natural for the players to effect, allowing for greater fluidity and confidence going forward and defending.
The title is absolutely there for the taking now, because there is no Barcelona or Madrid in our way. Chelsea, City, Arsenal, United and even Spurs can all draw on good squads with some extremely good players, but none of them are coached to effect such a devastating structure week in and week out.
Given that fatigue is also not a factor for the squad, I simply cannot think how we will be stopped in the second half of the season.
Our eyes do not deceive us, and even if they do, the facts are clear:
We run the most, we shoot the most, we create the most, we pass the most and these are the figures that are the making of champions. Just sit back and enjoy the ride, because the second half is going to be epic.
[/wcm_restrict]