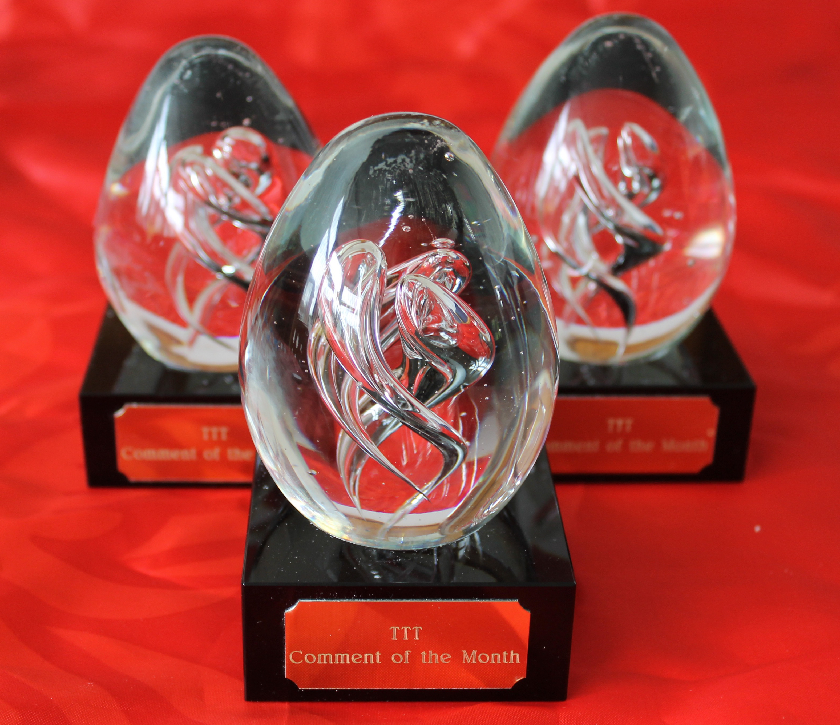 Selected by Chris Rowland, Daniel Rhodes and Paul Tomkins.
Here's our monthly competition to find and reward the best comment from a selected shortlist of brilliant comments that appeared on TTT during the month.
Vote below – the winner gets a glittering trophy to proudly parade around their home town from an open-topped bus, and a £20 electronic voucher.
Comments:
Needed to get this off my chest, and I don't know how to write it in fewer words:
Jurgen Klopp has revolutionized Liverpool.  He's taken a club struggling for consistency, even struggling for "identity" as Fergie correctly called it, and turned it on its head in the small matter of one year and a nett spend of little over a million pounds.  He's banished rumblings around the transfer committee to the point that a recent promotion by a valued member of that body had some fans scratching heads because they'd forgotten his name.  Klopp has dominated the media to the point that they fawn over the man in English football's most scorned position – Liverpool FC manager.  His charismatic, salt-of-the-Earth character has shattered boundaries and made talking about football fun in an age where direct and indirect criticism is the preferred norm.
Because he's done all these things people are looking at Liverpool with new eyes.  They are seeing an exciting brand of football with all its majesty and flaws, and these people are saying: "This is the beautiful game".  Because they are entertainers, now it's okay for Liverpool to win games on merit.  And with the weight of Hillsborough gone but not forgotten, now it's okay for Liverpool to win the league.
But he's done more than that.  Jurgen Klopp has revolutionized the Premier League.  He's taken a league dominated by 6'2" 2 banks of 4 and a target man up top by the scruff of its neck, shaken it like the mangy dog it is, and the fleas are running for their lives.  Having seen how a manger should behave in both victory and defeat, the FA are suddenly taking scathing comments about referees seriously, where before anyone criticising them for causing their team to lose led to the officials being chastened with a month of lower league activity.  Having seen how a manager appeals to the fans of his club *and* to neutrals, and who continually reinforces bonds with his players, other managers are following suit.  Guardiola handing out man hugs like candy to kids, Conte urging the crowd for more noise while 4-0 up are all signs of people who have noticed that Klopp's magic is working and they want a piece of it for themselves.  They have suddenly realised one really can be both a tactician *and* a man manager, as though the lesson of Bill Shankly was never learned.  Having seen how a manager can bench England's best striker and rely instead on a forward who presses from the front, with players behind to take their lead from him in the latest incarnation of total football, other managers are following suit.  Guardiola suddenly isn't sure Aguero is the best striker for City (*gasp*), Wenger "suddenly" has more interest in Sanchez than his stalwart and countryman Giroud, and even Diego Costa has found some miles in those legs that were made for kicking opponents.
Those who haven't noticed that times have changed are being swept aside.  Van Gaal, Moyes, Bilic, De Boer, any English manager you could care to name are memories.  Mourinho, clinging to defence over attack on the pitch and passive-aggressive attack over defence off it, finds himself in 8th in the EPL and 3rd in a weak Europa League group amid rumours of 3rd season syndrome coming 2 seasons early for the Portuguese, despite eye-watering squad investment.  Even Barcelona, set in their ways of dominating with and without the ball, were destroyed this week by a City team that worked as a unit in stark contrast to Barca's "system" of 7 men behind the ball with Messi, Suarez and Neymar ball-watching on halfway and relying on their individual brilliance to win the day.  The old ways aren't enough anymore.  Klopp has torn up the rulebook, and only the teams, clubs and managers that have caught onto his wave are on the pace.
In seasons past I would have written off City as Champions League winning material, but this season I'm not convinced there is a side in the competition that can go toe-to-toe with them on their day.  They may have lost by 4 in Barcelona, but prior to Bravo getting himself sent off they were the better side.  Their problem is their Achilles' Heel; an over-reliance on certain players. Kevin de Bruyne limps off against Swansea and City promptly fail to win in any competition until his return, whereupon they immediately resume scoring goals by the truckload.  Kompany and Aguero, both injury-prone, pose similar problems in that their replacements are significantly behind in terms of development.  They have, however, managed to move on from Yaya, whose trip to the African Cup of Nations every other year always killed their title chances.  City could win it all this season, or they could win nothing if the wrong players are hurt at the wrong times.  And even if they don't win anything, they will decide who does.
With Arsenal, Spurs and Chelsea also demanding more from their attackers as their first line of defence, money is no longer the dividing line.  The rules have changed; the current top 5 just don't play the game the same way as the rest of the league anymore and the gap should only grow as time passes.  A pack mentality, energy, hunger are the new masters, and football is the winner.  With only 4 clubs conceding fewer than a goal per game in the EPL (and 2 of those only just!), this is surely set to be a season all about attacking play, outscoring the opponent in an open game or just blowing them away from the start.  Be ready to be entertained and leave your bus at the door.
Klopp's arrival has marked the end of the traditional number 9, perhaps even the end of 4-4-2 for any English club with higher ambitions than top 17.  Klopp's arrival has coincided with the end of bullying of the officials.  Klopp's arrival has ended the timidity of EPL clubs in Europe, starting with his own appearance in the Europa League final with a club floundering 8 months earlier under a manager who had lost his way, and without being able to field a permanent signing for the entire period.  What else could he end?  Perhaps even Liverpool's wait for number 19.
Klopp's way is the way of the present.  We simply need to take advantage of having the catalyst within our ranks before his way becomes the new norm, when we must all start again in the endless quest for that edge that gives a temporary advantage.
Something that I find fascinating as the season wears on is this:
Virtually every game that we have played since the beginning of the season has seen our opponents on the rack for parts of it. It seems as though everyone we play is hanging on for dear life to avoid a hiding. Doesn't seem to matter if the score is 0-0 or 2-0 or 5-0, the game seems to be in a never-ending pattern of desperate defence followed by a hoofed clearance, followed by a red shirt regaining the ball and coming straight back.
Now, what is scary if you are not of the Red persuasion, is that, as the weeks pass, the amount of time during the 90 that this pattern occurs is getting more, not less.
Teams are hanging on bravely for less and less time in the matches, and are under pressure for greater periods. It doesn't surprise me that OPTA records are being broken by the week, because we can see it with our own eyes.
But, given the bigger results/scores: 4-3 Arsenal, 2-1 Chelsea, 5-1 Hull, 6-1 Watford, 4-2 Palace, 4-1 Leicester, it is well within a solid argument to suggest that all of those games were more dominant than the score suggested. Even Chelsea were well outplayed and after their goal couldn't find the gear to make another decent chance, showing just how in control we were.
So, in spite of all of these results, it's like we genuinely have not hit a purple patch yet.
Lets be honest – how many of you watching the game yesterday 'expected' Watford to get drilled, even if you didn't say it loud? Most I'm sure. After the game, how many of you felt they were well and truly drilled? Probably less than you'd think. Yesterday had all the hallmarks of a generational 9-1 or 10-1 game about it. Liverpool were so good and so concise that any score would not have surprised me. Indeed, to score six, was at the bottom end of the range.
This is absolutely unbelievable and, given the team as a unit is still in its infancy, I would think as the season wears on, we shall see a couple of 7's, maybe an 8, maybe Fourcandles mythical 9 even, because that is how we play.
When you compare to the others:
Chelsea are in a real purple patch. Opposition managers have not yet come to terms with their system and they have Hazard on simply golden form alongside Costa who is finishing everything. They are dangerous due to the strong squad they possess alongside the gentler Europe-less fixture list, but it is a known tactical fact (I believe well articulated by Mihail a couple of years ago), that the 3-4-3 formation does not possess enough triangles to open teams up consistently and can be more easily stifled than a 4-at-the-back mode.
I expect that Chelsea's purple patch will come to an end sooner rather than later, once opposition work out a stifling tactic to pin them back, and whilst they have the quality to get 80+ points, they will still be well short of our final total.
City are a work in progress. The way they play, swashbuckling at times, wasteful at others, suggests exactly what you'd expect to see from a new manager in his first season. Inconsistency.  City have the squad to bollock their way to 90 points in a season, but probably won't do it this year due to the inherent difficulties of putting a new system into place whilst playing 38 games and a lengthy Champs league too. I would think that they will suffer enough off days to curtail their points tally to around 80 points too. It won't be enough.
Arsenal are a very realistic title winner this season. They have loads of attacking quality and plenty of goals in them. What we have seen though is a slight lack of consistency in games like Spurs and Boro at home, and this, along with a hefty fixture list come the last third of the season will probably do for them.
As in many a season past, they have been locked at around 75-80 points, and nothing suggests they will crack that this term either.
Now, Liverpool. We have 14 home games left. Four of those games are against top 6 opposition. Lets say we average a point a game, which would be poor. The remaining ten, we should win 9, many by blowout, given the extreme attacking intent we have shown thus far, and the utter hopelessness we see in visitors to Anfield.
This would leave us with 31 points from our remaining home games.
Away from home, we have just two visits to top 6 sides left. Lets say we lose both. That leaves eleven matches against teams who need to play on the front foot as they are at home and must show attacking intent. I would say, this, is the optimal set up for a Klopp side – inferior opposition must attack against lightening quick, technical Klopp side. We should win 8 of these eleven games and even lose the three others.
That leaves us with 24 points from the remaining away games.
We have 26 now, so with the remainders – 31 & 24, we'd have 81 points.
Now, given I have not managing a single win against a fellow top 6 side till the end of the season, these numbers are very prudent.
In fact, I'd suggest we will get closer to 90.
I know that we have all suffered a great deal over the last 26 years without the title, so talk like this is generally frowned upon, but to be objective, we need to know and appreciate just how good the team we are watching is, and how much better we could get during the season.
For me, this is the biggest chance we have had since 1990 to win this thing.
I don't just think we will do it – I think we will do it in style.
Every middle aged man who has worked in one profession for a number of years has a skill set which while it does have strengths, it also had weaknesses. If anyone took a hard look at Mourinho's resume, I cannot imagine why anyone would hire him for what would in fact be a rebuilding job as he had never undertaken a rebuilding job. If you think he looks lost this season, it is because he is trying to work in a reality he had never confronted before. Simply put, I could not see him succeeding at Man U. While this is not directly on your first class article, I might also throw Pep Guardiola into the discussion. He has at most 2 years to replace somewhere between many and most of his key players and this is a reality he had never confronted. Will he be able to do so? I do not know.
On the other hand, Jurgen Klopp came to Liverpool will a resume that pointed to success. Has anyone here ever been to Dortmund or for that matter ever been to a Dortmund match in Dortmund? Comparisons between cities is always problematic but the simple fact is that Dortmund was the powerhouse city of the Ruhr and a city left behind in the world of Germany and Liverpool was a powerhouse city in the old Atlantic trade and the British Empire  and has been left behind in the modern Britain. My point is that in many ways the city of Dortmund and the city of Liverpool have much in common. Similarly, if you have ever been to a Dortmund match in Dortmund and I have been to 1, you would note that the supporters would remind you of Liverpool supporters. To me Klopp by being in Dortmund gets not only Liverpool but the Liverpool supporters.
If you want to talk about Bill Shankly as a football manager, I would put what he did at Liverpool down to the fact he was a builder. Simply put, he laid down the foundation that meant that for roughly 30 years Liverpool were an annual contender to win the old first division and routinely made deep runs in Europe. If you want to talk about Klopp, what stands out is that he build something at Mainz that although there were some blips has allowed this club to have a better run than before he arrived. Similarly, no one can argue that what he did at Dortmund is to turn this club into a powerhouse in Germany and Europe and one that will almost certainly persist into the future. If you want to hire someone to build a football powerhouse, Jurgen Klopp would be  high of the list if not at the head of the list.
Now, when people talk about Bill Shankly, they never talk about what a good football mind he had. Shankly was the manager who saw in the middle 1960s that the continent was miles ahead of English football and turned Liverpool into the most European side in England and no one can argue with the success of Liverpool for many many years. Klopp if you had the opportunity to hear him years and years ago when he was doing commentary on German television has a first class football mind – he is the best football analyst I have ever heard. If anyone thinks that Klopp and his coaches are  not football smart, they are mistaken and badly mistaken.
Klopp came to Liverpool because he saw a sleeping giant with enough talent on hand to become a force in English and European football and I am certain that he got the promise of FSG to back him financially to fill in any of the holes that existed in the club. Lo and behold FSG hired someone who knew how to turn Liverpool into a football powerhouse and Klopp is turning Liverpool into a football powerhouse.
LFC's attack this season is extraordinary. I've never seen anything like it.
Caveat: I've only been watching real football since 2011. But, during that time, I've seen almost every minute of LFC action. I've also watched a boatload of other Premier League matches. Every season, I've also seen a fair number of UEFA matches in both the Champions and Europa Leagues, and a smattering of FC Barcelona and Real Madrid matches in La Liga.
In the course of all those hours watching football, I've seen a number of scintillating attacks. There were the two title-winning squads at Man City, fueled by the Silva-Aguero tandem. There was Pep Guardiola's unstoppable display of tiki-taka and pressing at FC Barcelona, followed by his impressive displays of dominance at Bayern Munich a few seasons later. There has always been Christiano Ronaldo's Real Madrid. I saw a few games of Jürgen Klopp's lightning gegenpress at Dortmund. And, of course, there was the unforgettable magic of the savagely effective attack mustered by Brendan Rodgers' Reds in the 2013-14 season.
But, I've not seen anything like the attack that Klopp has invented here and now.
I feel like I know this team very well. I know the players' strengths and weaknesses. I study the managers' formations and tactics. I think about combinations and tendencies. Despite this intimate familiarity with LFC, this season I find myself constantly delighted and surprised. If I don't know where Mané, Firmino, or Lallana will pop up next on the pitch, think about what it feels like to be a defender responsible for tracking those players. But for all the apparent unpredictability of that constant movement and interchanging, none of it comes as any surprise to any of the LFC front six themselves. They always trust their teammates to make the right runs at the right times. When space briefly empties in an area of the pitch recently abandoned by one red shirt, another faithfully arrives to fill it.
And the ball movement. Oh, that wonderful ball movement.
No longer do we worry about where the breakthrough will come as we watch LFC's ponderous possession. This is not a team that keeps the ball by safely shuffling it sideways and backward while slowly marching down the field, waiting for the opposition to make a mistake. The ball does not linger in any one place or with any one player for long. Even before receiving the ball, Firmino and Coutinho know where it will go next — most often rolled to the briefly empty spaces in front of them, where they know a mate will soon arrive to collect the ball, with confused defenders left to chase their shadow. Even Adam Lallana — a man I wrongly believed would always dawdle with the ball in a succession of elegant but ineffective Cruyff turns — has become a lightning attacker under the tutelage of Klopp and Co.
Amazingly, this attack is prolific in spite of the fact that most of its members are not particularly clinical finishers. Certainly, we have seen some moments of memorable individual magic. Coutinho's freekick from distance and Mané's dribble and hammerstrike against Arsenal. Hendo's game-winning thunderstrike against Chelsea. Mostly, however, the magic we see comes in the form of team combinations. First-time blind passes. Runs to open up spaces, which are quickly filled with running Red boots and a perfectly-timed through pass. And more recently, we've added impeccably executed set pieces. Unlike the 2013-14 Reds, who overwhelmed teams in large part due to the consistent individual virtuosity displayed by Suárez and Sturridge, this team instead inundates the opponent by creating a flood of shooting opportunities from the most dangerous positions on the pitch — the central areas of the 18-yard box. For the first time since I've been watching LFC, we see our team consistently scoring tap-in goals.
It's so joyful. It's so team-focused and interdependent.
Let's celebrate this ride every inch of the way.
I remember the morning of Brexit having a strange, almost paradoxically cathartic effect on me.  Here I was, weeks into a grim depression over the second half capitulation of the Reds against Sevilla.  What the suffering fuck was I like?  Brexit would never directly affect me but I found myself thinking of Carlo Ancelotti's words of wisdom: that football is the most important of the least important things in life.  How could I feel any species of mourning (and make no mistake, that was exactly how I felt following the Basle debacle) when millions were waking all over Britain with their futures a morass of bleak uncertainty? How dare I feel a sense of loss over twenty two lads kicking a leather ball around a patch of green grass when there was so much suffering going on in the world; when people everywhere were genuinely hurting, losing loved ones, having to become refugees from their own country, having to live in camps on borders or try desperately to cross a strait of sea in search of some kind of life that was free from persecution and terror.
This is all we have, right here and right now, this is all we will ever have.  It's vain and presumptuous in the extreme to assume there will be anything else after we close our eyes for the final time; it's more – the very idea is absurd.  All of us here are lucky in the extreme – through a quirk of fate, we are sitting at our laptops, or scanning through our iPads or smartphones reading about the Reds or commenting on the latest travesty of democracy in action.  How many teeming millions would see this as a decadent luxury, comparable to a Marie Antoinette or a Caligula?  How many throughout this globe would do anything, anything at all, to have a life like many of us have?  We have hardships, we have issues, but these are a drop in the vast heaving ocean that is humanity.
I've been very busy lately with work.  Homelessness in Ireland – and in particular Dublin – is a dismaying reality for many and the spectre of it becoming a possibility hangs over many more.  This is not solely the realm of those who suffer with various addictions, this is not a media stereotype, the down and out with a bottle in a brown paper bag and a polystyrene cup for coins that is the public consciousness of what it means to live on the streets.  This is professional men and women, highly educated, family people who are proud of their kids but who are ashamed of their circumstances.  It is also the land of the addict and the mentally unwell, lads who have known no better, who sleep under the stars but – unlike the Wildean adage – have no grasp at the possibility of starring at the celestial dance above them.  This evening, I'm going to a homeless shelter that caters for 105 people in a building that used to be a warehouse.
But I consider myself blessed.  It's an honour to do what I do, to make even a small change.  Every day is different, sometimes I'm playing FIFA with a guy who thinks that Kurt Cobain's daughter is his girlfriend, another day I'm in the hospital with a terminally ill person, the next having a meal with a guy that was a taxi driver a few months ago but is now on the streets because his mother died and he got evicted by a detached and dispassionate local council.  It takes an hour to get home from work but that's fine – the Anfield Index and the Anfield Wrap are brilliant company in the car, comforting and thrilling at this particular time.
It's all about perceptions, I suppose, all about attitude.  Those who know my style on this site will also know that I am full of boundless optimism when it comes to Liverpool.  In real life I used to be an insufferable cynic and pessimist.  Until, that was, I started in my current job.  Right now, I am so thankful for my family, my home, the air in my lungs, the food on my plate, for Game of Thrones, for Irvine Welsh, for Ian McEwan, for Radiohead and the legacy of Jeff Buckley, for a few cans at the weekend.
For those Reds.  Always those Reds.
I wanted to write something about the Watford demolition job during the week, was composing it in my head on Tuesday.  Was, during a respite from the job, going to sit down on Wednesday and try to do justice to the rising excitement, the genuine love I felt for those Reds.  Then the fucking election results.  Then looking at my kids and wondering what kind of a planet they'd inherit from us, then speculating about Putin as he gazes greedily west to his neighbours, about NATO, about American isolationism, about how minorities in the land of the free currently feel, about how any right thinking person in the land of the free currently feel, about how we all feel – and I think the majority of people on here are hugely what I'd call 'right thinking' – as the planet lurches to the political right, as we're surrounded by hate, by fascistic fear and ignorance.
But those Reds.
Is it wrong to take solace in the Reds?  Is it wrong to still be thrilled by the Red sea of attacking verve that thrill us on a (near) weekly basis?  A year on from the Paris atrocities, as we sat dumbstruck with shock and horror at so many innocent lives being snuffed out, of thousands more being irrevocably turned upside down with incomprehensible loss, is it wrong to feel genuine warmth and joy at the escapades of those Reds?
Not to me.  It may be hugely unimportant in the larger scheme of things but football, like it or not, is the new religion.
The steadfast spiritual nourishment that many clandestine worshipers of a new monotheistic cult felt as they hid in catacombs throughout the Roman empire, the zeal that enabled many to inflict their views on the afterlife on vast swathes of peoples, the sense of righteousness that empowered a few brave souls to gaze a gazeless stare (to paraphrase Bowie, whose death seemed to usher in this annus horribilis) unblinking at horrific regimes.  Football does this to me, no, that's wrong, Liverpool Football Club does that to me.  I may not believe in a soul or in religion but I believe in the human spirit, of inherent greatness that we are all born with, of the capacity to love and cherish.  We all have the capacity to be inherently good – that makes sense from an evolutionary point of view.  We are biologically programmed to have empathy for others, for a need to obsess and thrill over something.
Those Reds will do me.
There's a Chinese curse that says I hope you live in interesting times.  On the surface, that would appear fine, but we don't want things to get too interesting.  Absolutely not.  We don't want future historians to write about these interesting times, to piece together the inexorable steps that led to disaster.  But it doesn't have to be that way.  That innate goodness can – and should – still win out.  The world may be very uncertain at the moment but I believe.  I believe in goodness.  I believe in us doing things right, I believe in reason and enlightenment, in questioning our actions.  I also believe that many believe that too.  A huge amount – despite evidence to the contrary in the current political climate.
And we have those Reds.  We have Jurgen's unique brand of football, we have Phil and Bobby dancing, we have Mane tormenting, Jordan leading, Matip clearing.  I'm not going to feel guilty for loving those Reds anymore; they are my obsession, my religion, and I will cling them in the face of any storm.
Whatever happens from now on, I will try to educate myself on what's going on in the world more deeply.  But I will, at the same time, devote myself to enjoying life, the life I'm currently lucky enough to have, my wonderful family and those Reds.
It may be the most important of the least important things in life but it adds immeasurably to my enjoyment of life.   And it's with such joyous and miraculous serendipity that just when I need a pick up, a jolt of joie de vivre, the Reds have stepped up and given it to me.  The journey – no matter what – is going to be a thrilling one.  The ending might not give us what we all desperately crave but it's not about endings anymore; it's about enjoying life and enjoying those Reds, about being infinitely thankful for what we have and what those Reds are currently giving us.  Return of the Jedi gave us fucking walking teddy bears and a smaltz filled ending to a magnificent saga but that journey to get there?  Well worth it, well worth the price of admission.
The here and now, let's try and enjoy it and try not stress too much about what's around the corner.  Life is a priceless gift – a state of being that is almost impossibly against the odds – and we should embrace it.
And embrace those Reds.
It's been a rollercoaster being an LFC fan these past 7-8 years, managerial change, ownership dramas, conflicting fortunes off the pitch resulting in a prolonged fall and absence from the EPL top 4. It's fair to say it's been an exhausting journey full of twists and turns, but with the renewed hope now that the path is rapidly upwards; an exhilarating ride back to the top of English football.
One thing I have learned following all the managerial departures of recent years is that it is only with hindsight do you realise some of the mitigating circumstances. As someone who called for Kenny's head due to the collapse in league form and concerns over his tactical nous, I look back on his time slightly differently as time has moved on.
Similar for Rafa; when he went I thought that the time was right for change and to be fair it probably was. It was only reading Paul's enlightening work at the time that made me develop an appreciation for the impediments and obstacles Rafa faced at every turn.
We'll just gloss over Hodgson, as he was simply the wrong fit from day one.
As for Kenny, well the thing that makes it a little unclear in assessing his work is not knowing to what extent FSG and Comolli were involved in influencing certain decisions. It seems Kenny had to make certain compromises, perhaps more than Rodgers, in working with a DoF. I believe Comolli needed to give him more help with certain signings or at least offer a stronger challenge.
The likes of Carroll, Downing and Adam never fitted the profile of star quality player the club aspires to. I think FSG wanted to pursue a strategy of buying and developing home grown players but as a club we went too far the other way from Rafa's continental model. In many ways Kenny was the victim of FSG's football learning curve and had we had a better support structure in place perhaps Kenny could have carried on as manager for another year or two.
As for Brendan, had we won the title how different things might have been for him. Again I called for his head but with hindsight I think he was the right choice for FSG at a time when the club needed to take a few steps backward on the pitch to right certain wrongs off the pitch (financials, operational structures and so on). He was a stop-gap and in fact the first two seasons represented good work from Rodgers and he deserves credit for channelling our individual talents into exciting attacking football and swagger.
He clearly had the right ideas but I think he ultimately lacked the experience and support team to implement those ideas into a sustainable style of play. Off the pitch he also had a number of family issues to deal with which didn't make his life easy.
Whatever happens this season, we've never been more stable, better equipped and mentally-fortified than we are right now. With Klopp and the changes him and his team's presence are driving around the club as a whole, there's something more solid and lasting being created.
It feels as if the club is doing things in not just a sustainable way, but the right way. Klopp's refreshing approach is making a real difference and he's injecting a healthy dose of vigour and vitality to both the players and the fanbase. Spurs look like they're made of stern stuff and are a proper team right now despite last season's setbacks. They're a good case study of what we can become but also exceed.
Though Klopp is seen as a "counter-attacking" coach he's showing the know-how to build a team that is defensively solid but also one that knows how to take the game to the opposition and destroy them. Unlike other managers, with a plethora of attacking talent at his disposal he's showing he can thrive rather than crumbling under the burden of these assets. We've also got loads of money to spend if we need it so even if we lose a key player, Klopp is proving that if you build the right team ethic you can reduce reliance on single players. Not only that but the money can be used to good effect to secure a number of different needs in the squad as saw this summer.
Klopp seems pragmatic enough to learn from his mistakes and get better. I believe the team will take a similar trajectory. If Klopp lands us the title this season I believe it will be the first of many, not a one-off accomplishment. He can make us great, once again domestically, but also internationally. Even as early as next season I feel teams will quickly start to realise that LFC are once again emerging as a real threat to the aristocrats of the European game.
Of course, much will depend on the ownership and first-team management team. As in all organisations, it is groups of people, aligned in their aims and with a clear vision, that bring sustained success. Change a few pieces of the puzzle and things can quickly unravel as we are seeing so clearly at Old Trafford.
As fans we should be very grateful for such committed, responsible and in many ways visionary owners. Owners who aren't afraid to mistakes and who are not afraid to apologise when they make them. That's rare.
None of us know how long we will have FSG and Klopp working in tandem. I think we've got to try our best to just enjoy the football on show over the next 2-3 years (hopefully longer) because it does feel to me as if we're on the verge of something very special. And as we know, nothing lasts forever. We should savour it while it lasts.
[ttt-subscribe-article]