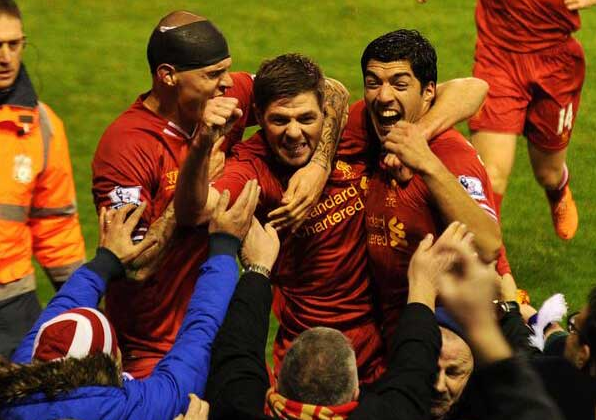 By TTT Subscriber Anthony Stanley.
It wouldn't be too much of a stretch to suggest that there was something of a collective shrug of scouse shoulders as Brendan Rodgers and the transfer committee secured the signings of Daniel Sturridge and Philippe Coutinho. Both were the very epitome of the FSG, Moneyball-inspired blueprint; ultra-talented and young but not quite hitting the heights that their respective talents suggested they were capable of. Though there was the inevitable residual excitement that comes with any transfer of a mercurial South American, there was also a healthy dose of pragmatism – the £8.5 million arrival from Inter Milan had hardly set the world alight during his time in Italy, although a loan spell at Espanyol pointed to a ceiling, in terms of talent, that could be very high indeed.
The English international striker Sturridge was, unfairly, seen by many as possessing a mercenary streak and a player that may have been difficult to work with though, it has to be noted, much of the unease stemmed from the fact that many Kopites were also uncomfortable about the Reds signing footballers that were essentially cast-offs from their perceived rivals.But the reality was that Roman Abramovich's insistence on big names at Chelsea worked in Liverpool's favour; Sturridge would soon usurp Fernando Torres as one of the best strikers in the Premier League and would do so in a red shirt. We couldn't possibly have foreseen it in January of 2013, but the arrival of an Englishman and a Brazilian was about to provide the catalyst for what would be a thrilling eighteen months.
In Brendan Rodgers' first few months at the club, there had been a perception that his stunningly gifted striker, Luis Suarez, had tried to do too much on his own, possibly not trusting the level of talent that was the Liverpool attack. But the Uruguayan instantly recognised the potential of the new arrivals and this thrillingly effective troika would serve up some sumptuous football over the coming spring, an electrifying and exhilarating appetizer for the main course Liverpool fans were about to dine on in 2013-14. In his autobiography, Crossing the Line, Suarez described his impression of his new teammates:
'Philippe was incredible. He changed us completely. He's the one that gave us faith in having the ball because his technical ability is so good. You knew that he wouldn't lose it, you knew that he would produce something special…you could see straight away that he was different. Daniel was about to become the best partner I'd had in my career…I could see that he would make a difference. When I watched him in training, my appreciation for his ability grew. I knew that he was quick but the way that he could finish really struck me. Every shot went in. Every time. He had the talent and Liverpool offered him the opportunity and continuity that he hadn't had at Chelsea.'
The rest of this retrospective is for Subscribers only.
[ttt-subscribe-article]