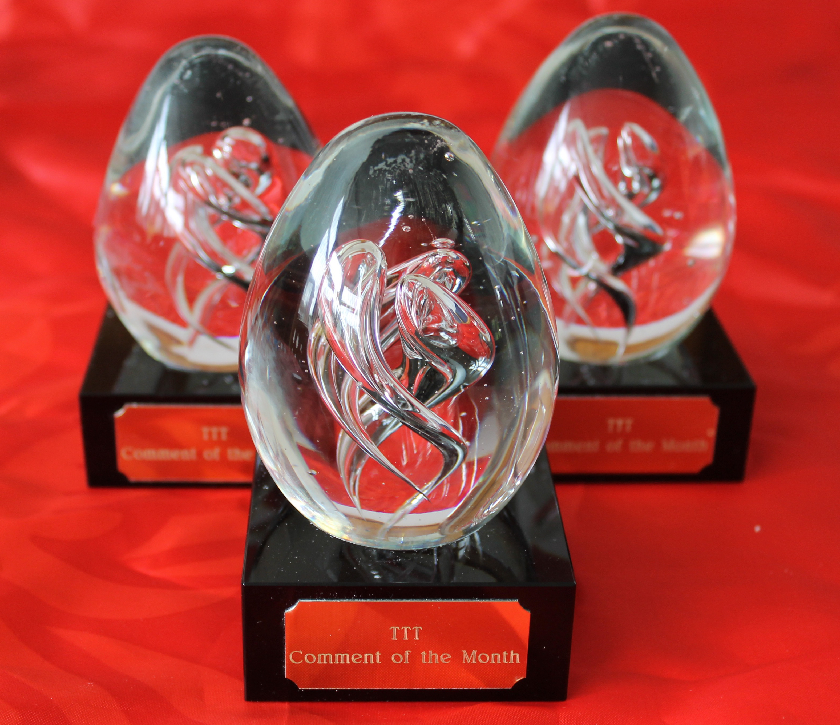 Selected by Chris Rowland, Daniel Rhodes and Paul Tomkins.
Here's our monthly competition to find and reward the best comment from a selected shortlist of brilliant comments that appeared on TTT during the month.
Vote below – the winner gets a glittering trophy to raise aloft before their adoring fans, and a £20 electronic voucher.
Comments:
1 – In this impressive debut post, ab248 appraised the impact Klopp has made not only on Liverpool but on the notion of club football management:
A first post from a long-time observer and admirer of the site (btw I was lured back into signing up again by being able to pay more conveniently without paypal – it's frightening from a provider's point of view how a small change can be the difference in this age of ultra-convenience and intolerance for the smallest delay).
It's not easy taking the plunge to post something, particularly if, like me, you may spend life hooked to email but don't 'post' elsewhere in that more undirected way, to Facebook etc. It's worryingly easy to get accustomed just to voyeuristically following others' exchanges. And – to kind of compliment – there's an intimidation factor, in that the posts here are insightful and strike a lovely tone which isn't easy to emulate. Practically, there's also the feeling that keeping more distance than you guys makes it easier to disengage when things aren't going well with the club! Like many others I suspect, I'm one of those who can't read a news report of a loss and tries to forget it even happened –  whilst wallowing in every account of a sweeping victory. It will always be a little fair-weather for me, so any future posts are likely to be episodic.
Anyway, my modest point is to emphasise that Klopp has not only already seemingly created a fantastic team, atmosphere etc., but turned the whole game of management and following a club on its head. It seems far too good to be true that we've acquired a manager who not only seems unique in his style, personality and energy, but is able to deliver results in a seeming instant now that he has full control (of course part of what made this possible was in the hard calculation of taking on a club that, he recognised, not only suited his personality but luckily also had several players he knew could deliver what he wanted once other elements were in place).
But he's also – apparently in one fell swoop – swept away the bullshit around football management and how one follows the team. All the transfer stuff that entertains us so means little when you have a manager only interested in making a team out of the right, not the most sought-after, biggest-name players. Already I can't even be bothered to open up the latest daft transfer link in a way that I might have idly done in the past. Who needs more players; for what? He's a professional football manager, as he emphasized during his MNF appearance and he takes care of that. How foolish we all feel now with our 'insight' that we must have a new left back, for example. For Klopp, nothing available was good enough, so he made one from scratch (well, not exactly). I share this site's irritation with the childish demand to buy the big names and scream when we don't. He's shown that is unnecessary and just irrelevant; again, almost overnight (I wonder where the big name screamers will direct their energies now?).
In this context one can really make specific sense of his plea for us to spend our energy getting behind the team; that's what we're there for.
Likewise, on the pitch he's changed the game with this interchangeable whirlwind. How many players are now playing in new places, doing different things. Amazing this real football management! It was interesting to hear Wijnaldum say how it even transforms what he looks at whilst playing, focusing on where his other team mates are rather than only what he's doing himself (from a fixed position) …he stays back if Henderson goes forward etc.
He's even killed the broader business of speculation about his own job. Now he says Liverpool will likely be his last job before probably retiring at 60. He's found the right place for his brand of genuine management so that's it; end of story.
In the process, he makes the Mourinhos of this world look like they're not really doing much of a job, merely assembling collections of gallactico-lites, sending them on to the pitch and hoping for the best. It is surely part of the growing and fascinating sense that Mourinho has lost it – thankfully with the Mancs. What a joy to behold the horrid Mourinho with his twisted, bitter face blaming anything and everything for his incompetence, united with United in their identity-less pragmatism; a marriage made in heaven like the bloated bully Allardyce with the ridiculous FA England team (that ended well, didn't it, with Sam blaming dark forces, like Mourinho, rather than his own embarrassing greed).
He's not perfect though. Speak more slowly please Jurgen. I could hardly keep up with him on his fascinating MNF appearance (how he can roll with everything! It was rude of Carragher to show that footage of him slipping from his playing career, but he didn't skip a beat).
And one might say he's messed up all the fun of following a football team, particularly one like Liverpool where there's always so much going on, about which one can endlessly speculate and pontificate. But, it seems, as he's redefined our role, so he's redefined our own sense of fun and engagement. He's compensated with a whole new version of fun…from himself.
And a surprisingly good piece on the season so far from the Guardian:https://www.theguardian.com/football/blog/2016/oct/03/liverpool-spurs-premier-league-pace-season?
It is just so difficult to convey the reality of life in Britain and places like Toxteth during the 70s and 80s.  Driving through Toxteth now it is impossible to relate it to the area I knew when at Liverpool University in the 70s.  Most of those grand old houses have now been renovated and the area is buzzing again.  The advent of Liverpool 1 has done much to help the city catch up with the developments in Manchester that threatened to leave the city behind – and you can trace that back to the building of the Manchester Ship Canal as perhaps the starting point in Liverpool's decline.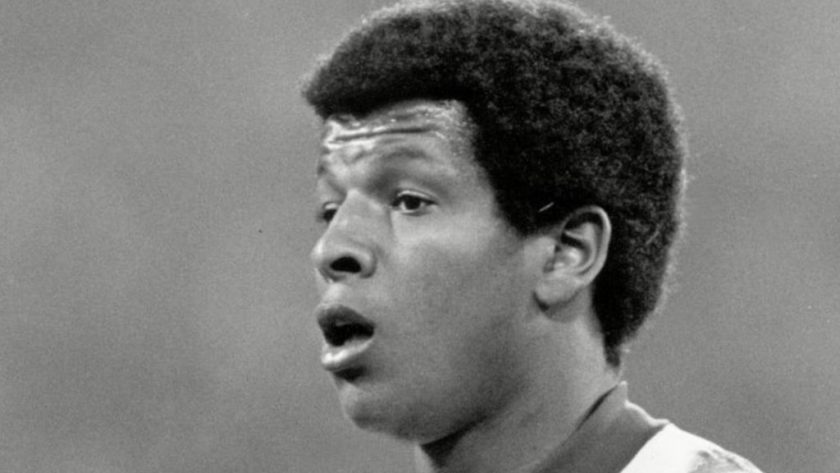 With a white middle class upbringing it is totally impossible for me to comprehend what Howard Gayle has had to put up with on a daily basis just to survive, let alone thrive at a club like Liverpool. I remember walking away from Anfield after the first leg, passing German supporters who thought the job was done. They had a great team and had every reason to believe that the hard work had been done – I even recall their captain going on TV almost saying as such (not sure whether it was Breitner or Rummenige). We watched the second leg on TV and I don't really recall us being in any great difficulty until we switched off after scoring – even that team probably, complacently, believing the goal had secured their place in the final. I recall the concern over Dalglish's departure giving way to astonishment at the way in which Gayle just took them to the cleaners. As fans we still knew very little about him, so he certainly would not have figured in any German scouting reports – and of course the distinction of the substitute being substituted.
That, of course, became Howard Gayle in most fans' eyes. He seemed to disappear as quickly as he had arrived and we moved on to more and more trophies, so who could question the decisions within the club. To be honest, I had never given him any more thought until the recent news that he had turned down an MBE. This is something of a double edged sword. You have to admire his integrity, not least with the awards connotations of the Empire. On the other hand, as so often with any kind of recognition, it reflects not just on the work of an individual but also others in the same field who work tirelessly, with no recognition. I have no right to say what is right or wrong about that decision, but I have to admire his principles. I will read his book and I will also read Ron Atkinson's book. Another man where race and racism have come to define who he is – and yet possibly not. His West Brom team played fantastic, dynamic football and was in the forefront of bringing through black players. Players who, incidentally, stood by him when his unbelievable comments about Desailly were aired. I have no idea whether the two particularly know each other, but I suspect it will make fascinating reading, coming at the same problem from totally opposite ends.
I hope that society has changed for the better since those days and that it continues to change moving forwards – and not just in relation to issues of race. As Dave Lee Travis discovered and hopefully Donald Trump will discover, what might have been deemed acceptable then is not acceptable now. One persons banter is another person's bullying and I would hope that the behaviour in the Liverpool changing room in those days would not be tolerated nowadays. Many of the great teams of the past had huge personalities – through Smith to Souness to Gerrard or the likes of Robson and Ince at Utd (and of course LFC), yet much of what I admire about Klop's reign at Anfield is that he is the big personality and team appears to be a gathering of equals. There are some who will always be first amongst equals, but you sense that they are all treated the same way. There is a collective work ethic that transcends everything else and surely that is how it should be. As often as some people are in the right place at the right time, equally there are others who are in the wrong place at the wrong time. You sense that had Howard Gayle been at Anfield nowadays he would have been ahead of the likes of Sterling, Ibe and Ojo as a fast, incisive, wide man. Amongst fans he will always be remembered as the man who helped to set up that 1981 European Cup triumph, but it is clear that he deserves to be thought of for many, worthier, reasons by the wider community.
Was just looking back at the match and thinking, while I understand that football is all about the money and success of the respective clubs, how little place there is for sentiment here. Even in the buildup, Klopp was making references to producing a match display where people say they can't believe their eyes and was aiming to once again make this a spectacle of football, not only for the fans and the club, but also for a cause he is himself very much invested in:
"I did a few things like this when I studied sports science," said Klopp. "I worked with handicapped people when I was quite young. Some couldn't see or hear, and some had other issues. I am sensitive to this.
"I worked in a hospital and taught wheelchair tennis. For a big part of my life I was really involved in things like this. Anything we can do to make life easier for people is fantastic. I had a similar situation when I played wheelchair tennis. I played it and then after the game I got up and walked away.
"It's like trying to take penalties with the blindfold on. You try it and think: 'oh my God, it's so difficult'. It makes you realise what others have to go through. It also makes you want to do everything you can to help people lead as normal a life as possible."
He also praised Standard Chartered for choosing such a high profile game to swap their logo for that of their charities. While I understand this sport is a business, and it's the manager's job to get the best result possible on the day, this just makes you realise and think again about all the things in this life that are more important than football, and in that sense at the very least I believe perhaps this match should have been about two sides going forward with positivity, understanding this match to be about more than just the end result. It should be a celebration of football. As we all know, only one team turned up with this as their goal, whilst Mourinho sought out nothing more than to ruin, to the best of his abilities, all that makes football a spectacle, and something that people want to pay to watch.
Of course everything I'm saying here comes purely from the heart, and when fans, even very considered, critical, analytical fans talk about and observe football, you have to say that no matter how much you understand the implications monetarily to the club of finishing in the top 4, or winning the title at the end of the league, really for us it's about the journey, the enjoyment, the camraderie, the highs and lows we all experience on the rollercoaster of emotions that a football season throws at you. I think every critically thinking, intelligent fan understands however that every football manager has the unenviable task of pleasing the fans, and also pleasing the board. He has to be in touch with the human side of football, and needs to be able to switch this to a critical, analytical machine, that is able to watch replay after replay of games, devoid of the enjoyment of sitting in the stands, crunch numbers, analyse statistics, comprise portfolios of potential transfers, all whilst keeping an eye on youth academy setups and the high level running of the club. This is the reason I think Jurgen Klopp is a fantastic manager, because he has every bit the interest in creating a footballing system that a squad can work around, and finding the right parts to make up what seems like attacking chaos to our opponents, but is in fact all meticulously planned and drilled into every one of our players, week in, week out. He does all this, whilst understanding the fans, he wants to create beautiful football that we as fans can get behind, he wants to score goals, give us all reasons to get up on our feet and shout, sing and dance. In this way he wants to create pure footballing nirvana, the harmony between beauty and efficiency. This is entirely what makes Mourinho his antithesis. First and foremost to him comes the result, everything else comes after. I didn't really follow him before he came to the premier league, but perhaps his time working under Abramovich, and perhaps even the United board have put him under a pressure that is finally starting to get to him. He can no longer trust himself to assemble a team that is able to take any game to the opponent, ripping them apart systematically through the use of his tactical nous and superstar players. He strikes me currently as a manager just trying to hang on, to avoid being swept away by the beautiful, free-flowing football that Liverpool, City and Arsenal bring to this league, amongst others. I really feel right now that his time, his age even, is coming to an end. Negative football only works if you get results, get trophies. Else the fans will start to complain, because they have nothing else to look forward to, apart from the victory ceremonies at the end of the season. The players will become frustrated because any truly talented player, at least an offensively minded one, will feel they are playing within themselves, unable to blossom and flourish and grow into the best footballer they can be. This is what Klopp wants to do for his players also. He cares about each and every one of them, how they develop and how they can become a happy unit, all willing to defend and attack together, not just defend together. This may be why Chelsea and other teams managed by Mourinho have such a hard time getting over their split, as his drills, his way of playing was the only thing keeping them together, no fostering of real team spirit and togetherness. This is maybe also why you can see Dortmund moving on after Klopp almost without a hiccup. He put all the pieces together there and created a family, with himself as the father figure, but in the opposite scenario of a standard family, he prepared his 'children' for when it was *his* time to leave the nest, ensuring they had all the tools necessary to continue to be successful.

I wholeheartedly believe in this approach. The arm around the shoulder that picks you up, rather than the prickly headmaster or drill sergeant who get you working out of necessity, not the love of it. We all know that true success is found when you find a job or profession that you truly love, and I think we would all be happy to see our players play with a smile on their face, because I'm sure that that smile will be reflected across all the Liverpool fans across the world, watching this sleeping giant turn into a machine, not simply a well oiled one that pumps out results, but one that does so with panache and style. This is why we should be happier than ever after the result on Monday. If nothing else it showed us how this is becoming a reality for Liverpool, whilst it is becoming a more distant memory than ever for United. There's nothing but good times ahead, in my mind, and I just can't wait to see how it all comes together.
I had a closer look at the league table going back to the 10/11 season (Rodgers' first season in charge), specifically how things stood after match week 9 and how they stood at the end of the season (didn't have more time). There were some notable points.
Only twice has a team that had lost 3 or more games at this stage finished in the top 4: Arsenal in 11/12 recovering to 3rd with 70 points after a horror 4-1-4 start that saw them 12 points adrift of the leaders, and Man City in 13/14 who had lost 3 and sat 7th on the table but would go on to win the title. But I don't think either of these 'miracles' were outliers.
The team that was league top scorer after 9 matches won the league in 4 of these 6 seasons. In the 2 instances where this did not happen (United 10/11 & Leicester last season), the title was won with a points total in the low 80s (80 and 81 respectively) and the title winner only recorded 23 wins – in all other seasons even the runner up got 23 or more wins. Not only did they have the fewest wins, they also had the fewest losses (4 and 3 respectively) to balance them; typically the title winner loses 5.
Not much should be read into City's miraculous recovery in 13/14: after 9 games they were the league's top scorers with 21 and had a goal difference of +10 where more than half the sides above them had lower goal differences. When one strips out the 'noise' of the over-performing lesser clubs (your West Hams and Southamptons that frequently sit high on the table for the first third of the season) one finds that final league position has a closer correlation with the health of the clubs goals scored at this early stage than with the points on the board. It also helps explain Arsenal's rise in 11/12, as they had the 4th best "top club" attack despite having lost 4 times in the opening 9; like City they regressed to the mean rather than did the seemingly impossible (and ended up scoring 72 that season, more than all but 2 of Liverpool's EPL era efforts).
Point #1: You can't win the title if you've lost a third of the opening fixtures unless you happen to have the best attack in the league. Goals scored and then +1 goal difference/game are key, as the title has always gone to a side with the latter metric, except Leicester last season when no club had a GD > 37 (their +32 was second only to the +34 of Spurs, who finished 11 points back).
Point #2: Leicester and United were both 3rd in terms of goals scored in those low-scoring seasons they won and both trailed the league leaders by 5 points after 9 games, but had the necessary 2 goals/game in their locker already. Again, an emphasis on goals scored.
Already known point #3: Only once since the turn of the century did a club win the title while conceding more than a goal per game on average (Fergie's final season).
With 4 clubs currently scoring more than 2 per game and having a +1 GD/game it looks a 4-way title race depending on who can concede fewer than 38 while still knocking them in for fun at the other end. These four are therefore favourites for the end of season top 4, but there are many, many games left to come.
Spurs, Everton, United and Soton are not too far away to catch up, but don't seem to the have the firepower up front to win the league.  Soton and United have also lost 3 already and have the 8th and joint 5th highest goals scored respectively at this stage, so they have a lot of work left to do just to finish in the top 4.
Premier League Manager Under Parliamentary Scrutiny:
MPs have called an emergency meeting in Parliament to debate whether Jose Mourinho should be stripped of his title. Calls for his T.S.O. – (The Special One) – to be annulled have been looming owing to concerns about financial and numerical malpractice, indicative of specialist in failure tendencies.
Charged with leaving a big hole in the defensive line of a former employer he subsequently threw staff members under a London Bus. In similar fashion he pushed current staff under a Manchester tram, citing a 'lack of mentality' when end of match results disappointed. Ironically, it was he who splurged a 90 million Bitcoin spend on an asset his Company previously sold – at a fraction of the cost.
Mourinho is famed for never taking the rap.He passes it on to someone; or something else. Engaged in a game of pass the parcel, containing a bomb, he himself orchestrates the music to stop on this month's favourite blame goat. He is also accused of a tendency for aggressive and 'creative' accounting.
Only last week, he criticised a major rival's attainment of 65% possession with a production of just two shots. Conveniently, he ignored his own company results of 35% possession – the lowest in their history – producing just one shot on target. Also forgetting to reference the fact that his Chief Accountant, Mr De Gea, had made savings three times the value that frontline staff registered shots on target. And this was with a Bus permanently parked at Mr De Gea's workstation area.
This week he has criticised another Manager for celebrating the realisation of 4 Business goals. Presumably because it was at the expense of Mourinho's current Company; and with more or less the resources that the Portuguese had at his disposal when employed by the same West London organisation.
Reporters have been unable to obtain a comment from Mr Mourinho relating to current Parliamentary proceedings. There are 35 double deckers obstructively parked around his home.
 6 – Tjobrien17's attempt to quantify the strength of our start using the American Ratings Percentage Index
As mentioned here repeatedly, our strong start and difficult early season fixture list would seemingly put us in good stead for the rest of the season. I have been thinking about a way to quantify the strength of our start, and I attempted to do so using something from American sports called the Ratings Percentage Index (RPI).
In basketball at the University level in the U.S. there are 351 teams who play in Division 1, the highest level. These teams play roughly 30 games per season (it is not a set amount) against varying levels of competition. As a result, there can be vast differences in the quality of two teams who both had 17 wins and 13 losses.
There is a committee tasked with deciding which 68 teams are given entry to the tournament at the end of the season to determine the champions. This tournament is probably the closest thing we have in the States to the FA Cup. This committee uses the RPI as one tool to help them make their decisions. It is not perfect by any means, but by and large it does a good job of defining the true quality of the various teams. A given team is usually within a few places of where a poll of coaches ranks them.
The formula for the RPI is simple. It assigns a 25% weight to the team's winning percentage, a 50% weight to the average of all of that team's opponents' winning percentages, and a 25% weight to that team's opponents opponents' winning percentage.
In the Premier League the table does not lie at the end of the season, but right now after only 9 matches there are certainly differences in the quality of opposition faced, so I think the RPI is a good tool to smooth out that imbalance. I made a slight adjustment as, unlike football, there are no draws in basketball. Instead of using winning percentage, I used % of points gained versus those available. For example, Liverpool have gained 20 out of a possible 27 for 74.1%. I could not think of a way to weight home and away matches, so I ignored that factor. It shouldn't be too important though as all but Burnley (6 at home) have played either 4 or 5 home matches.
My findings certainly seem to produce a table that "looks" right, and should please any Liverpool supporter:
| | | |
| --- | --- | --- |
| | % of PTS | RPI |
| Liverpool | 74.1% | 54.1% |
| Chelsea | 70.4% | 52.0% |
| Arsenal | 74.1% | 51.8% |
| Man City | 74.1% | 50.4% |
| Tottenham | 70.4% | 50.4% |
| Man United | 51.9% | 49.7% |
| Bournemouth | 44.4% | 46.4% |
| Leicester | 40.7% | 46.4% |
| Burnley | 37.0% | 45.9% |
| Everton | 55.6% | 45.6% |
| Watford | 44.4% | 45.5% |
| Southampton | 48.1% | 45.2% |
| Swansea | 18.5% | 43.2% |
| Hull | 25.9% | 43.1% |
| West Ham | 37.0% | 42.1% |
| West Brom | 37.0% | 41.9% |
| Stoke | 33.3% | 41.0% |
| Crystal Palace | 40.7% | 40.9% |
| Middlesbrough | 25.9% | 39.5% |
| Sunderland | 7.4% | 35.9% |
7 – Another table, this time from Kloppelotti, looking at the the fees we have spent on the current squad of players:
The piece provided instant inspiration (and an excuse) to have a quick look at the the fees we have spent individually and overall on the current squad of players. (Apologies for the poor layout. I had everything nicely laid out in a spread sheet, put when attempting to 'copy+paste' it went belly up, so had to break up the table in smaller chunks.)
Please note the following:
The fees have not been adjusted to TPI (safely leaving that to the experts! ;-))
None of the players currently out on loan have been included.
All add-on fees have been included in the total fee for each player.
The players marked with * arrived from another club as academy/youth player, so not sure if we had to pay any compensation fee. (Ojo was very young when arriving from MK Dons. The other ones are Stewart, Chirivella and Ejaria.)
I was only going to include the first and second XI (named XXII), but got carried away (like Paul on the best ever full back in our galaxy! ;-)), so added a third XI (named XXXIII) as well. I would expect players like Ejaria, Ojo (when fit) and Gomez (when fully fit) to establish themselves in XXII, but at present it's not particularly easy "relegating" anyone from the current second string line-up. Gomez could take TAA's place. Ejaria and Ojo are competing with Ings, Origi and Sturridge! Ejaria could also compete with Grujic or Can in midfield! I'm completely blown away with the quality of our squad and it will even get stronger as new talents emerge and we might even continue to purchase the odd player …
Please see the 3 x XI's below:
| | |
| --- | --- |
| XI | FEE |
| Karius | £4.7M |
| Clyne | £12M |
| Matip | FREE |
| Lovren | £20M |
| Milner | FREE |
| Lallana | £25M |
| Henderson | £19.25M |
| Wijnaldum | £25M |
| Mane | £30M |
| Firmino | £29M |
| Coutinho | £8.5M |
| | £173.45M |
| | |
| --- | --- |
| XXII | FEE |
| Mignolet | £10M |
| Alexander-Arnold | ACADEMY |
| Lucas | £6M |
| Klavan | £4.2M |
| Moreno | £12M |
| Grujic | £5.1M |
| Stewart | FREE (SPURS)* |
| Can | £9.75M |
| Origi | £9.8M |
| Sturridge | £12M |
| Ings | £8M |
| | £76.85M |
| | |
| --- | --- |
| XXXIII | FEE |
| Manninger | FREE |
| Gomez | £6M |
| Ilori | £7M |
| Sakho | £15M |
| Randall | ACADEMY |
| Ejaria | FREE (ARSENAL)* |
| Chirivella | FREE (VALENCIA)* |
| Brannagan | ACADEMY |
| Ojo | FREE (MK DONS)* |
| Woodburn | ACADEMY |
| Wilson | ACADEMY |
| | £28M |
In total, we have spent £278.3M on 33 players. We would only have got approximately three Pogba's for that amount! If we break it down further we have spent the following spread out over the pitch:
Goalkeepers = £14.7M (3 players)
Defenders = £82.2M (12 players)
Midfielders = £84.1M (9 players)
Forwards = £97.3M (9 players)
Only our forwards combined would amount to a full Pogba!
Cheers Man U and Mou! You're doing well! Perch my arse!! We are Liverpool!!  😉 😉 😉
Whose is your Comment of the Month?
1 - ab248 (43%, 68 Votes)
3 - Joe Bloggs (14%, 23 Votes)
4 - Thundyr (11%, 18 Votes)
2 - Stevenson1988 (9%, 15 Votes)
5 - Tony Mckenna (macattack) (9%, 14 Votes)
7 - Kloppelotti (8%, 12 Votes)
6 - Tjobrien17 (6%, 10 Votes)
Total Voters: 160

Loading ...