By Andrew Beasley (TTT Subscriber Beez).
In my previous two columns I mainly focused upon expected goals and stat benchmarks, but as Liverpool entered the current international break sitting pretty at the top of the league I thought it would be more interesting to see how they fare against the rest of the Premier League on a wider variety of stats this month. We can then decide if the Reds really have been the best team in the division over the first eleven matches.
Let's begin with a look at all shots. The following table is sorted by total shot ratio, which is shots for divided by shots for plus shots against.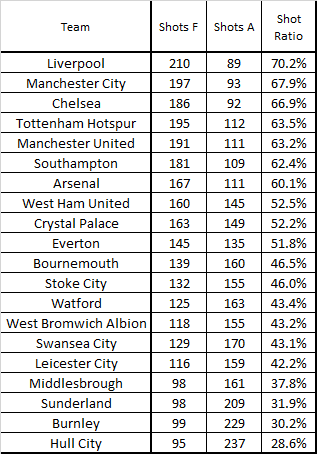 There are no major surprises at the top end of this table, and of course it's good to see Liverpool sitting atop the total shots tree. Notice how the Reds have both had the most shots and allowed their opponents the fewest; now that's dominance!
The dominance is emphasised further by the fact that Liverpool have out-shot their opponents in every single match, and in every case by a worse shot difference than each of the teams has averaged per game this season.
The rest of this analysis is for Subscribers only.
[ttt-subscribe-article]