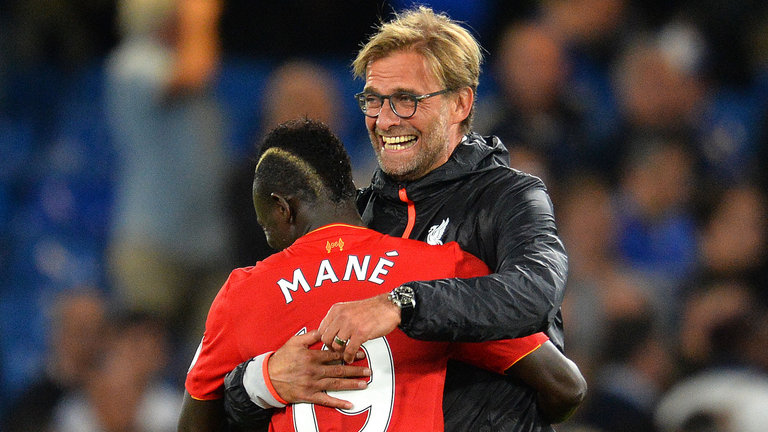 I don't know precisely how much the international break affected other teams, but clearly it didn't help Liverpool in their visit to Southampton. The Reds lost Adam Lallana to injury, and had their two key Brazilians flying around the world, with Philippe Coutinho playing in the massive 'derby' game against Argentina followed by a win against Peru. He too arrived back with a minor injury, and although he played against Southampton he  understandably wasn't at his sharpest. Sadio Mané had also been away in Africa, making for the front three covering some gruelling distances in the air, which perhaps took away from their ability to do so on the pitch.
Roberto Firmino didn't play for Brazil, but it was still time spent travelling, and not training with his Liverpool compatriots; another break in the flow. Indeed, the best players for Liverpool on the day were possibly the defence – even though they weren't tested too much (perhaps because they were so sharp to the ball). Clyne aside, the rest of the back four had the two weeks off due to different forms of 'retirement' from national duty.
With every passing week the defence is looking better, and two weeks at Melwood probably helped here. Joel Matip continues to look first-class, and for all the lack of clean sheets this season (Saturday representing a rare one), the defence rarely looks ragged and stretched; with the issue being more how mere occasional attacks were regularly leading to goal.
Perhaps most crucially, Loris Karius is now developing a punching game; John Achterberg gets a lot of stick but his use of rugby pads to help Karius practice punching under pressure looked a fine idea.
The good news now is that the Reds won't have to face another international disruption for a good few months (fuck yeah!), and there is no European football to worry about. Of course, Chelsea also have this 'luxury', but let's not forget that the Reds, currently sandwiched – in 2nd place – between the Londoners and Man City, do not possess a squad full of Premier League title winners, whereas the other two (who also boast much more expensive squads and wage bills) are replete – give or take a few new players – with that experience since as recently as 2015 and 2014 respectively.
Indeed, Liverpool statistically bossed Southampton – shot differences, possession, etc – to a greater extent than City and Chelsea bossed Palace and Middlesbrough respectively (all three games being away, with City and Chelsea's opponents inferior to Southampton) … but City just happened to find a loose Yaya Toure down the back of the sofa, and it was a weekend when Liverpool's players didn't take their chances.
The Reds – the top-scorers in the division – had an off-day in front of goal, and that's the randomness of football. Some games they'll fly in, others they'll fly just wide. The expected goals models do much to explain this randomness, although as much as I love him, I can't quite fathom why Firmino used the outside of his boot on his glorious chance (as he had a few weeks earlier; sometimes when the ball runs a certain way the weaker foot is automatically the stronger foot).
Still, you can't say that it will prove costly and ignore all the little moments that run your way during the games that are won; especially when cause and effect means the following 26 games could also be affected positively from dropping points (if it leads to a "try-harder-next-time" reaction), whereas winning may breed confidence and what we perceive to be momentum, but it can also lead to overconfidence and/or a slackening off due to thinking it all seems rather easy. In games the very end of the season, just like moments the very end of matches themselves, you can look at big goals and costly misses, because there's no time for cause and affect to be altered. Those moments can conclusively change results and standings.
Even so, I don't think Liverpool were anything other than very good at St Mary's, with a more balanced display than some of the games that have been won; but Firmino and Clyne missed the target when hitting it would be perhaps a 70%-certain goal (maybe more so for Clyne if he hit the totally unguarded far side). I saw Daniel tweeted that it was 'only' a 39% chance of scoring for Firmino from such a chance, based on xG models, but of course, it could theoretically rise to 70% if on target (as the model includes ones, like Firmino's, that go wide).
Also, twice Virgil van Dijk rescued situations where a close-range shot at goal looked a certainty, while Fraser Forster also made a great save. To do all this while denying a good home side almost anything of note was impressive.
Remember, every champion fails to win roughly one out of every three league games; and indeed, Leicester failed to                                                                      win 40% of their matches last season. The number or percentage champions lose and draw obviously varies, but usually two-thirds is a win-rate to get you over 80 points. That means that, on average, every third game is going to feel like a bummer. They just happen to come in inconsistent intervals.
Of course, Chelsea lost 2-1 to Liverpool and 3-0 to Arsenal in quick succession, so a run of six victories has to be viewed in that context; just as Man City started this season (like last) with five wins from the first five games (carrying that on even further this season), then suddenly looked quite mortal again.
Psychologically it's been proven that we have difficulty foreseeing the amount of change that will take place. We probably assume that in ten years we'll be in the same house, with the same partner, doing the same job, when statistically that's far less certain. So whoever is winning games now feels like the champions-elect.
It already seems clear that this could be a particularly strong season, in contrast to last season's more open field that let Leicester – deserving champions, but more 'functional and fast' – run through. We can bemoan missing out last season but the ingredients weren't there at the time.
The second half of this article is for subscribers only.
[ttt-subscribe-article]