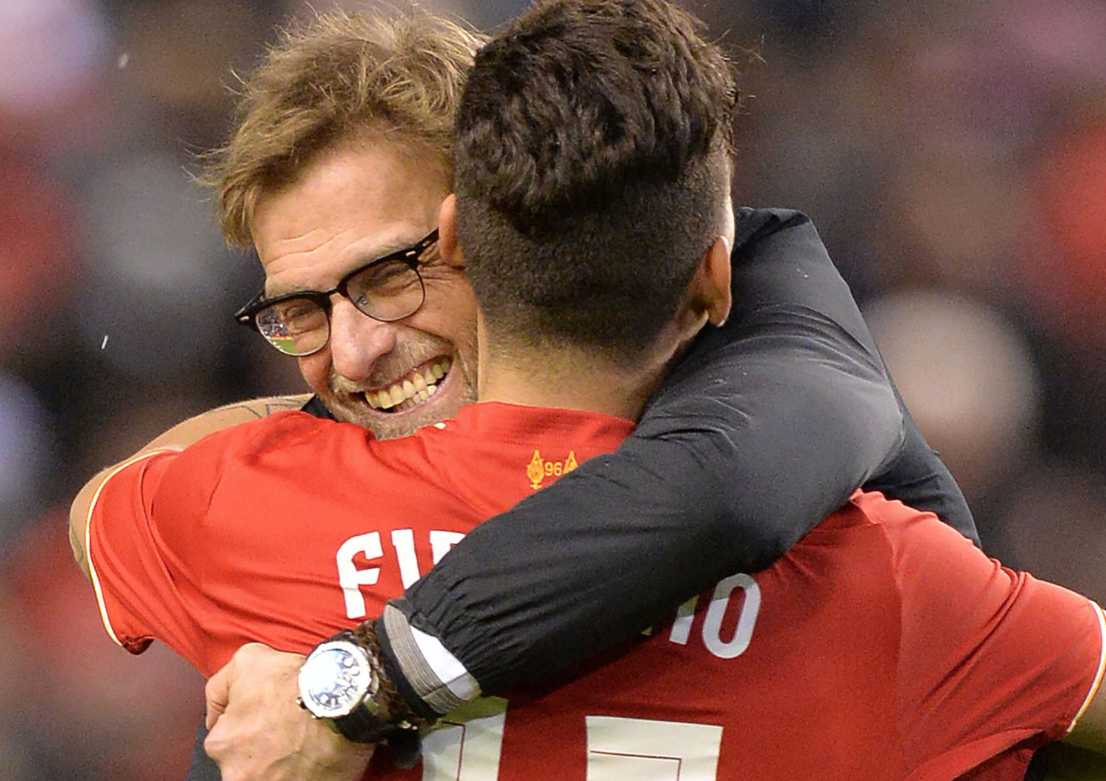 PART ONE
Proof Positive
While it's still only seven league games (plus two cup games away from home), Liverpool – incredibly – have now played seven away fixtures in all competitions, and only two at Anfield. We know why, but that's more than three times as many matches on the road, when most seasons you'd probably expect to pick up only half as many points on your travels.
And yet even with this most lopsided start – including games against four of the contenders for the top four (and maybe the title) – the Reds are up to 2nd in the table, before Sunday's games offer the chance of changing that.
What made it even more impressive was how "at it" Swansea were – this was no passive opposition, but a team who, desperate for a win, tried to match Liverpool are their own game, and whose crowd, on top of being buoyed by an early goal, were putting pressure on the referee to give them every decision. (Daniel Sturridge got booed for being fouled in the box, booed for being elbowed in the mouth, and Sadio Mané got booed for having six studs dug into his boot. That's before getting onto the ludicrous offside calls. A weak referee caved in too often.)
The main worries before the season were if Liverpool could become sufficiently good at home (because last season the Reds seemed more set-up to counter-attack), and whether they were playing at home or away, banish the problems against packed defences. Last season Liverpool went behind early at Watford from a set-piece, but the difference to what happened at Swansea was clear to see; even if the set-piece issues remain. Teams will create chances against Liverpool, but it doesn't look chaotic.
Liverpool added some height in the summer, as was clearly needed, but Joel Matip aside, the taller arrivals (and even Emre Can and Divock Origi) are on the bench – or in Grujic's case not even making the 18 at Swansea – with the smaller technicians in the front six playing so well that set-pieces are less of an issue than it was last season, a) because the Reds are having more of the ball to deny set-pieces in the first place, and b) because they are mostly scoring at least two goals a game to put the pressure back on the opposition. One area of aerial improvement is James Milner replacing Alberto Moreno, but two 5'9" full-backs, allied to relatively small midfielders and strikers, means there will always be chances, especially if the delivery is good.
Of course, it helps that the addition of a smaller player, in Sadio Mané, still makes for an upgrade on last season's XI, and the trio of Adam Lallana, Philippe Coutinho and Roberto Firmino – all under 6'0" – are looking quicker, sharper and fitter. Out of nowhere, Nathaniel Clyne has also found quality in the final third, to make him look like the complete full-back, and at left-back, James Milner offers steadiness and solidity that was absent last year (whilst still providing a forward threat). The extra fitness of the players, and the extra focus on team patterns, has made almost everyone more effective.
Right now it feels that even if the Reds go behind to an early set-piece goal there's sufficient belief within the team of its own quality to get something back.
As I suspected it would be, Burnley remains the blip, but otherwise the mounting data shows that Liverpool are now serious title contenders, if still not favourites. Everything looks set for Jürgen Klopp's side to make a challenge, including the lack of European games – which doesn't miraculously make you a better team, but does remove an obstacle that can end up making you look worse.
It's not the most expensive squad, but Klopp has succeeded in taking a lot of mid-priced players and making them look like they are worth three times what was paid.
Few managers can do that – particularly with pretty much every player, as usually you find that a manager gets the best out of three or four (often at one end of the pitch or the other, but rarely both), while others fade away. Under Klopp, you can say that Firmino, Lallana (edit: I knew I'd forget an obvious one!), Coutinho, Henderson (now fit), Can, Clyne, Lovren, Milner, Origi and Sakho have improved, either last season and/or this, with possibly only Daniel Sturridge going backwards (but on the back of almost 18 months out, and still remains such a great player to watch).
And of course – somewhat rarely – all of the new buys have appeared to settle quickly. That said. as is almost always the case, not all of them can play at once, and so someone like Grujic, for example – a young, promising player who looks set to have a stellar career – is in danger of being labelled a flop by the uninformed because of a lack of game time; the same applies to the 'reserve' Ragnar Klavan, although like Grujic, he's mostly looked the part in his cameos so far. Perhaps it helps that Matip, Mané and Wijnaldum are the only regulars in the outfield ten, which is much easier than trying to find cohesion with five or six in there. But add the new goalkeeper and that's still four additions in the XI, three of whom are in key central positions.
Some of the overall improvement to the existing players is due to time spent at the club, and the adjustment to the expectations, as well as the way teammates play (and the tactics the manager uses). And that has carried along the new players, with Mané, in particular, able to have a strong preseason.
A key part of the improvement – across the whole squad – is down to fitness, with the potential increase in injury risk (which will enrage a faux doctor somewhere in Holland) currently offset by far greater distances covered (with and without the ball), and the fact that the bench looks stronger than at any time in years. Indeed, fit and hungry players are coming in, so when Sturridge is absent, or Coutinho, or now Lallana, others step in and step up. The only worry would be an injury crisis where almost all of them are absent at once (and Mané will be off to the African Nations Cup in the new year, meaning that injuries to other key players at that time could be more costly).
The home record so far is 100%, nine goals scored and two conceded. And after a listless first half at Swansea, the Reds have, for the second time this season, come from behind away from home to win with a scintillating second-half display.
It's often difficult to find extra gears when there's a sloppy start. Add an injury to one of the three best players so far this season, a yellow card for a technical foul by the captain, plus a goal conceded (poorly, but where the were offsides in the build-up and possibly even on the finish itself) and it looked grim. On top of that, Sturridge was booked for diving for the same kind of foul that Henderson was earlier punished for, meaning it looked like the classic "one of those days".
Nothing was going right early in the half, with the Reds off the pace, and with the Brazilian pair of Coutinho and Firmino particularly quiet, as if the international break was on their minds. But no, the duo came out after the interval and absolutely tore Swansea to ribbons, with the able assistance of Sadio Mané and Daniel Sturridge, and with Nathaniel Clyne playing like a full-back, winger and wide midfielder – apparently in all three positions at the same time. (This is what elite fitness can do.)
While this site has looked at a lot of published studies into momentum, and whether or not it's a myth (winning one game certainly doesn't appear to alter your chances of winning the next), I do think that a bank of experiences is built up, that helps to garner belief. Liverpool have now come from behind to win at Arsenal and Swansea, outplayed Spurs, thrashed Leicester (and Hull) and managed to comfortably defend a lead at Chelsea. So I think that this helps on those days when it's not going well – providing mental reserves from which to dig. But of course, there will always be days when nothing goes well. Sometimes the ball just won't go in.
That said, I believe that in all nine games so far the Reds have won the "statistics". Not just possession, which is more complicated in terms of a correlation with result, but expected goals (xG), and shot differentials – meaningful stats that show how games played out, rather than the way a scoreline can be more random and display things happening against the run of play (as they did at Burnley). If you dominate every stat bar the scoreline then unless you have rubbish strikers it probably means that your strikers just had an off-day. (If it happens all the time, you have rubbish strikers. Or big problems at the other end.)
A fairly big worry, once the Reds' comeback was complete, was a timid display from Loris Karius, who failed to come for crosses on all but one occasion, and for that one he totally missed the ball. Like Claudio Bravo at Man City, he's a better footballer than the man he replaced, but the deposed keeper is better in the air (and Mignolet, for all his faults, is 6'4" and has learnt to punch brilliantly, and become more brave; after all, there's not much of a nose left to squash). So we may have some scares with Karius, but equally he enabled the Reds to keep possession with his calmness on the ball – and that's hard to quantify.
It's just that his hesitance on crosses – not unlike Pepe Reina when he arrived at the same age – is (at least) a short-term worry, until his game can be coached to be less passive. At 6'2", he'll never be the most dominant in the air, but he has to learn when to come for crosses and when to stay; and the late chance for a Swansea equaliser looked like Matip was holding off the attacker to let his keeper come and claim it, but he backed away. It almost cost the Reds two extra hard-won, deserved points, and unlike Bravo at City, Karius is still a relative rookie for a keeper, having just turned 23. Like Reina before him, and David de Gea, improvements in that area can be made, but it won't be overnight.
The lack of clean sheets would be the main worry in terms of counting out a title challenge at this stage, but the 2013/14 title race was between two teams who outscored – by double – whatever they conceded. Other seasons it can be a parsimonious defence that gains the title, and this season it could be either (or maybe a team that excels at both ends). And most of Liverpool's goals against were conceded on the week (five in the opening eight days of the season); since when it's not been more than one at a time. Whatever happens, Manchester City have to remain the clear favourites.
However, I have a few more ideas on what's going right at the moment. Read on for more reasons why Liverpool can win the league, including the nuclear fusion generated by Roberto Firmino's teeth.
PART TWO
More Reasons Why the Reds Can Win the League
[ttt-subscribe-article]