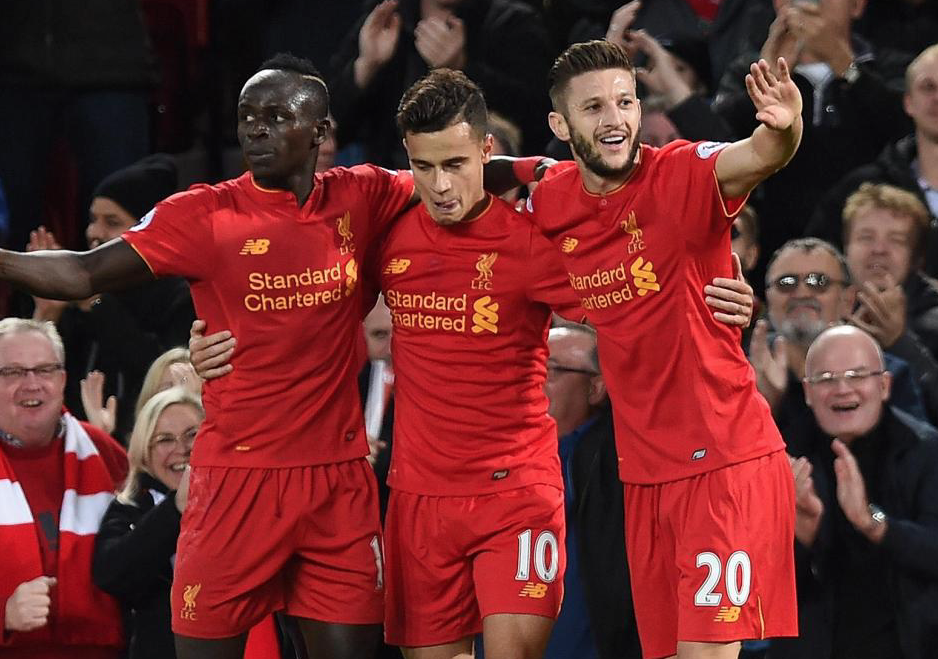 My first view across at the new Main Stand, sitting in my old season ticket seat in the Lower Centenary (rarely used by me anymore due to chronic illness), provided me with plenty of fresh perspectives; on the new Anfield, and more importantly, on the new Reds, collectively and individually.
And although at the end they almost tried to let me down, and revert to type, it ended up with yet more evidence of a proper side in construction; all in front of an Anfield atmosphere more reminiscent of the halcyon days, after many of my more recent visits left me worried for the future of its once-feared noise.
West Brom tried to defend in numbers, with their colossal 'units' (I haven't checked this season's figures, but last season they were the tallest side the Reds faced, at an outfield average of 1.85m – over 6ft), and obviously again hoped to thrive on long-balls and set-pieces. The gulf in technical class between the two sides was quite stunning; as if these were from two different planets. Up close, West Brom, an established Premier League side, looked like pub footballers – running in straight lines, hoofing, and just aiming to get crosses in without any skill first – compared to the technical wizardry of the Reds.
I made a lot of Liverpool's lack of height last season, and it's still an issue, even though it appeared to be addressed as early as January of this year: in came Matip and Grujic, averaging 6'4" between them, but only Matip was definitely for immediate use in the first team. However, I had a sense (now proven misplaced) that Grujic may have to be thrown in quickly too.
And perversely, the season got under way without Emre Can, the hitherto tallest midfielder on the books, and not with Grujic replacing him but Gini Wijnaldum, a smallish, versatile attacker (albeit with prior midfield experience).
Wijnaldum was of course taller than Joe Allen (who isn't?), but Allen was just a back-up; and also pushed back into midfield alongside the new Dutchman was Adam Lallana, another shortish ball-player. And the elite attacking option added was not some mobile 6ft unit in the Robert Lewandowski mould, but the diminutive Sadio Mané. Daniel Sturridge and Divock Origi, the two tallest attackers remaining after Christian Benteke's exit, have mostly been benched, not necessarily through any fault of their own.
When the season started with Moreno at left-back, it looked like Liverpool, almost insanely, were going to be even smaller than last season – and even Moreno's subsequent taller replacement, James Milner, was only adding a couple of inches. Plus, the new goalkeeper, Loris Karius, is almost a three-inch trade-down on height, with the one recent improvement in the taller Mignolet's game the bravery and distance he got when coming out to punch the ball.
I noted last season that if you're going to be a small side then you need to be damn good on the ball; i.e. it's possible for Barcelona in Spain (because they are Barcelona, and it's a league with fewer crosses and target-men), but I didn't see Liverpool ever being outstanding enough to able to cope with a lack of height in this league: the Land of the Pulis.
I expected Klopp to model the Reds on his Dortmund side – with tall players all over the pitch (and especially at full-back), but if anything it's been closer to Barcelona, albeit without the outrageous individual brilliance the Catalans can call upon.
Part of that is down to the fact that Brendan Rodgers (until the summer of 2015) had wanted small, technical players, but was never able to get the best out of the ones he chose to bring in; so Klopp, rather than totally churn the club over, has chosen to build a system around these tricky talents in the way his predecessor couldn't (certainly after the departure of Luis Suarez). He has worked to improve these players, and the way they play as a team.
And to be fair, Liverpool, if never going to match Barcelona at their best, are playing better football than I ever expected – there's the manic pressing we were promised, and the heavy metal that's turned up to 11, but the possession stats are superb, especially as it's not window dressing (centre-backs knocking it back and forth for forty minutes) but build-up play in order for many, many efforts at goal. Right now, the balance is beautiful.
The movement in possession is even more impressive than the pressing out of it. Unfortunately, even though I had a nicely elevated perspective on the game, I found it difficult to follow a lot of the runs off the ball simply because there were so many, and a wide shot on the TV of the whole front six in movement makes it easier to see all six at once given the way it fits nicely into a narrow field of vision.
The benefit of being there is that you can pick an individual and focus on them, and you see certain runs, or a player in space, that the camera doesn't pick up, especially when the director is focusing on an individual blowing snot from his nose (or if it's the World Cup, gratuitous shots of any pretty woman within the crowd, with unattractive women apparently deemed unimportant). But like any fan heavily invested in the result, I was drawn to the ball a lot, not least because I didn't want to miss the next bit of skill from Coutinho, Lallana, Mané and Firmino. They mesmerise you, as observers, just as they do with opponents; you can't take your eyes off them.
And it was with this skill that Liverpool tried to beat the Baggies, and with this skill they did just that. The height (and therefore set-piece) issue will always rear its ugly head, as it did against United; although West Brom managed their first corner in the 69th minute, some 11 minutes quicker than Mourinho's latest bankrolled project. (80 minutes to win a corner at Anfield – from the man who once moaned about teams parking the bus at Stamford Bridge.)
In time Karius should adapt to the set plays, and training ground work is likely to enable the team as a whole to deal with them, but it will probably remain Liverpool's achilles heel. With this XI, (especially if Widjnaldum retakes his place from Can, which you'd expect) I don't see a way around it. There will be scares.
However, it was instructive here that once West Brom pulled a goal back (albeit with a lucky break off the goalscorer's shoulder) they did not lay siege to Karius' goal, partly because Liverpool, rather than retreating in panic – as they might have done a year ago – went up the other end and created yet more fine chances. It was certainly nervy, but it wasn't desperate.
Aside from the game against the toothless Man United – £89m Paul Pogba, £260,000-a-week Zlatan Ibrahimovic, hot teenage sensation Marcus Rashford et al sat firmly in the bus – Liverpool are failing to keep clean sheets, but they are also tending to concede only one. In fairness, Swansea could have had more in the first half the other week, but United and West Brom probably didn't deserve even a goal between them on the balance of play and chances created. The team has come a long way, mentally, since Klopp's early days. And not just in terms of calmness at the back.
Remember, a fraction over a year ago Brendan Rodgers was claiming that Sturridge was the difference between his Liverpool side getting three goals against Aston Villa (who, it turned out, were more shit that we imagined) and the side that was otherwise averaging less than a goal a game.
Klopp has made a nonsense of that total over-reliance on Sturridge by getting goals last season from the players Rodgers already had; and with the addition of just one 'striker' – Mané – the Reds have gone on to become the top scorers in the league (in both 2016 the calendar year, and so far in 2016/17 the season).
And Sturridge has gone from the key striker – the only significant source of goals – to just another squad component; which seems harsh on the player, but is simply the reality of the way the team plays in his absence. (What a great option to still have, mind; I rate him so highly, but the first-choice front six as the season has progressed is due to its collective brilliance and balance.)
Klopp, with the aid of the much-derided transfer committee, has bought extremely well, but he has also transformed the committee's perceived flops, and also, to be fair, Rodgers' perceived flops too. This is elite management: transformation, not transfers. (Of course you usually need money too, and Klopp finally spent some – but not as much as many expected.)
Players are fitter and stronger, and therefore they look better (indeed, often like they had done at Southampton). We all think of football as 11 vs 11, but as I was explaining on the walk back to the car last night (having circumnavigated the now-colossal Anfield in the manner Bill Shankly once asked journalists to walk round Ron Yeats), if you're an unfit or "less fit" midfielder who is beaten by a pass or a bit of skill then you are out of the game; if you are über-fit, you can get back and attempt another challenge. So in essence it's like having extra players in various passages of play; six players ahead of the ball, and then having eight behind it within a couple of seconds.
There's talk of Steven Gerrard returning in some coaching capacity (and that seems fine – although we must remember the holy training and tactical trinity that Klopp is part of), but it reminded me of the sadness seeing him in his later years being "out of the game" if someone went past him (especially depressing if he was playing alongside Charlie Adam or the version of Lucas Leiva after his knee troubles). Years earlier Gerrard would have got back and made a sliding tackle, collected the ball and galloped upfield; once in his 30s, he was a bystander.
The additional fitness Klopp has introduced has meant the Reds have covered the greatest distance in the Premier League this season, and this allows players to almost be in two positions at once. If you're covering 10% more ground than your opponents, and doing it in defence and attack, then in effect you are adding a 12th player to your side; as long as the running is spread across the team (and it's not just James Milner running the whole 120 kilometres on his own. Which I think he would do, if left uninterrupted. And I sense he'd still be out there now, a day later, if not dragged from the pitch at the end).
And that's what Klopp's Reds do so well – switching who makes the run and who catches a quick breather; but only a quick breather, as the fitness is so high. It comes with risks – injuries from the tough training, as I Am The Egg Man will tell you, as well as potential later-season burnout, but that's why there's a squad. And with no Europe it's less of a risk.
Variety
And another thing of beauty is that Liverpool don't always attack the same way with the same players. Here, Mané picked the ball up in deeper areas, and often passed it after carrying it into a danger zone – if anything, a little too unselfish at times; in other games, often away against higher back-lines, he's been the one springing the offside trap, to look for one-on-ones. His pace, and the way he times those runs, causes teams to drop deeper, and so Coutinho and Firmino can do their work closer to goal, and Lallana and Wijnaldum can support.
And Firmino remains impossible to define; here, lofting a gorgeous left-footed cross for Mané to stroke home, but missing a few easier chances of his own (but the good thing is to be there, especially if playing as a false nine – to be able to create space for others but also get into dangerous positions himself).
Coutinho also pops up everywhere. And Lallana, although not as sharp in this game as before his brief injury, had been excelling at that this season. I even wrote a piece last month about how many times Wijnaldum ended up the furthest Red in attack, even if he didn't get the ball (clue: it was a lot).
All this with the addition of the miracle that is James Milner the left-back. Ah, James Milly Michael Milton Maximilian Milner. He's always been someone managers like to shoe-horn into the team, but now he looks like a cultured left-back rather than a jobbing midfielder. His energy and strength make him ideal, as does his willingness, when attacking, to go on the outside of his man and not just cut inside – although against West Brom he seemed to get his feet in a tangle when he chose to try that. But the key thing is to put doubt in the defender's mind (something Coutinho could perhaps do a bit more, although cutting in on his right worked again), and Milner can cross well with either foot. With a bit more pace he could be truly special, although if he had that he'd possibly be starring in midfield, and maybe not turning up at Liverpool on a free transfer.
And even Karius is in the side in part because he's better on the ball than most keepers. This doesn't yet preclude him from nerves, and there's work to be done on other aspects of his game you'd expect with a young, freshly imported keeper adjusting to the aerial challenges in England. But perhaps Liverpool are facing fewer shots and corners in part because he's helping Klopp's side to build from the back with the quickness of his distribution, as well as his higher starting position (often outside the box). Karius starts the moves that put pressure on the opposition, whereas Mignolet – who actually dealt better with crosses – often just gave them the ball.
An interest for me before the game was if West Brom would try to do what United did, and close off all short-goalkicks and roll-outs, in the way that Mourinho tried to force the high balls downfield for the Giant Belgian Elbow to gobble up, or if Pulis – a master of clean sheets against the Reds – would have his side just defend in numbers; and it was more like the latter.
A big positive is that if teams try to press Liverpool high up the Reds are now more capable of playing out from the back, thanks to the superior passing of Karius, Milner and Matip compared with the men they replaced. This is in contrast to what became Rodgers' preferred method: just hitting it long to Benteke when faced with the press.
But mistakes will happen, as John Stones continues to show. Joel Matip arrived with a similar reputation from his hundreds of games in Germany, but young centre-backs, like young goalkeepers, appear the most error-prone of anyone. Matip is now 25, and probably growing out of them, although a new club in a new league can lead to nervy moments. Thankfully he's looked flawless thus far, and can be appreciated even more in the flesh.
More good news is that Liverpool are creating so many chances that even on profligate days (and here, Firmino and Can were both guilty, albeit at times defied by some excellent blocks) they can still rack up a couple of goals and stay out in front as 2016's goal-getting pace setters. And they've been able to overcome injuries here and there without any loss of quality. No single player is vital.
Strength in Reserve
The bigger tests may come at the point where a clutch are on crutches, strung-out with hamstrings, but there are some great players in reserve.
The inevitable difference will be in the way the Reds are able to play – less stunning interplay and perhaps a return to more traditional formations and movements: more of the pace and power of Origi, leading the line rather than being a false nine; the quick feet and shooting ability of Daniel Sturridge; the pure defensive-mindedness of Lucas and Stewart; the busy, honest running of Danny Ings; the power and poise of Grujic; the boundless energy of Moreno; the calm composure of Klavan; the pace and skill of Ojo; and as we've seen, the Hulk-like Can replacing the graceful Lallana and Wijnaldum in the past two games.
If four or five of these 'reserves' are called into the XI then the way of playing will naturally change. But equally, that's true of most teams, certainly if shorn of its best players. The good news – and I seem to be saying that a lot in this piece – is that the quality will still be high. So it's sad, in a way, to see someone like Ings not even making the bench, but then it's Bloody hell, even Ings can't make the bench! (And right now, no one is missing the previously cult-heroic Mamadou Sakho – another international getting nowhere near the first team.)
The major downside will be rustiness (as seen with Can, whom I feel is getting a few too many groans from the crowd), and a lack of fluency that those in reserve just can't replicate – because they are not Mané, not Coutinho, not Firmino – but now, in any future injury crisis, there will be no equivalent of Voronin*, Ngog, Balotelli, Aspas or Moses (as good as those players may have been, or gone on to be, at other clubs) – there's Sturridge, Origi, Ings and Ojo in reserve. (Before too long Ben Woodburn might be joining them.)
(*Note: I actually quite liked Voronin. But I think I am alone in that.)
Passing Tests
To win the league – and it has to be a possibility after so many tough tests have been passed (and some, if not necessarily the West Brom one, with flying colours) – it will need the key core players to be present most weeks. But that won't be the case over a whole season, unless Liverpool have Leicester's luck (and/or good fitness management) in that regard.
But of course, as discussed, Liverpool have much more in reserve than Leicester did last season. Equally, some bad news is that all the challenging clubs appear to be stronger too – if not yet perfect. Manchester City, who won their first 10 games and looked sensational, now haven't won in five, and this can only help bolster Liverpool's belief. Right now there's no one else to be terrified of. New managers may improve the Rich Three, but as of now none are ahead of them, despite the Reds having a tougher start and more away games.
And while it's too soon to make definitive judgements about the title, it seems that this Liverpool side has the talent, depth and variety to attain 80 points (which for the Reds remains a rare tally in the Premier League era), barring a serious derailing. So many metrics seem in line with, or even better than, the recent high-water marks of 2008/09 (2nd, 86 points) and 2013/14 (2nd, 84 points), which can only bode well.
So these are truly exciting times, as the team, and the manager, and the fans – all now within a more impressive and noisy setting – make the Reds a force to be reckoned with.