By Daniel Rhodes.
This rumour first popped up a couple of weeks ago, draped with the infamous and unhelpful "the next…" attached to it. In this particular case, Alexander Isak is apparently "the next Zlatan Ibrahimovic." No pressure there then, none whatsoever.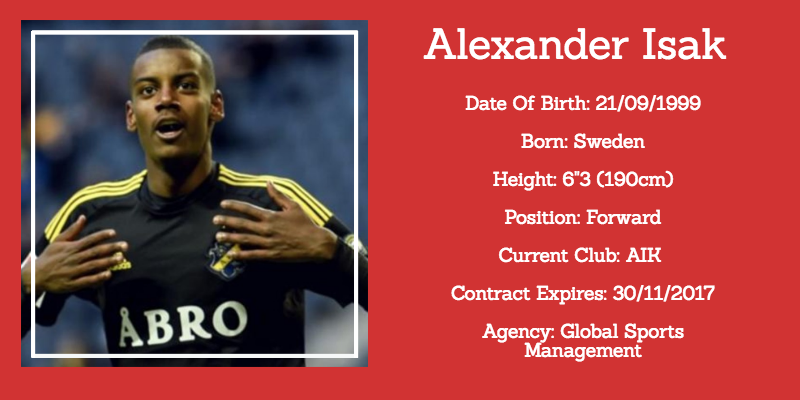 As you can see above, Isak was nearly born in this century. We're only in 2016. To summarise: he young, very young. He's just turned seventeen. Which in part is the reason I've picked him, because footage of him is rare, his sample is small, and we can monitor his development (especially since he's been linked with all the top clubs in Europe). Confirmed, maybe to be taken with a pinch of salt, by his agent:
Patrick Mork (agent):

"He is an exceptional and extraordinary talent. Name five of Europe's biggest clubs and there are four who want him. There was a huge interest in the summer for him. If he actively wanted to leave AIK, he would already have been sold."
Having worked his way, always in an age group way above his normal level, through the teams at AIK, he finally made his first team debut last season. Here's what the AIK Sporting Director has to say about his development:
Tobias Ackerman (AIK scouting director):

"Even when he was 10, he had an extremely developed game. He had nice feet and fine qualities in this way. Properties that you look at and that can help you to become a good player as a senior.

"You put a 14 year old talent to train with the U17 team and he is performing above expectations there. Then he goes on to the U19 team. No one believes he will succeed there, but he just continues to fly.

"Same thing with the U21, and with the first team."
Key Stats: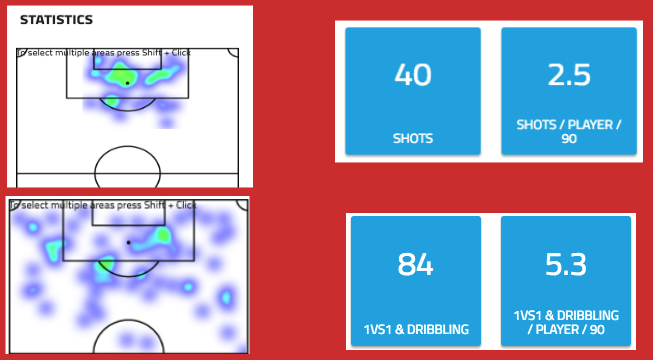 First of all, his total career sample is tiny: over all levels, he's barely made 25 full ninety minute appearances. With that in mind, as well as the standard of football in Sweden's top division, he's still managing to evolve a certain style, dominated by dribbling and finishing.
His shots numbers are excellent, and if you look at the shot location map (the top left image), you can see he's predominantly a penalty box finisher. Isak seems to prefer the one touch finish, running onto a pass; couple that with his remarkable dribbling numbers and you have quite the prospect.
He's lightening quick, has close control (on either side), seems to make the intelligent runs to exploit space in behind defences who want to push up the field. The only weakness I could find, and is highlighted a couple of times in the videos below, is the raw decision-making. Sometimes he shoots instead of passes, dribbles instead of recycles the play; all common flaws for young players, all can be ironed out as he gets older. One thing is for sure, he already looks better than those more experienced players around him. His goalscoring record of 13 goals in 2,100 minutes is impressive, as is the composure he shows on some of the finishes. A couple of them reminded me of Origi before he came to us. His contribution, even now, in important league matches in the Swedish division, show a level of influence beyond his years.
Peter Wennberg (AIK assistant coach):

"Everyone who worked with Alexander Isak during adolescence have known that we will be sitting there one day and see him deciding a derby. It feels natural to see him deciding a derby."

Ricard Norling (AIK head coach):

"He has a terrific talent, but you can't compare him to Zlatan … He's not there yet, but the important thing for him is to make sure that he's doing something to bring out the talent that he has been gifted with. And I can tell you he works hard every day."
The rest of this article is for subscribers only.
[ttt-subscribe-article]