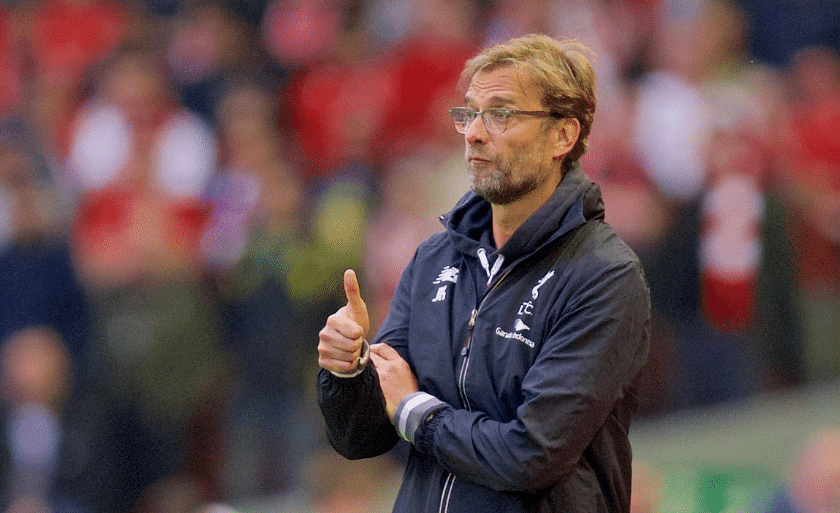 So Jim White day has been and gone, and the flurry of activity we usually see on deadline day has been strangely anti-climatic. Perhaps it was the absence of Liverpool being involved in any incoming deals makes it 'boring'. Or maybe it's been predominantly the 'smaller' clubs signing whoever they can (and Chelsea spending close to £60m on Marcos Alonso and David Luiz again).
Though I expect to see that the total spend this summer to dwarf previous years, there has been a strange lack of 'blockbuster' deadline day transfer stories.
No Tevez and Mascherano to West Ham, Robinho (who didn't know there were two clubs in Manchester!), Ozil, Suarez, £50m Torres, Fellaini to Utd (£27.5m!!), Rooney, Arshavin (club record for Arsenal at the time), Andy Carroll, Martial, Berbatov to Utd, etc. Admittedly, some were January transfers, but still big deadline day deals with some of them concluding window-long sagas.
Despite this, the total of £155m spent by Premier League clubs on deadline day broke the previous record of £140m set during the summer 2013 window and isn't far off the £215m spent during the entirety of the first window in the 2003-04 campaign.
According to data from transferleague.co.uk, Premier League clubs have spent a total of £1.16 BILLION on 113 players this summer.
For context, last summer the total spend was £861m on 122 players, an increase of 34%. On a Per Player basis, the spend has gone from just over £7m per player to £10.3m per player (nearly a 50% increase).
In terms of sales, 99 players were sold for a combined £465m (£4.7m PP). Last summer that figure was 146 players for £383m (£2.6m PP), a near 80% increase.
The total net spend for the window stands at £695m for an extra 14 players. Or £49.6m per player!
The BBC have very slightly different figures and have the following on their deadline day roundup page: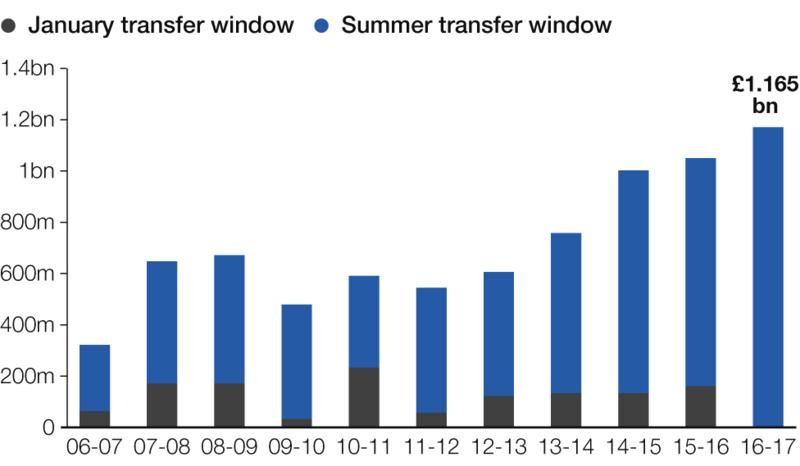 In regards to TPI, Paul has kindly shared the data he and Graeme have gathered. The data hasn't yet been adjusted for the most recent window, with Paul to do an update in the coming days, but it shows the biggest TPI spend since the Premier League (and therefore football) began: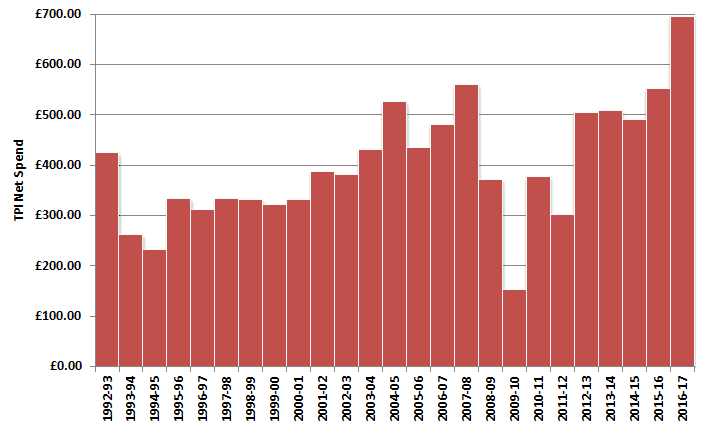 So how much has been spent and by who?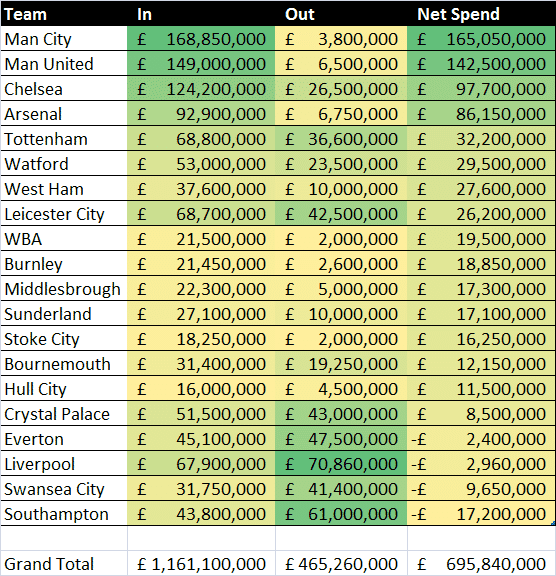 The average net spend per club was £34.8m, up from just under £24m last summer.
Unsurprisingly, the two Manchester clubs, quite considerably, lead the way with their spending, being the only two clubs to absolutely obliterate the £100m mark that no one else in the league touched (though Chelsea came within £2.3m). Between City and United, the two clubs accounted for 27% of the league's gross spend and 44% of it's net.
Arsenal fans may be happier than they were a few days ago with their spending total. In fact their net spend is over 10 times more than last season's £8.2m.
I know a few Tottenham fans who, whilst happy with who they signed (question marks over Sissoko) are a little underwhelmed at the number of players they signed given that they have a Champions League campaign to navigate this season. I made the point that they nearly (?) won the league last season whilst also playing in the dreaded Europa League. Perhaps like Klopp, Pochettino prefers a smaller squad?
Liverpool's net spend of -£3m is going to go one of two ways with the fanbase.
If we do well: See, Klopp is great and doesn't need to spend money
If we do badly: FSG are useless and don't want to spend money.
The truth is we did a LOT of good business, not perfect but good.
Skrtel and Sinclair's transfers paid for Klavan, Matip and Karius (with change left over).
Recouping £27m plus add-ons for Benteke was excellent, and virtually pays for the much better suited Mane (who looks a 'steal' at £34m considering the increase in fees).
Ibe and Allen more than paid for Wijnaldum. And I suspect our wage bill is lower than this time last year.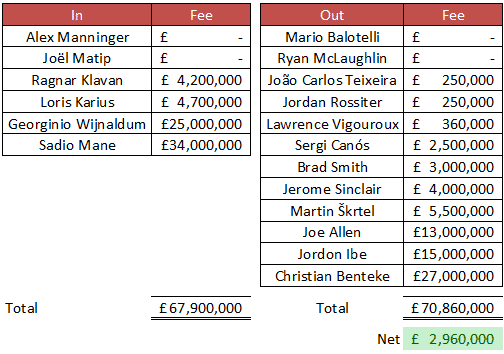 Note: Jose Enrique technically left last season
In terms of player turnover, a total of 212 transfers were made, though some will be 'doubles'. So for example, Benteke's move will count as a player sold for Liverpool AND a player signed for Palace.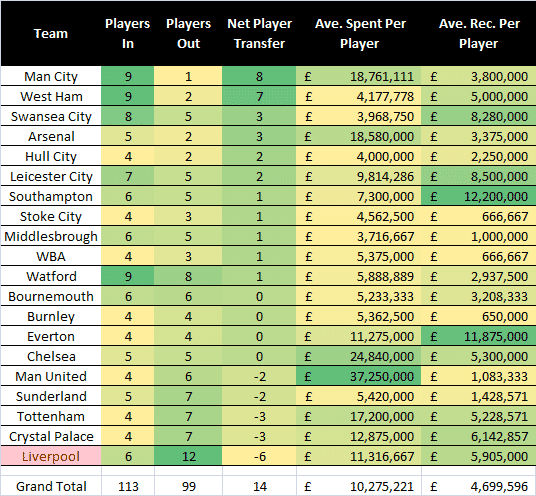 Liverpool made the most sales with 12 (the next highest was Watford with 'only' 8). We also had the lowest net amount of transfer dealings, which goes a long way to explaining our proof it in the window.
Even given that our significant signings of Mane and Wijnaldum (who are the 3rd and 6th most expensive signings in the club's history), our average spend per player is only marginally higher than the league average – mainly due to the fantastic deals done for Karius, Klavan & Matip, as well as the loopy deals to bring up the league average elsewhere, though we do still sit sixth in this regard.
Quite surprisingly, City and Arsenal spent almost exactly the same amount per player, though City bought nearly twice as many of them.
The top spenders per player (in order) were United, Chelsea, City, Arsenal and Tottenham. Most 'experts' predict these clubs to finish in the top five.
Loans
I couldn't put the loan situation any better than BBC Salford managed to in their round-up (though I added a small part regarding the Cuadrado loan):
This was also a window when clubs vying for a top-four spot sent players out on loan who, only last season, were seen as first choice.

About £153m worth of talent, based on the fees paid for them, found temporary homes in this window.

Manchester City led, with keeper Joe Hart, midfielder Samir Nasri, striker Wilfried Bony and defender Eliaquim Mangala shipped out. They have a current estimated market value of about £62m.

Chelsea loaned out 38 players – five more than this time last season. Midfielder Juan Cuadrado, who cost £23.3m, signed up to another season at Italian champions Juventus [actually another THREE seasons with for €5m per season and the option to buy at any point for €25m, though after three years he will be available on a Bosman! Another example of richer clubs being able to wipe off expensive mistakes – Krish], and £6m forward Lucas Piazon will spend his 2016-17 season at Fulham. It is the fifth club the Blues have loaned the 22-year-old to.

Chelsea defender Nathan Baxter, 17, will play for Metropolitan Police in the Isthmian Premier League – the seventh tier of English football – until January.

Meanwhile, West Ham's £12m forward Enner Valencia will be at Everton this season and Arsenal's England midfielder Jack Wilshere, who has made more than 100 appearances for the Gunners, has relocated to Bournemouth.
In summary:
I think without spending any money (and conceivably saving hundreds of thousands of pounds a week in wages) we've had a great window for sales. Could have been better if we had shifted Ilori and got a fee for Balo, but overall, to shift on 12 players that you wanted to shift for very good money, we have to be pleased.
On the incoming side, I would have liked a left-back to at least compete with Moreno, a centre mid (though looks like we will have to wait a year to get the one Klopp really wants) and would have been overjoyed with another Mane-type player, seeing how vital he looks to us already.
But this is nit picking. Rome wasn't built in a day and I suspect this is just the beginning of Klopp's Liverpool vision.