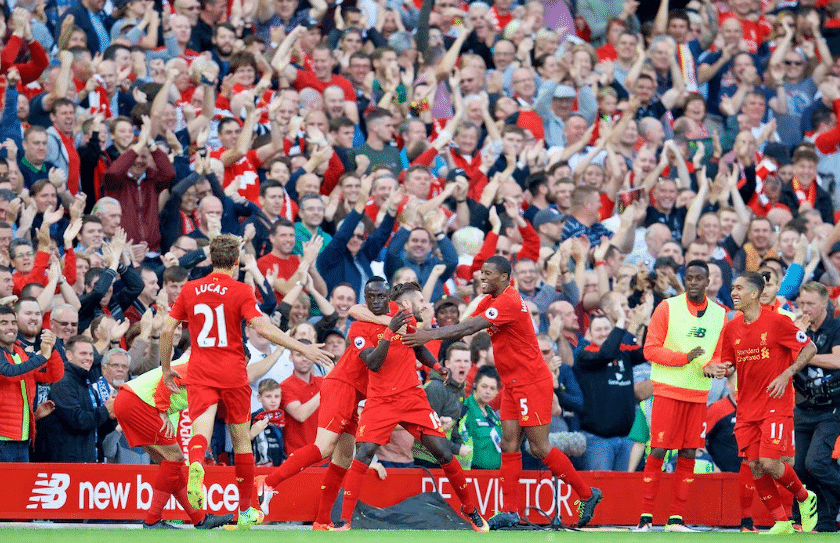 By Daniel Rhodes.
Well if that's what building a new stand does for performances, then we should try it every week. Perhaps surprisingly, especially when you consider their predominant style of play last season, Leicester didn't automatically drop into a low block and restrict the space; they were interested in playing. They also left space, and once the first goal goes in, it looked like it was going to be a walkover for the Reds.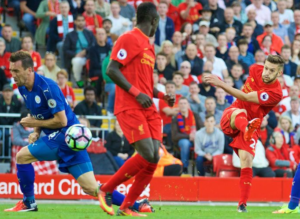 Then the Defensive Error Curse struck again. The curse that means if we're ever dominating a match, it appears and prevents our players from a) controlling the ball, or b) pass it to a teammate. This time it was makeshift centre-back Lucas, his feet turned to stone for a split second; his brain turned to mush. And he created the easiest chance of the season for Jamie Vardy to reduce the deficit to one before half-time.
While we all bemoaned the potential collapse during the break, expecting us to throw it away, the players and management reacted; we didn't retreat into ourselves, we came out and produced more of the same. Stronger whirlpools, crisper link up play, roy-of-the-rovers shots like Lallana's. Yes, Adam Lallana put his laces through the ball, and it was magnificent.
And we didn't stop there… had Sturridge had his normal, clinical, shooting boots on, we'd have finished with six or seven against a team no other side has outplayed so comprehensively for over 12 months.
The rest of the post is for subscribers only.
[wcm_nonmember][ttt-subscribe-article][/wcm_nonmember][wcm_restrict]
Match Highlights:
Liverpool's Chances
Leicester's Chances
Match Stats: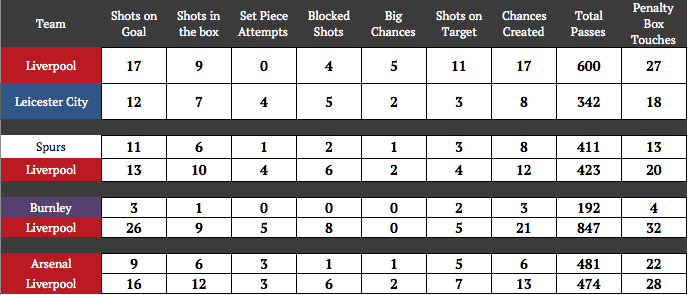 The crucial stat: Big Chances – FIVE (we've only created four in the previous three matches).
Running big chances a close second, is the ELEVEN shots on target. Virtually unheard of in the Premier League, especially with only 17 total shots.
Look at the figures from the previous games: we have had more than our opponents in EVERY single metric I collect. We could be sitting on 12 points in a parallel universe.
Micheal Caley's Expected Goal Model:
xG map for Liverpool – Leicester City.

Yowza. I'm gonna catch a replay of this brb. pic.twitter.com/tEJSNP8JI3

— Caley Graphics (@Caley_graphics) September 10, 2016
Graeme Riley's Match Data:
(Click image below for full detail)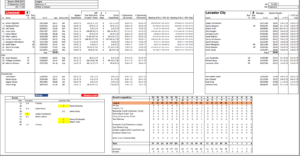 Liverpool's 2016/17 Data by Andrew Beasley: Shots, Assists, Minutes Played:
https://docs.google.com/spreadsheets/d/1vECtu09ScOM374eRCBNtZSpF3KTqJQsoTWQubUXpplc/edit#gid=0
(This will be updated, but even if it isn't immediately after the match it still gives us a reference for the previous matches anyway)
Team Radars:
I started doing the Liverpool one for this, but as we put in a performance that was way above the benchmarks I've got for home games over the past five seasons I'm not sure how to rectify the issue of not fitting into the radar itself? Which is a pleasant problem to encounter, but not one I've got a solution for at this moment in time. Any help on this issue would be appreciated.
One idea is to remove the 'per game' element and just go back to highest and lowest totals rather than averages. Any thoughts?
The RedMen TV's Player Ratings:
Press Conferences:
[/wcm_restrict]