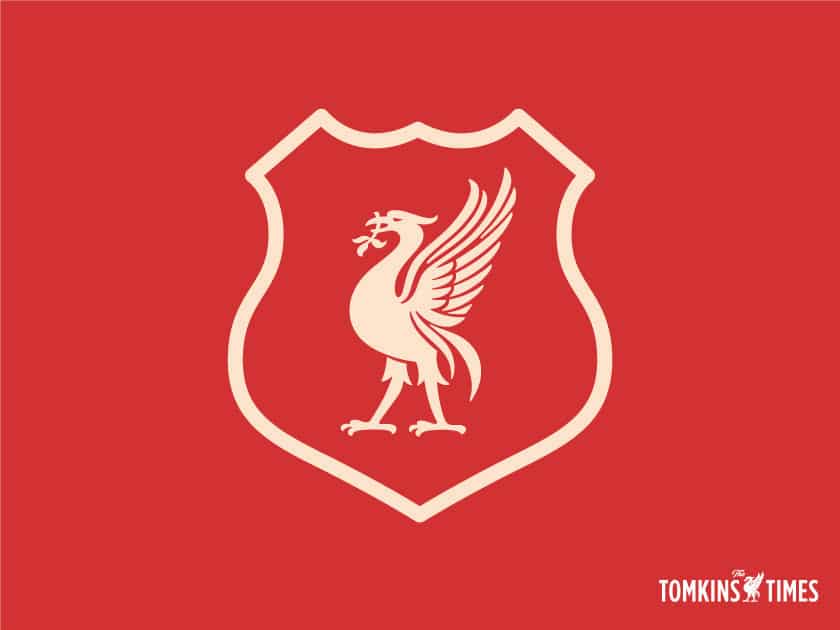 Written by Terry Dolan.
The animated map shows how the world was painted red from Liverpool's first season in 1892 to the most recent season that ended in 2016. A country is painted red on the world map when a player who was born in that country appeared in the Liverpool squad for the first time.
Red Shift
At the end of season 1976-77, the season when Liverpool won their first European cup, only seven countries had been painted red: England, Scotland, Wales, South Africa, Northern Ireland, Ireland, and USA.
At the end of season 2015-16, 44 countries had been painted red. This is a remarkable increase, illustrating the globalisation of LFC and football. The graph below describes that growth.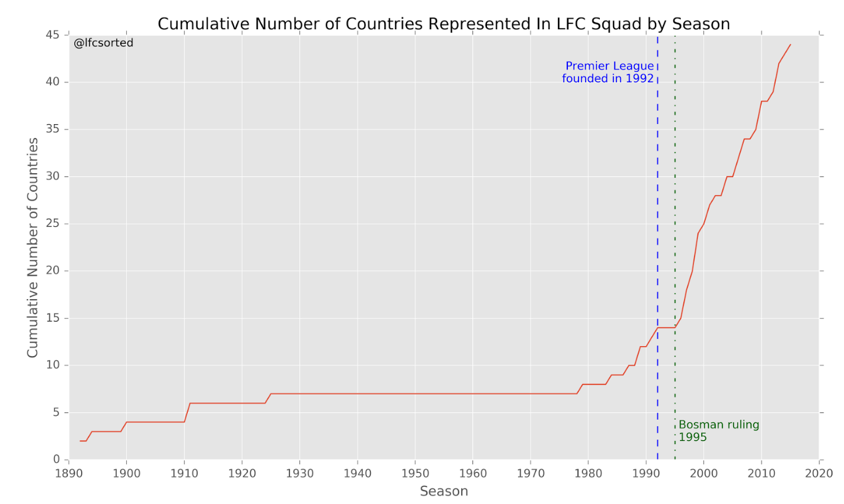 The creation of the Premier League in 1992 and the Bosman Ruling in 1995 influenced this growth. For example, Fabio Aurelio (Liverpool's first Brazilian) joined Liverpool in 2006 'on a Bosman'. The new freedom of movement of players worked both ways of course. Steve McManaman was one of the most high-profile Bosman departures when he moved from Liverpool to Real Madrid in 1999, making him the highest paid British footballer at that time.
Liverpool's 'global revolution' started slowly with three new countries painted red from season 1977-88 to 1987-88, taking the total number of countries to 10. These three countries were Egypt (Avi Cohen joined in 1979), Denmark (Jan Molby in 1984) and Jamaica (John Barnes in 1987). From 1988 to 2016 the number of countries represented in Liverpool's squads increased significantly with 34 new countries painted red.
Red All Over The Land
The graph below shows when each of the 44 countries were painted red. For example, in season 2004-05, following Rafa Benitez's appointment as manager, Liverpool signed the first players from Spain and Argentina. Josemi Rey was the first of a quartet of Spaniards to arrive at Anfield in the 2004 pre-season and Mauricio Pellegrino became the first Argentine to sign for Liverpool in January 2005.
As you can see, Liverpool's search for new talent has resulted in at least one new country being painted red in most seasons since 1996.
For how many of the 44 countries can you name a Liverpool player? If you are scratching your head wondering wondering which Liverpool player resulted in Zaire being painted red in season 2015-16, the answer is Christian Benteke. Note that the map (and the graphs) shows a player's country of birth, not their chosen nationality. Christian's family emigrated from Kinshasa, Zaire (now The Democratic Republic of the Congo) to Belgium when he was a child.
Most Red Countries
Here are the top 10 countries sorted by player league appearances.
So where next for Liverpool as Klopp seeks players with the skills and desire that were once easily found in England and Scotland? Will the next big splash of red paint be applied to Asia?
The first transfer window for season 2016-17 has just closed and Liverpool has painted Estonia red for the first time, with Ragnar Klavan joining in July 2016. We will have to wait and see if Klopp decides to paint another country red in January, perhaps to buy the next Luis Suarez.
Acknowledgements
Thanks to the excellent LFChistory.net for the base data.