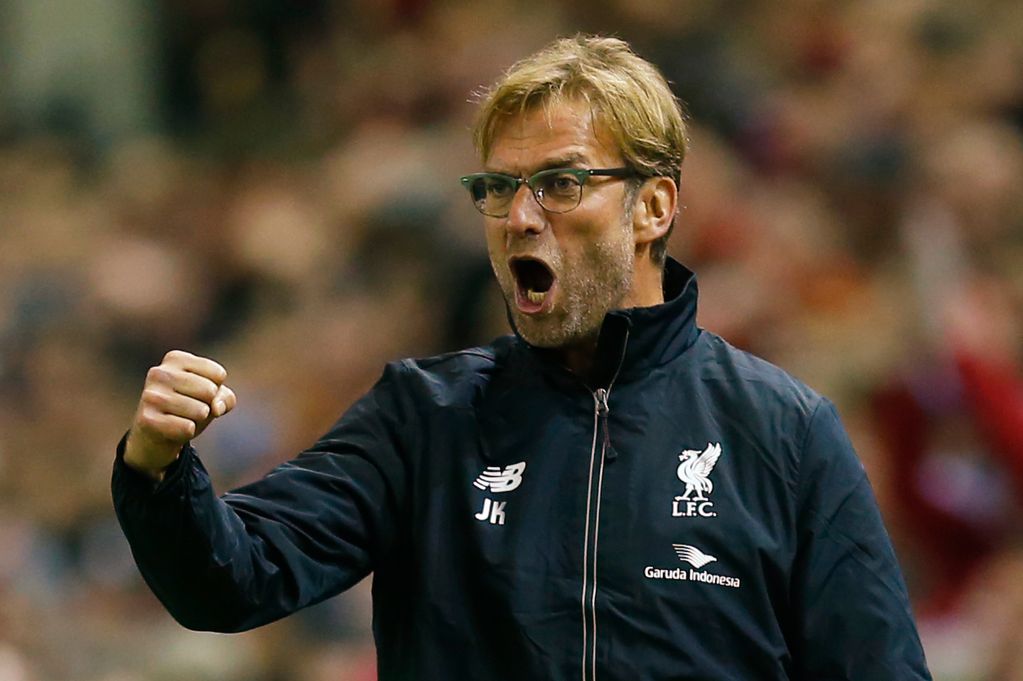 PART ONE
It's early days, but with another thumping victory this already feels like a rather special Liverpool team, with that emphasis due to the way it functions as a unit rather as a collection of individuals.
It will obviously be hard to match the success of previous eras, which in turn can make all comparisons seem lame, but this is a kind of 'clicking' of a Liverpool side that we probably now only get to see every few years – often in the second and third seasons of a manager's tenure, once he shapes the side in his image and his words are still fresh to the players, before it inevitably passes its peak and needs some reinvention (and in modern football few managers get the chance to reinvent their own side, in the way that Matt Busby, Bill Shankly, Bob Paisley and Alex Ferguson got to do; now the sack comes at that first sign of decay, Arsene Wenger excluded).
As soon as the Reds lost to Burnley a week into the season my reaction was "that wasn't as bad as people are making out". Can't break down packed defences? Well, maybe Liverpool can; although we all know that the packed defence can occasionally overcome even the best attacking performances, if a little luck is ridden. (See Inter vs Barcelona in 2010.)
But two teams have come to Anfield now this season to set up a roadblock, and shipped nine goals between them. The idea that Liverpool aren't incisive enough now looks insane. And again, a lot of the problems with perceptions come back to grouping in Klopp's early games (working with someone else's players who also had someone else's fitness training – players who weren't conditioned to play his way) as well as heavy rotation due to injuries in the winter and an insane fixture list from October to May.
My point since the start of the season has been to insist that we look at Klopp's results last season when he didn't have two hands tied behind his back. So, Liverpool were inconsistent with a new manager trying to change the fitness programme in October (as he wasn't around in preseason), make sense of a disparate squad, blood youngsters, get by with injuries to some top players whilst adding none of his own, and play games with a frequency that was greater than any team in Europe? Well, no shit Sherlock.
And yet Burnley got lumped in as if it was some kind of trend, and not a blip – especially when the first three games of any season are almost never without strange upsets as everyone searches for match sharpness and rhythm (and promoted clubs often play those first games like they are cup finals; indeed, see Hull City and Burnley).
There's now talk of Pep Guardiola smashing the notion that managers need time, but compare arriving with a preseason to condition the squad, and to make five first-team signings (plus others), whilst starting with a blank slate (and a 'dormant' great side) to how Klopp took over an injury-ravaged, mid-table goal-shy team that didn't have the right preparations for him, and then added no one to the roster in January (Steven Caulker doesn't count … just because). Guardiola is doing a great job, but that doesn't mean that all new managers arrive with the same challenge ahead.
Football clearly goes through cycles of "fashions", but I often wonder if we see more fluctuations here than in any other league on account of the broad variety of managerial styles – with a batch of elite imported coaches from various countries (as we simply don't produce our own elite ones anymore) allied to a handful of often route-one British bosses who, whilst lacking invention, still provide unique challenges. If not the best league in the world technically, it certainly has the broadest smorgasbord. It's certainly not easy to arrive midseason and make sense of it.
But after Jose Mourinho's decent-but-unspectacular champions of 2014/15 (the expansive start giving way to dogged pragmatism), and Leicester's counter-attacking in front of two banks of four (which was a miraculous achievement but not an elite football team), it feels like English football is moving towards a more fluid game.
For a start, Manchester City have gone for the doyen of free-flowing, hard-pressing football, in Pep Guardiola (and more on him in Part Two). But it's noticeable that Liverpool have also become more fluid than anyone seemed to anticipate – it is now clear that this is not just a counter-attacking team – and part of this transition involved Jürgen Klopp jettisoning the fairly prolific but fairly static giant Christian Benteke. Equally interesting is the way Arsenal are moving away from the fairly prolific but fairly static giant Olivier Giroud.
Even Manchester United have finally started to look vaguely exciting this season with the ponderous Wayne Rooney dropped, along with That Freakish Totem Pole With The Hair and the Elbows.
There may still be a place for big, bustling centre-forwards (as well as whatever the fuck Marouane Fellaini is), but even Diego Costa's goals aren't making Chelsea an exciting side right now, whilst Zlatan Ibrahimovic, still full of talent but about to turn 35, is low on longevity. Is he the last of the great giant centre-forwards?
A few years ago it seemed like diminutive strikers were a dying breed (especially in a lone-striker system), but now they are being woven into fluid, flexible front-lines up and down the country. Even Stoke ditched the tallest of forwards (Crouch) for a couple of the smallest (Bojan and Shaqiri). Now it seems like the gigantic central striker is the anachronism.
They can still be a seductive breed, the "unplayable" big lads up top, but after flirtations with Benteke and Andy Carroll, it feels like the need to get crosses in, and the temptation to bypass midfield such targets provide (even if you don't actively want to play that way), makes for a more regimented football: wingers out wide, centre-forward stood centrally, full-backs deep and pinging long diagonals. It can be effective, but it's also predictable.
Watching Liverpool this season it's hard to know who is supposed to be playing where – and yet it's not chaotic and unrehearsed. Indeed, it's that strangest of beasts: the team that gets five or six players up into the box and then, without fail,  gets those five or six players back behind the ball afterwards. The getting forwards only works because of the speed of the getting back.
Didier Drogba was one of the best forwards I've seen in the Premier League era, but the idea of playing a big man centrally and having three, four of five midfielders onrushing (or whipping in crosses) no longer seems as exciting and modern as having five "attackers" within the front six (as Klopp's Reds do), supplemented by two attacking full-backs. With Liverpool, even the holding midfielder is a dynamo rather than a destroyer. So-called flimsy attackers – Adam Lallana and Gini Wijnaldum – are now harrying midfielders.
To work, the front players have to be prepared to drop into midfield, and that's where Klopp's famed fitness regime comes into play. No one is static, with or without the ball, and even the electric Sadio Mané is happy to deputise at full-back if the opposition counter, as well as to make runs off the ball that, in all likelihood, could simply open up the space for someone else. With Liverpool there's no thinking of "will I get the ball if I make the run?" Everyone just makes the run.
If the work-rate isn't there the whole system breaks down; so no matter how many goals Mario Balotelli scores in France there's nothing that can change the fact that he would never have worked in this system; ditto Benteke at Palace. To work, every single player must buy into it, from the first whistle to the last.
The movement and work-rate that Mané provides is proof of what Klopp wants – and can demand from a player who, on the ball, isn't too far from what Eden Hazard offers Chelsea, but who does ten times more without it. (This season Hazard has had more touches per game, but Mané has more goals and assists.)
And unlike Hazard, Mané isn't even the player at Liverpool that everything goes through – you might say that is Philippe Coutinho, or Adam Lallana, or maybe Roberto Firmino, and then you realise there are at least four players that almost everything goes through in the final third; it's just that they'll either all be involved equally in a single move, or they will share periods when it's their turn to run to the show. There is no one single focal point, either up front as a target-man, or behind that as the playmaker. Rather than a Mahrez and a Vardy, Liverpool have something more akin to three Mahrezes; rather than a Kante and a Drinkwater, Liverpool have three Kantes.
I've begun to wonder if this is the most mobile, fluid Liverpool side I've ever seen – a bold statement, but one based in part on the way the game has developed compared with previous decades. The difference from the halcyon days is that Liverpool were fluid and interchangeable in the '70s and '80s (and especially 1987/88, when it peaked) at a time when few teams were as flexible. But the unprecedented levels of fitness these days enables an even greater mobility and movement.
By being the fittest team Liverpool essentially have more players on the pitch – because any player dribbled past can then get back to close down again. (Clever, huh?) More players can be thrown forward because more players will get back. You can throw seven or eight into an attack and know that you can still have five or six behind the ball within seconds of it breaking down. It means that Liverpool can boss possession and still run more than their opponents. Suddenly possession isn't a bad thing again.
Back in the halcyon days, Liverpool had midfielders, wingers and strikers, with overlapping full-backs. Now we have strikers in midfield, even trickier strikers up front, and midfielders in defence (both James Milner and Joel Matip have been midfielders in the past).
In the past, Liverpool had midfielders like Graeme Souness and Steve McMahon – hard men who could pass, shoot from distance and put the boot in (sometimes through the opposition's shinpads). But they were undoubtedly central midfielders. They could probably have played as full-backs too, in the way that James Milner now does, but for their whole careers they were pretty much central midfielders. Ian Rush was always a centre-forward. Kenny Dalglish and Peter Beardsley were always just off the main striker. John Barnes was the one player who, over the course of his career, excelled first as a winger, then as a centre-forward, then as a central midfielder. (But more on Barnes later.)
Now – perhaps with the gradually outlawing of most forms of tackling – it seems that you can get away without a midfield enforcer. (Indeed, something Roy Evans was trying 20 years ago, before the rules on tackling were changed; and the notion that he must add one – which he did with Paul Ince – proved wayward.) With tackling an ever-riskier business (as the game gets ever faster, and as referees have to clamp down on so many more things), closing the spaces with equine lungs is perhaps more useful than the man who makes that thunderous tackle. Getting bodies in the way, and putting the opposition under the kind of pressure that makes them panic, is the new midfield destruction.
Remember, if this praise of the current side seems excessive (and it may well be), the context is that, according to Opta, this is Liverpool's highest-scoring start to a season (first eight competitive games) for 121 years.
So in that sense it stands comparison – indeed, it even beats – the Reds' most celebrated sides over the first fifth or sixth of a season. I'm not saying that it will carry on being this good, because you can't say that for certain; just that the early days seem to bode well, especially given the calibre of opposition faced.
On that subject, Derby and Burton weren't great sides, clearly, but they were still only second tier – not fourth-tier whipping boys; and Hull and Burnley were 'only' promoted clubs (but again, both started the season with impressive results in their first two games). But add Chelsea, Arsenal, Leicester and Spurs (in games where the Reds deserved even more goals than they got), and take into account that six of the eight fixtures were away, and you can see that something is brewing. And with just two games at home the results have read 4-1 and 5-1.
The flexibility is all part of what's forcing us to redefine our perceptions. It's probably fair to say that no one foresaw a Liverpool midfield of Henderson holding, with Wijnaldum and Lallana in there too, even if an injury to Emre Can reduced the manager's options, and may have been a factor in the rejig.
It would have been easy to leave Wijnaldum and Lallana on the bench, and play a standard midfield behind a fluid front three. For most managers that would be enough. But if there's a reason that Liverpool are even more exciting than anyone had predicted – and why they are up there with Man City as the most exciting team right now – it's because of the wholly unexpected front six as well as this new marauding (but not rash) left-back. (And again, with Milner I said trust that he will go outside his man, which he did last season, but failed to do at Burnley, the blip.)
Perhaps in time opposition teams will wise up to the orchestrated chaos of Klopp's Reds, but right now it feels like they could be almost unstoppable, bar the occasionally off-day when it comes to the finishing. (As a quick aside, I often wonder how big a part the number of penalties a team gets plays in winning the league title. Liverpool barely got any last season, and again this season, until Hull came calling. This is a team designed to win penalties – an overload of tricky players in the box.)
For me, the best Liverpool side of the past 25 years (even 29 years) was the 2008/09 vintage. That was when the machine-like qualities of Rafa Benítez's Valencia side were at their most evident, allied to excellent attacking. While this current crop isn't as parsimonious at the back, there is a similar sense of ten outfield players hounding and harrying. If the beauty of that side was its balance, the current set-up excels due to the fluent interchanging of versatile players.
While I think Klopp and his staff will be frustrated with the lack of clean sheets, and rightly obsessed with cutting out all errors, it hasn't felt at any point this season that Liverpool have been outclassed and creaking at the back (and only defended badly for a few minutes at Arsenal and a couple of brief moments at Burnley).
It doesn't feel like there are massive systemic problems in the way that there were in 2013/14, when another exciting front six (also including Coutinho and Henderson) often felt unconnected with its defence. This side is less reliant on individual brilliance in attack, and more about a swarming, united mass. Indeed, aside from missing Mané at Burnley, there hasn't been any disruption when changes have been made to the front six.
Letting in a goal every game isn't quite so bad when you're scoring between two and five, with plenty of gilt-edged chances passed up in the process.
PART TWO
Gini Wijnaldum and the Stanford Gorilla
The second part of this article is for subscribers only.
[ttt-subscribe-article]