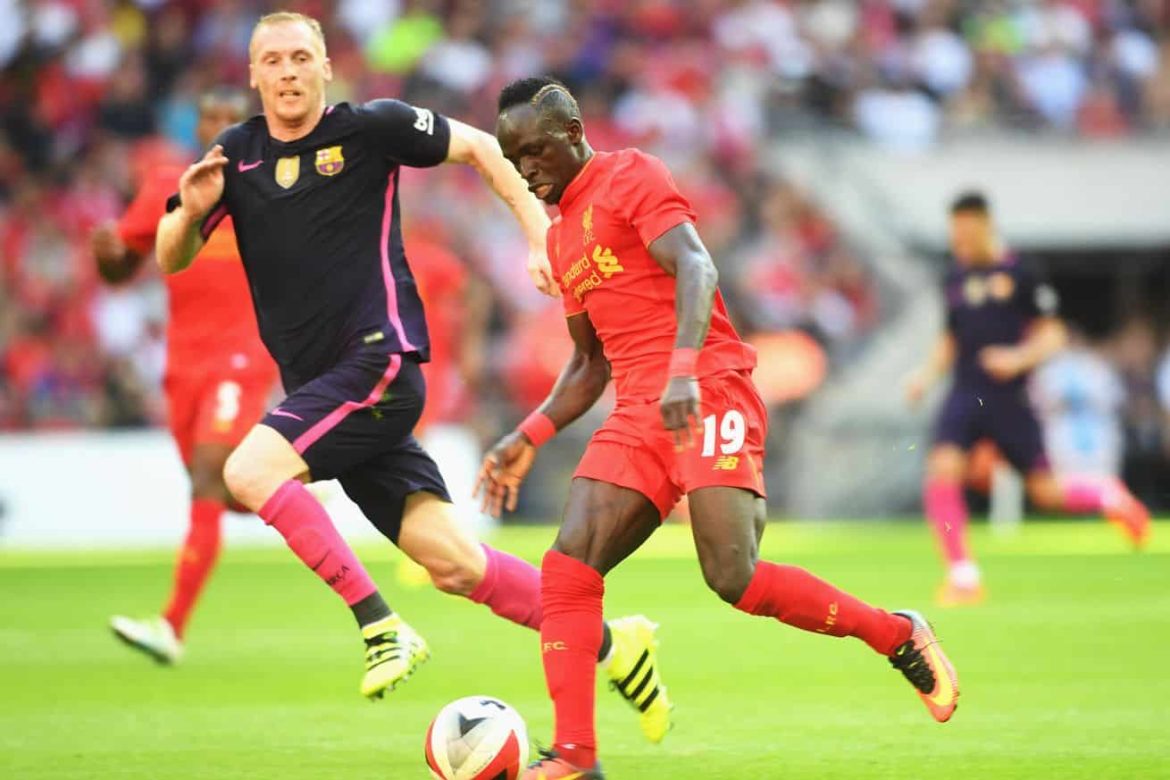 Part One
This summer vs Last Summer
Every summer should bring optimism to a football fan – a clean slate, new players, and the excitement of being zero points behind the leaders with 38 games to go – although it seems that this summer should bring more hope than the one 12 months ago. The sense right now is that the competition will be stronger, but that Liverpool will be stronger too.
The summer of 2015 was weird. It was a very confusing time. I recall being excited last summer – because, after all, it was a new season – but it was not a time of unfettered optimism. It was more like trying to give a failing relationship one last go, in a bid to recover the spark of the past.
Having been an initial Brendan Rodgers sceptic, I was won over during 2013/14, if never quite at ease with the anarchy of his football, which rarely achieved any proper balance. I didn't always understand Rodgers, but maybe he was onto something unconventional, and it was us who had to learn a new way to think?
Last summer I felt that the depressing 2014/15 could have been an anomaly, based partly on the steep increase in games (two cup semifinals reached after an easy schedule the year before) and based partly on the injuries, particularly to Daniel Sturridge. It was a season coming to terms with the loss of Suarez and the melting of Gerrard.
Of course, it could have been that 2013/14 was the anomaly, but it seemed risky to oust Rodgers, just in case 2013/14 had been due to some kind of managerial alchemy; particularly when it didn't look easy to find a top-class replacement (and even last summer I said that if one became available – citing Klopp as an example – he should be appointed).
Sometimes what you do one season carries over to the next; people seem to think that was the case with Leicester, and their good end to 2014/15. And teams that struggle one season can get engulfed in a downward spiral. But equally, the summer is a time when everyone has the chance to regroup, and teams comes back out in August in a new guise. Last summer I thought that maybe Rodgers knew precisely what was wrong and that he felt sure he could fix it. Well, let the man try, I thought, with the managerial merry-go-round we've seen over the past 10 months yet to kick into action a year ago.
The problem was that the end of 2014/15 was so awful – the 3-1 home defeat by Palace and the shatteringly shit 6-1 shafting at Stoke – that it was hard to maintain excessive belief in Rodgers. I felt some loyalty towards him, and a need to give him another chance (because it's risky to sack managers after one poor season, and because I think managers are generally churned over too quickly), but it was also a type of compromise, in a summer of compromises. (And I'm still trying to make sense of his tenure, even now.)
Rodgers himself looked to shake things up. There had been rumblings towards the end of 2014/15 that Mike Marsh and Colin Pascoe were not particularly good coaches, but it's always hard to know how good any backroom staffers are, as we don't see what they do; their work is filtered through the decisions of the manager and the performances of the players. (For instance, anything Gary Neville did with England had to ultimately go through Roy Hodgson.)
My personal opinion, expressed over the years on these pages and in the site's comments section, was that Pascoe and Marsh didn't really inspire confidence; they had no great record of success in coaching, but also, that this didn't automatically make them bad coaches; after all, the same could have been said of Bill Shankly's lieutenants when he arrived at Liverpool, but they turned out to be pretty special. I'm not sure many people in 1959 were raving about Bob Paisley, and seeing in him one of the greatest managers of all time.
What did worry me was that, in this international age and multicultural league, Rodgers' staff were purely British. When Rodgers replaced his coaches it was tiresome that Sean O'Driscoll was instantly labelled "Sean O'Drisfool" by the trolls and Twitterati, but O'Driscoll and Gary McAllister, while more experienced than Marsh and Pascoe, were not inspiring choices.
They had years of managerial experience, which could be useful – as I pointed out at the time – but neither was a radical coach, on the cutting edge of modern football. Neither had coached or played abroad. In particular, McAllister was welcomed as a beloved ex-Red, but was he arriving with impressive new insights?
The two new men might help Rodgers implement his ideas, which would be good if Rodgers' ideas proved sound; but they didn't seem set to provide many new ones. Rodgers, who spoke Spanish and visited other countries during his early years as a coach, seemed surprisingly insular, often looking to buy from within these shores, and with his results in European competition perhaps highlighting his limitations.
Still, I recall being excited by the arrival of Christian Benteke, because of the almost mythical special potential of gigantic goalscoring centre-forwards, and how they can be labelled as 'unplayable', which seduces me like a sucker every time. I always think of Didier Drogba, with his pace, power and shooting ability to go with the physique, and how he was a late bloomer in French football; but Drogba never looked mentally weak or lost. Drogba is the apotheosis, but almost no other similar striker seems capable of getting close to the Ivorian's effectiveness.
Benteke's Premier League goalscoring record at Aston Villa was much better than the player some compared him to – Andy Carroll – and his spectacular goal at Swindon in preseason, followed by a much more meaningful stunner at Old Trafford, showcased his fine technical abilities, suggesting that he could change the Reds' fortunes. But by the end of the season he was low on confidence, and didn't appear in any way steely or lion-like.
Benteke was brought for the quick back-to-front ball to beat the press – given the way Aston Villa had done that to Liverpool – but bizarrely, there were no wingers to service him from wide areas. (There was one winger in the squad, and Jordon Ibe was a dribbler, not a crosser. You don't have to obsess about crossing, but a few capable of crossers would have helped. James Milner turned out to be the Reds best crosser, but he was brought in by Rodgers to play centrally.)
By October the manager who bought Benteke was gone, and while he'd done okay for that manager, the team as a whole was struggling for goals; and while he did okay for the new manager, the team scored more without him, in more fluid attacking shapes. And he was certainly almost never 'unplayable'. He'd have brief periods in a game where he'd shrug off defenders and charge forward, but most of the time he looked inhibited.
But this summer feels totally different. Last summer was about hoping a hit-and-miss manager would return the team to the hit aspect of his reign; whereas this summer is about an elite manager getting the first chance to shape the squad in his image, and in the process, being open to more than just Premier League signinga.
Again, last summer had an air of "British is best" about it, which always worries me. I'm definitely not against British players or managers, but there just isn't an excess of top quality examples of the former (there are plenty of "good" English players), and right now, clearly no impressive examples of the latter: hence the choice between replacing the uninspiring Roy Hodgson with either Steve Bruce or Sam Allardyce.
(David Moyes did his "he'll be great at a big club" hype no good with failure at Manchester United, while his reputation suffered further damage in Spain – where the promise of Gary Neville also took a kicking, along with his subsequent association with Hodgson. That said, Neville is still a relative rookie, and should not be damned by the association with Hodgson. That said, it seems he's returned to Sky, where he provides great insight; and which shows that having good ideas and getting players to stick to them are two very different things).
So my issue with the pro-English bias is that it lumbers clubs with the best of a bad bunch. And the problem is that British managers talk up their talents to the British media – who for years have trumpeted their merits, possibly because they drink and/or lunch together – while British players also forever claim they're unfairly underrated. My issue is simply that you can get one of the best Dutch players for the price of maybe the 50th-best English player.
At least James Milner didn't cost the usual overinflated English transfer fee (though his wages were fairly high), and both Danny Ings and Joe Gomez had the potential to be good signings at bargain prices; while a fourth English player, Nathaniel Clyne, was fairly priced due to his contract situation. I had no problem with any of these four signings, even if none exactly whetted the appetite and screamed "top four, here we come". You need solid types as well as creative types, although it's perhaps handier if your solid types come through the ranks, as it's much harder to find elite-level creativity in your own academy. (I'm hoping Sheyi Ojo goes on to be a rare exception to that rule.)
Again, I also have no problem with buying from mid-level Premier League clubs, in isolation; but en masse it can lead to the sense of getting merely decent players from decent clubs. (That said, the younger the player is, the more potential you are buying – so the less of an issue. Sometimes mid-level clubs briefly have a top-quality star or two, who quickly get poached.)
Roberto Firmino was the only "unpredictable" signing a year ago; the rest you feel that any British manager would have made, at any time during the past 25 years: four solid English players and a semi-typical "English" centre-forward who, while Belgian, had years in English football under his belt.
There wasn't a lot of star-quality added, and by that I don't mean "superstar" potential, or world-class in status; just that, Firmino aside, the arrivals were "solid" types.
In fairness to Jürgen Klopp, he made the most of the British players at his disposal, and had no vested interest in whether individuals were Rodgers' buys, "committee" buys or homegrown talents. As a new manager, he had the usual luxury of treating everyone the same, and he was under no pressure to play any of them to justify their acquisition.
And while Klopp is clearly not opposed to British footballers, he's not going to buy them as part of some project to prove their worth (which is something Rodgers openly admitted was his raison d'être). It now feels like a more balanced policy. The club feels sane and logical right now.
At the time of writing, Klopp has not signed a single Englishman, beyond the bizarre loaning of makeshift centre-forward Steven Caulker (who clearly didn't impress the German, perhaps due to his attitude, which was questioned at QPR). In came Marko Grujic on a permanent deal, along with Joel Matip; followed this summer by Sadio Mané, Loris Karius, Ragnar Klavan, Alex Manninger and Georginio Wijnaldum.
Klopp hasn't gone for a gang of Germans, but he has raided the Bundesliga, as you might expect (indeed, I saw it as a selling point of his: he arrived with genuine expertise of an elite league, which also happened to be sensibly-priced; and, on top of this, he was greatly respected by the players there, making it more possible to procure them).
So far, a Serb, a Cameroonian-German, a Senegalese, a native German, an Estonian, an Austrian and a Dutchman have arrived. I like this, because it seems like there's no agenda. Talent, and not passports, seem to be the defining factor.
A hugely promising young English left-back, in Ben Chilwell, was bid for, but his Englishness did not seem the reason for going after him. Premier League experience seems favoured, but not fixated upon; four have been from German football, and three have prior Premier League experience, albeit a long time ago in the case of 3rd-choice keeper Manninger.
Klopp will keep a good few of the English/British players he inherited (and the younger ones could become more important in the post-Brexit years if the rules change), so maybe there was not a need to add the usual cadre of Brits that came in 2010, 2011 and 2015.
Joe Allen has been sold; a fine footballer, but not as potentially devastating as Wijnaldum, and at £13m with one year left on his contract, he left for a good price. Jordon Ibe also left, but with a buy-back option, and again, at £15m, a fair valuation for a fine young player who has yet to fulfil his potential. (I remain curious as to how good he'll be at 22/23, but there's no doubt he was at a crossroads in his career – too good for Liverpool's reserves, not quite right for the first team, especially when you look at what Sadio Mané does with his pace.)
Having no homegrown starters at all can appear problematic, and a purely foreign side can be disconcerting; some kind of rooting to the league, and preferably the city, aids stability – you want to avoid an excess of players who have no affinity for the place, who are always looking to move on (those who are just passing through). But equally you can get imports who will appear to care more than natives: Lucas Leiva seems more committed to Liverpool than Raheem Sterling ever did – although being courted by bigger, richer or recently/currently more successful clubs can test loyalty. (Often these days the loyal players are simply the ones the mega-clubs don't come in for.)
For example, Luis Suarez seemed utterly committed when he played, and also appeared to genuinely love his time on Merseyside and the appreciation the fans showed towards him. But he was also eager to leave for Arsenal in 2013, and eager to leave again a year later. He was a mercenary in the sense that Liverpool was never his ultimate dream, but that didn't detract from his performances. He was great to have – amazing, even – even if it was only a short-term fling.
So for me, the need for Englishness (or localness) can be overstated, especially if the players are not of the calibre of Steven Gerrard and Jamie Carragher; it's not like Stephen Warnock or Jay Spearing would have become essential were they the only English or local players at the club at the time; and it's not like Andy Carroll's passport made him worth keeping. And let's not forget the massive backwards step the club took in 2010 when employing an English manager who stated that he wanted English players. (Whatever happened to him?)
But right now it looks like only Nathaniel Clyne is a shoo-in for the XI, with Daniel Sturridge's inclusion dependent on a few factors, including how Divock Origi plays (i.e. if he can repeat, or even improve upon, his form in the spring, when his pace terrified the opposition – and the evidence in preseason is that he can), and whether Firmino is preferred as a false nine, not to mention the key issue of Sturridge's own fitness. Sturridge is a very special player, but his diminishing pace limits his effectiveness somewhat – although a more explosive supporting cast may bolster his game, where he can drop deep and wide to feed the runners.
Jordan Henderson, Adam Lallana and James Milner will be vying for the XI but it could be that just one of them starts; although since I started drafting this article James Milner appears to have become the first-choice left-back (injury permitting), and Adam Lallana, whose final third product in a red shirt has been underwhelming, excelled against Barcelona in a deeper position, but is likely to usurp Henderson if anyone.
At the very least, these are three players you'd want in your 18, for differing reasons. Henderson and Milner are archetypal English players – wholehearted, energetic, solid physically, and decent but unspectacular technically; much like Clyne. Lallana is atypical, with a more continental style of lovely close control, albeit without enough killer end-product (so the new position could be ideal).
Sturridge is also atypical, but certainly doesn't lack decisiveness in the final third. He just lacks reliability in the fitness stakes, even if that's been much better in 2016.
One concern this summer would be that Liverpool have paid £61m for two mid-20s players from other Premier League clubs; players who were available for £25m combined between 2014 and 2015. Is this the Benteke (£7m from Belgium) and Lovren (£8.5m from France) issue again? Should the Reds have gone for Mané in 2014, for £11.8m? Or for Wijnaldum last summer for £14m?
Obviously there was a different manager at the time; one who preferred signing from these shores. But are Liverpool missing out on the same equivalents – the £12m or £14m player who moves to, say, Southampton (let's face it, that's what usually happens). Or is there any benefit in letting the player have a year or two in the Premier League? The good news is that these are just two examples from what remains a broader, wiser approach. And in Grujic, Liverpool have got a young overseas bargain.
Another worry is that the Reds – as with Christian Benteke and Adam Bogdan last summer – are buying players who did well against them in the recent past; always a transfer alarm bell, if – and I stress if – those buying the players aren't scouting from bigger sample sizes.
Now, it seems that Klopp knew Mané from the player's time in Austria (and the U20 World Cup), and Wijnaldum is someone who, as captain of PSV and a longstanding bright hope of Dutch football, was someone any European manager should be well aware of. Is it merely coincidental that the pair scored a total of five goals against Liverpool last season?
Equally, you don't choose against signing players because they did well against you – that would be lunacy. But you have to make sure that it's not the main reason you are buying them – certainly in the modern age, where, unlike 30 years ago, it's much easier to scout all over the world, and see extensive footage of players; whereas in the pre-technology age, managers would only get a feel for a player when his team faced them.
Anyway, the summer business seems to make sense, but then it often does: players are purchased to address weaknesses, but only time tells whether or not they do as expected, and also, what new problems will arise.
As I've said for years, my research shows that maybe only 40-50% of transfers succeed, and that it only rises to 50-60% when really big fees are paid.
You can have a look at our new interactive lists of the most expensive players after inflation, and see for yourself how only half of the top 10 were successes; indeed, the trend continues from positions 11-20. Some of those were simply overpriced, but a fair few were very big names, and "nailed-on" successes. The link above also includes the most expensive 100 Liverpool players in the Premier League era (and just before) after inflation is added. (All Transfer Price Index work, created with Graeme Riley, and with the visuals by Robert Radburn.)
Also, how the £100m fee Man United are due to pay for Paul Pogba is much the same, after inflation, as the big fees paid a decade ago (by either Manchester United or Mourinho's Chelsea), with the average price of a Premier League player having trebled in that time. Aside from someone like Lionel Messi before he hit his late 20s, £100m in today's seems the going rate for an elite player (one of the world's top 10), but would it would surely cost more to buy the best player in the world before age-depreciation becomes a factor.
Part Two
The second half of this article is for subscribers only. It addresses the number of potential pros and cons I can foresee for Liverpool in the season ahead.
[ttt-subscribe-article]