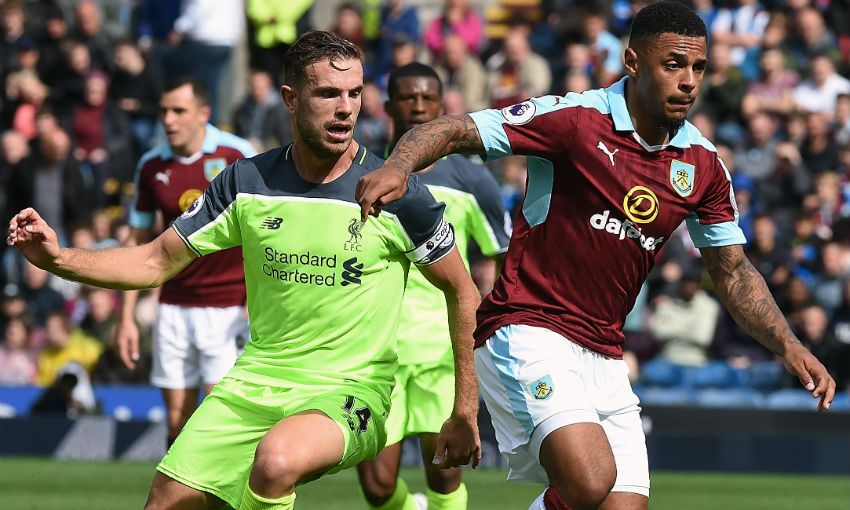 Two games, both away from home: one superb win, one surprising – yet unsurprising – defeat. The "end of the world is nigh", the "old problems are clear to see", and the sample size is … tiny.
The first three games of any season are almost always the worst to judge. New players are adjusting, and rust is still in the system. So early in the season is it, the Reds have yet to even wear the red kit this season. (Last week it was black; today it was Toxic Chunder.)
Liverpool started brilliantly last season under Rodgers in terms of results (less so performances), and won all three of the first games in what turned out to be Souness' final season back in 1993. Man United under Alex Ferguson often started with dropped points in the first couple of games. And already this season, Newcastle were in free-fall under Rafa Benítez – cue a hysterical post-mortem on the Sunday Supplement last week – and in the past few days they've won back-to-back games … crisis over. Lose a game and they'll be back in crisis. Win another and the crisis will be over again. (If you wondered why modern football can be so draining, here's your answer.)
I've seen today's deserved defeat – to an incredibly plucky Burnley – being described as the worst performance in years, even though we lost 6-1 at Stoke just over a year ago. All I could see today was Liverpool keeping the ball (mostly) well, winning loads of corners and having loads of shots and crosses, all of which came to very little; while Burnley had three shots all game.
While Liverpool lacked composure and that extra level of creativity in the final third, this was not like some of the defeats of recent years. But what it does show is that you can't go to hostile grounds – usually of promoted teams – and gift a 2nd-minute goal, as was seen at Watford last season. They can't keep conceding from the very first shot at goal. But this looked like a much better – or rather, much less horrific – display than at Watford.
Indeed, Burnley seemed to follow the Watford/Leicester tactical template, of eschewing possession and defending for their lives. Today they got away with it, because they got in the way of everything, in a way that won't happen on other days. Today they rode their luck, but also earned it, too.
I've also seen it said that Liverpool haven't upgraded since last season, but Sadio Mané was the clearest upgrade of recent years; unfortunately he had a collision in training and got injured. We saw in preseason, and at Arsenal last week (just as we had during his time at Southampton) that he can be the very thing that the Reds lacked last season – an über-quick dribbling wide-man who scores goals and creates openings. Unfortunately he was missing today, and well, shit happens.
My only issue with Klopp's selection was the lack of pace, although in the case of Mané he had no choice. Equally, in the case of Moreno he dropped a player everyone said should be dropped, and suddenly the Reds had no pace on the left. (James Milner has done really well at left-back in a couple of previous showings; here he showed his limitations.)
And up front, Daniel Sturridge's once-glorious pace continues to look a thing of the dim, distant past. And while I'm one of his biggest fans, when he's unhappy it sends a bad vibe around the team. Seeing him trying to chase a pass is quite painful.
Divock Origi and Emre Can had less of a preseason than most of the others, so they're working their way back, but that's another two quick players who will surely be in the side soon. They're not just quick, but technically gifted, too.
Sheyi Ojo, the quick understudy for Mané, is also out injured. And the quick (and gigantic) centre-back – Joel Matip – missed part of preseason with an injury, and has only made the bench as a result.
So Origi aside, and the gamble whether or not to trust Moreno, there wasn't a lot of options in terms of pace. It was more of a patient passing XI, not a getting-in-behind or skinning-the-full-back-with-pace XI. And the patient passing was fine – but the end product was often woeful, and when it wasn't, Burnley defended heroically.
Also, Loris Karius, the new keeper, broke his hand in preseason. So it would be wrong to suggest this is not capable of being a better Liverpool side, because most of the key upgrades (goalkeeper, centre-back and goalscoring winger) are out at the moment. Right now it's quite like the Liverpool of last season in terms of personnel. There's are no new dimensions as yet, for that reason.
And of course, someone has to tell Philippe Coutinho and co. to stop shooting from 30 yards, although again, it worked quite well at the Emirates last week, and turned the game. (Still, I'd limit any player to just three long-range efforts per match, although it becomes a nervous habit when time is running out. Free-kicks are different because there's more time to shoot and usually ten yards of space.)
We can talk about Klopp's training and high-intensity methods causing these unfortunate injuries, but this is patently untrue in several accidental cases; and Liverpool had plenty of injuries under Brendan Rodgers, who never trained the players anywhere near as hard (and who had seasons such as 2013/14 with less football). Again, we need to see more data, under the new fitness coach.
Lacking pace, Klopp picked a team to keep the ball, which it did well for large parts of the game (81% possession). But after going a goal down early on, there was not enough quality in the crossing and shooting, and by the time it was 2-0 there was a mountain to climb.
Even so, Liverpool (as expected) had a ton of shots – and worked plenty of half-decent shooting positions – that might have led to something more on another day, and bossed pretty much every meaningful statistic, bar the more random one of the scoreline.
Although at times the Reds' play was often too ponderous, and there was no room for cute through-balls, it didn't feel to me like some of the bad defeats of recent years where there were few shots, few corners and scant possession.
Of course, Burnley look like they've set the template to defend against Liverpool, but two banks of four, with another dropping in, has always been hard to break down. That's why Mané is so important, as he offers something different to the "into feet" brigade of Coutinho, Firmino and Sturridge (and deeper, Lallana). Liverpool have plenty of lovely technical players, but pace and directness will be the new dimension.
So, before judging the "new" Liverpool, let's see the team with a few of Karius, Mané, Matip and Grujic in; not just Klavan, who is very solid but one-paced, and Wijnaldum, who has yet to settle into the team.
And let's maybe give it more than just two games; two away games at that. Liverpool have shown in 2016 that they can be a force to be reckoned with, and certainly in the bigger games, against teams where there's some room to counter.
And I think, when everyone is fit, the Reds have the qualities to break down packed defences too, if they show sufficient composure.
Maybe there'll be further additions, too; although that can lead to too much churn, and unfamiliarity, which takes time to overcome, as understanding is often not immediate. But no one has any time anymore.
These days, every game is in itself a summation of everything about a team – the latest game is a bubble in which everything is captured, and magnified, and is always the whole story – in a way that is maddening and indeed, a fast road to insanity. (And rivals winning only adds to the despair.)
Liverpool will continue to have maddening games, and bad days at the office. It's gonna happen, whether this is a good season or not. The key is to not have too many of them – but two games is not a big enough sample to analyse. After two games in the Championship Newcastle were going to be relegated; now they're probably favourites for promotion once more. So let's see what the Liverpool pattern is after a few more games before writing off yet another season.