By TTT Subscriber Anthony Stanley.
He's always been a bit of an enigma, has our (for now) Slovakian defender. A walking paradox who physically looks like he could give Ivan Drago a go in the boxing ring and yet ends up been bullied and dominated by jobbing centre forwards. A scorer of sometimes vital goals at either ends of the pitch; the frequency with which we have seen him turn away in triumph is easily matched by the number of times he has sank his head into his hands after said cranium has belted the ball past his own keeper. A defender that has been all too often denigrated by the support and yet has been trusted by a succession of top class managers (and dear old Roy).
This season – though irrefutably displaying that it should be his last in a Liverpool shirt – has seen that paradoxical nature writ large. On a personal level, Skrtel was responsible for two wildly differing emotional states, effectively bookending his shelf life as a Liverpool player. When he swept home that thunderous volley against Manchester City in the Etihad Stadium, it would be a granite hearted supporter who – despite all of his increasingly obvious foibles but with Lovren yet to have his own personal renaissance – could not see some future for the Slovakian at the club. Maybe not as a starter, but perhaps there was still a role within the side for him. Fast forward a few months to the calamitous second half collapse against Southampton and practically every Liverpool supporter (and, more importantly, almost certainly Jurgen Klopp) had had their fill of a player who, though a fine servant – and despite some intermittently good periods in the Liverpool defence – was, as Dan Kennett has frequently pointed out, the common denominator in nearly a decade of shambolic defending (Steve Clarke's one season of defensive nous notwithstanding).
Skrtel began the season as first choice and ended the campaign with a thirty four year old and a defensive midfielder ahead of him in the pecking order at centre back. It's no surprise that the Slovakian started every league game under Rodgers but, even when Liverpool parted company with their manager and brought in Jürgen Klopp, Skrtel still kept his place in the side until injury struck at Christmas. That's the first seventeen league games that featured Skrtel and, in a season which has often appeared like a marathon up Everest in its perceived length, it is hard to cast our minds back to this stage and to picture the performances of Liverpool's number 37. Well, they were a mixed bag – at best. The 3-0 reversal to West Ham at Anfield, which signalled the beginning of the end of the Rodgers' experiment, may be remembered for tragi-comic defending from Dejan Lovren but his partner at the heart of defence hardly covered himself in glory; Lanzini's opener came as a result of a weak Skrtel header and Diafra Sakho's third came after horrendous and cowardly defending from the Slovakian. This last was symptomatic of his style as he backed off and backed off without bothering to actually try and tackle the ball. In short, supporters had seen it too much, had grown weary with it and were really starting to grow weary of Skrtel himself. When he repeated the trick against Manchester United's Martial in the next league game – shadowing the French striker towards goal – we had seen enough, but the Slovakian wasn't finished with our fragile state of mind.
Against Watford, Skrtel may have suffered a bruised back, but presumably his pride – and certainly any lingering faith we may have had in his abilities – was just as hurt and battered. He was given the merry-go-round by Deeney and Ighalo, all of his weaknesses to the fore, before limping off. Amazingly, given the shambolic nature of this performance (although Skrtel was by no means the only offender), he was yet to reach rock bottom. That particular moment came on his comeback from injury at the end of March in the aforementioned Southampton debacle. We all know what happened, and it is perhaps unfair to single out one player for such a dramatic collapse, but Klopp knew he had made a mistake and should have brought on Toure for a nervous looking Lovren. It was a mistake that the German manager would not make again and there was more than a few mentions of straw and camels' backs as Reds discussed a game that would prove a game too far for Skrtel's borderline miraculous capacity to be picked by a succession of Liverpool managers.
Our Slovakian international did manage to play a couple more times for Liverpool as the season edged towards its ultimately disappointing climax, but this was only because of European commitments; that he and Benteke were usually the sole senior representatives in games against the likes of Bournemouth, Swansea and West Bromwich Albion was more than a little telling (though in the latter game, Skrtel had one of his more impressive of the season, perhaps freed from the shackles of overt pressure as he sensed the direction of the wind).
His fall from grace may have been dramatic but Skrtel's effective banishment to the fringes of the first team was not based on the Southampton train crash. Rather, it was a slow burner – surely – with Klopp that eventually reached breaking point. Though there was the odd inspired moment last season, the Slovakian was poor for the majority; a figure of frustration, upon whose slumped shoulders howls of angst would frequently descend. That he survived so long in a red shirt was probably down to a number of factors, among them being injuries to Agger, the retirement of Hyypia and Carragher without a suitable replacement being brought in (itself a damning indictment of our transfer policy thus far) and also the catastrophic loss of form last season of Dejan Lovren, making Skrtel appear the lesser of two evils. It could also be that this season he has simply melted very quickly, perhaps injuries catching up with him or perhaps his luck has run out. But let me add before drawing this to a close that – though I was never his biggest fan – he was still a loyal servant to Liverpool Football Club, still had his moments, particularly during Kenny's full season in charge and, of course, 2013-14.
I opened this piece by claiming that Martin Skrtel was an enigma and I will stand by that.  The captain of his country for years who rarely looked like a leader for his club can surely deliver somewhere next season. Perhaps it was that the Premier League just never really suited him and a more pedestrian division – Italy's Serie A for example – would bring out his strengths (and hide his weaknesses) more. There is a player in there, despite the frustrations, I am sure of that, but we rarely got to see it.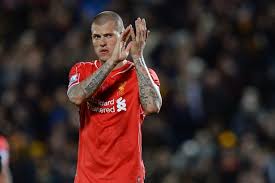 Is it goodbye?
Where will Liverpool finish in the league this season? (POLL CLOSED)
3rd (28%, 92 Votes)
1st (27%, 89 Votes)
4th (18%, 58 Votes)
5th (14%, 45 Votes)
2nd (9%, 28 Votes)
6th (3%, 11 Votes)
7th (0%, 1 Votes)
8th (0%, 0 Votes)
9th (0%, 0 Votes)
10th (0%, 0 Votes)
Total Voters: 324

Loading ...