By Paul Tomkins.
Despite dropping points in the past two games from leading positions, Liverpool showed enough against Southampton – in a near-perfect first half – and Spurs (for the whole game) to suggest a team heading in the right direction.
Progress is rarely linear. There will be downs as well as ups; form comes and goes. But the overriding impression is what counts, and right now that is of a side coming together nicely, if not yet perfectly.
Klopp inherited a team that was toothless – goals had been a problem for almost 18 months (since the departure of El Toothy One) – and that side of the game has been transformed. Crucially, it started to happen before the return of Daniel Sturridge, the only other cutting-edge player the Reds seemed to possess after Suarez's exit.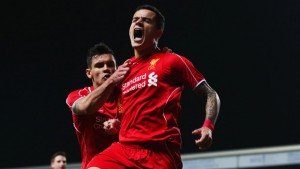 Liverpool have shown that they can score goals against any opposition, with plenty put past Chelsea, City, United and Arsenal; and with eight put past Southampton in two visits to the south coast, and six smashed past an Aston Villa side admittedly so bad their results could almost be wiped out. (In light of the recent doping allegations, has anyone checked to see if Villa have been on horse tranquillisers?)
The 1-1 draw against Spurs was Klopp's 39th Liverpool game, which ever so nearly splits into four quarters of ten games apiece. His 40th game will be against yet more tough opposition, as his old team, Borussia Dortmund, await on Thursday; the 10th game in a run of 10 fixtures against mostly Champions League opposition (six of the previous ten games will have been against those who were in the competition this season or those set for the competition next season).
This article is for subscribers only.
[ttt-subscribe-article]