By Terry Dolan (TTT Subscriber terryd).
I've developed a simple web app called the LFC Goal Machine that plots a player's age against the league goals that the player scored in a top level season. The app knows about every LFC player who scored a top level league goal in more than one season, from 1894-95 to 2014-15. You can use the app to compare players across different seasons and eras. Simply select one or more players and take a look at their graph. You can play with the lfcgm app at lfcgm.lfcsorted.com.
To whet your appetite, I've selected some graphs from the app that I found interesting. I've been watching Liverpool since the early 1970s. The graphs show players from before my time, such as the record-breaking Gordon Hodgson who was born in South Africa in 1904. The app's data is sourced from lfchistory.net and you can find out more about the players listed at www.lfchistory.net/players.
Early Riser
Robbie Fowler is the only player in Liverpool's illustrious history to score 20 or more top level league goals when under 20 years old. In his first three seasons Robbie scored at one of the fastest ever rates, scoring 12, 25 and 28 goals.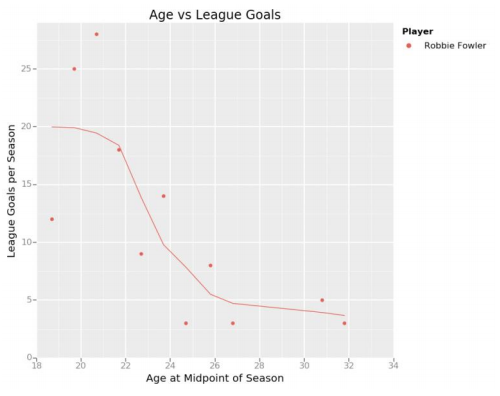 Late Flourish
John Aldridge made his Liverpool debut at 28 and had an extraordinary late flourish, scoring more than 20 league goals in two consecutive seasons. John is one of five players who have scored 20 or more league goals when over 30. The others are Dick Forshaw, Gordon Hodgson, Jack Balmer and Ronald Orr.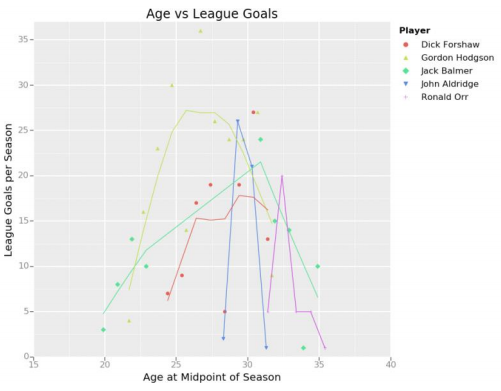 Career Top Scorers
Here is the graph of Liverpool's top league scorers. The following players all scored 120 or more league goals in the top flight: Gordon Hodgson (233 goals), Ian Rush (229), Roger Hunt (167), Harry Chambers (135), Robbie Fowler (128) and Steven Gerrard (120).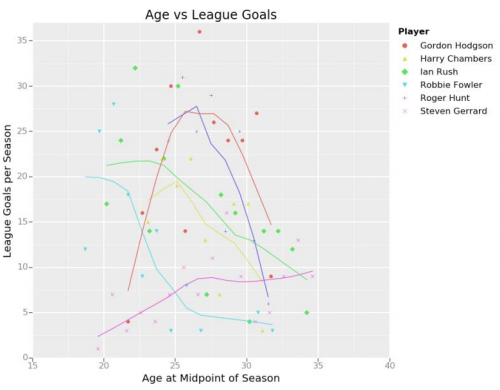 The rest of this analysis is for Subscribers only.
[ttt-subscribe-article]