By Mihail Vladimirov.
Southampton made only one change for this game. Fonte, returning from a one game ban, replaced Targett, with Bertrand returning to his place at left-back after one game at centre-back.  Wanyama, returning from a 6-game suspension, and Mane, who was successful in his appeal against his red card at Stoke last time out, were chosen on the bench.
On the other side, Klopp was without Moreno and Firmino due to injury and Milner through suspension. On top of this, the manager decided to give Henderson a rest and keep him on the bench. In came Flanagan, Allen and Origi to the starting XI.
A clash of equivalent teams
When the starting XIs were announced, it was possible to imagine several different permutations regarding starting formations and how each of the variants could've influenced how the game would be played out tactically. There was the possibility for Southampton and Liverpool to line up in a 4-2-3-1, 4-1-2-3, 4-4-2/4-2-2 and 4-diamond-2 formations, to either choose the same formation or mix it up in various ways.
For example, using the same formation would have arguably led to both teams largely cancelling each other, something made even more possible given the same type of players selected from both managers. On the other hand, if one of the teams was to go with a narrow diamond formation and the other with a wider one, the clash would have presented both teams the opportunity to have clear weaknesses and strengths given the match up in formations, leading to a more intriguing overall tactical battle.
Eventually, following kick-off, it was clear both would play in the same 4-2-2-2ish formation. Interestingly, not only were the formations the same, but both teams had more or less the same outlook due to the same type of players on show, with a midfield pair of two technical, possession-oriented passers and no one who naturally sits deeps and protects the back four.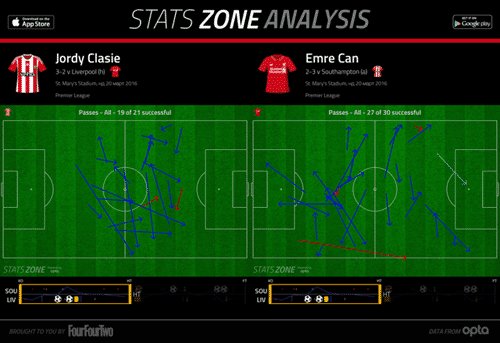 It was a similar case down the flanks, where Tadic and Coutinho both looked to drift infield and create from between the lines, while Lallana and Davis were the more energetic shuttling type of midfielders who can help out in the build-up play but are also able to burst late in and around the penalty area to offer additional attacking threat.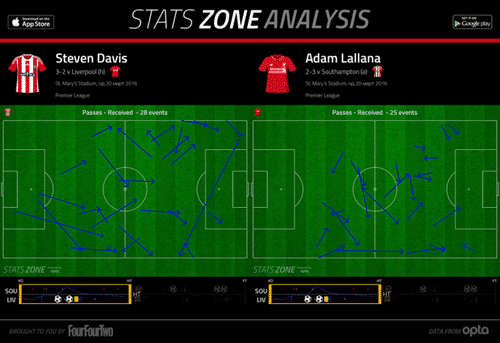 There were two notable differences. First, while the hosts had two typical attack-minded full-backs, Liverpool had only one such player (Clyne), with Flanagan being a more conservative and cautious wide defender. Second, while both teams had a hard-working speedster up front (Long, Origi), in Pelle the Saints had a typical target-man as their second forward while the Reds had the more mobile and roaming Sturridge, more of a #9.5.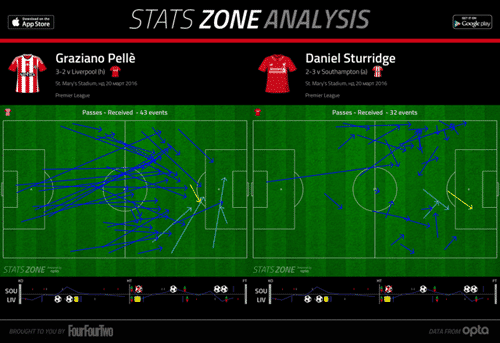 All these similarities contributed to make the game evenly-matched between two sides playing in largely the same way – both looking to dominate the midfield zone by using the wide men to drift in there and overload it, boss possession (due to all the ball-players) but also not being afraid to go more direct and threaten on the break. Even their midfield shortcomings were the same – playing with only two central midfielders but neither of them being a true ball-winner or defensive midfielder who can sit solidly ahead of the back four and patrol the space between the lines. Therefore it can be said both teams' main plan was to dominate in the game and use a collective pressing as their main defensive function.
Usually, in games where both teams are well-matched in such a congested midfield zone, the key zone becomes the space down the flanks. Or in other words – which side would be able to provide more or better attacking width to try and stretch the play and gain an advantage away from the zone where a clear winner can't be found. But here the teams were also equal, albeit in a different way.
The rest of this analysis is for TTT Subscribers only.
[ttt-subscribe-article]