By Daniel Rhodes.
Sat watching the first half with my young son, we marvelled at the free flowing, dynamic, big-chance creating, away-points accumulating, footballing beast of Liverpool Football Club. We were like a team of Thursday night Sakhos. A team full of energy and hard work, starting to move through the gears towards at least a fourth place finish.
Full-time.
Defeat.
Here's my bed-time story-esque explanation to my son. Used last night as Nightmare Prevention Therapy.
"There was a nagging doubt starting to creep in, son"
Not into my mind, or my son's, but that of Dejan Lovren. Those muffled chants from the Saints' faithful, despite his team's magnificent performance, were starting to register between his ears. The recently renewed, although clearly fragile, confidence was seeping away. The voice in his head returned. The one that screamed relentlessly at him during the 2014/15 season. The one that told him to dive into tackles, lose sync with his defensive partners, mis-time challenges, give away needless fouls in dangerous positions and look like a walking bag of defence-destroying nervous energy. With a force.
Klopp noticed this, of course he did. In between his repeated physical contortions, which we laughed at, joy full of joy. We'd scored two fantastic goals; but proceeded to miss other gilt-edged chances; we had one disallowed – and yet there was Dejan, in the back of his mind.
Dejan with doubts.
That Dejan.
Klopp had spoken at length earlier in the week about improving the reputation of centre-backs because of the defensive organisation and stability provided by his past teams.
He's got a job on with that Dejan.
Klopp noticed this change, didn't fancy playing with ten men for thirty minutes, and after an exhausting tie against the Red Devils decided a switch was needed. One tiny seep of complacency had emerged in his mind; of course it did, he'd just watched the same first half as me and my son. No-one had dared tell him about Skrtel's performance for the U21s earlier in the week. Klopp needed to focus on the huge European game. He wouldn't be needed anyway.
Klopp looked round.
He caught Skrtel's eye. The Slovakian was immersed in the atmosphere of a thoroughly impressive first 45 minutes. He looked visibly buoyant.
"Martin, you're in for Dejan."
Skrtel quickly glanced at Lovren. That flicker that Klopp had seen was on full view. It was contagious.
"Erm, but boss…"
Skrtel was sat with his head down, now trying to avoid eye contact. He knew all about the U21 match. He knew he wasn't ready for 45 minutes in the Premier League against a fresh Saints side determined to exploit any fatigue in the Reds' starting eleven. They'd already done for Dejan at St Mary's. And West Ham's kids had done for Martin earlier that week. He might look fit. He might look hard. But inside, deep down, he knew he wasn't ready.
"Skerts. Do a job. Keep it simple. Keep it tight."
Skrtel looks up, Klopp notices the flicker of doubt. He spins around, searching for Kolo…
Kolo, Kolo, Kolo, TOURE… is by now outside on the pitch, warming up, focusing, relaxing, enjoying the moment. Skrtel is shit scared. Klopp suddenly doubts his decision. Peter Krawietz informs Jürgen about the U21s game, especially the two reckless challenges in extra-time, when Skrtel looked leggy.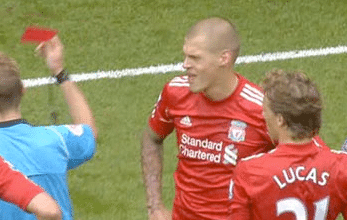 Zeljko Buvac mentions the Southampton game here a few years ago, when Skrtel was bullied and reckless. Klopp gives them both the stare.
The registration forms were handed over to the fourth official for the substitution. The decision was made. No going back.
"No point going over the second half, son, we need to forget all about that. Or else we'll end up like Martin."
The rest of this article, including some match stats, are available to subscribers only. Click here to subscribe.
[ttt-subscribe-article]