Part Two: Evans help us.
 By TTT Subscriber Anthony Stanley.
As Roy Evans took his seat in the visitors' dug-out in Selhurst Park on a bright, early autumn afternoon in 1994, perhaps he cast his mind back over the incredible path that had taken him to this moment. It had been a journey that had taken thirty years; from a player who just failed to make the grade at the highest level under Shankly to being groomed by the Liverpool hierarchy as a potential first team manager. Evans may well have blinked into the sun and swallowed tears of pride – he knew the enormity of the job and what success in his inaugural full season would mean to the passionate and baying Liverpool support.
Evans would later recount the daunting juxtaposition of where he now found himself to Simon Hughes in Men in White Suits (there we are, the suits have been mentioned in the second paragraph, at least indirectly):
'I'm not sure that being a fan of the team you manage is necessarily a good thing. The doubts start the first time you get beaten…you realise what it means to so many people…(W)hen you lose, you realise how it can spoil a person's day or week. It's your feelings multiplied by forty-five thousand people at Anfield and those watching on TV or listening on the radio…it wasn't nice if we'd lost, you felt like you'd let people down, there was a horrible feeling deep in your stomach.'
Evans may have been palpably a passionate fan, but there would be no sentimentality. The dust had barely settled on the reconstructed Kop to an all-seater before he had flogged some of Liverpool's finest servants from the 1980s; Ronnie Whelan, Steve Nicol and Bruce Grobbelaar joined the pedestrian and overweight Julian Dicks, the ineffective Torben Piechnik and the undisciplined Don Hutchison towards the exit door. In came John Scales, Phil Babb and Mark Kennedy. The former two would form a formidable footballing back three with a rejuvenated Mark Wright in Evans' new 5-3-2 system. A reinvented John Barnes – shorn of his electric pace thanks to an Achilles injury – would pull the strings in midfield with Jamie Redknapp and the lopping, ultra-talented Steve McManaman, who sometimes appeared lost under Souness, but was about fulfill his brilliant potential. The finishing icing on this creative cake was the goal scoring genius of a nineteen year old urchin, Robbie Fowler.
Things started well for Evans and his new look Reds. The pregnant, heavy and grey storm clouds that had hung over Anfield for the previous two years were not quite swept away but there was tangible sunshine present as the mood of the fans lifted. Kopites were fully behind the appointment of the new manager; a back-to-basics approach was viewed as badly needed following the damage that had been done by Evans' abrasive predecessor. Nor was the new boss – contrary to popular myth – allergic to modernity. Roy brought in Doug Livermore – then Spurs' manager – as his assistant and also became the first Liverpool manager to appoint a full time goalkeeping coach in Joe Corrigan. Later, physio Mark Leather was also brought in, joining Sammy Lee and Dr Mark Waller in a new look Boot Room. Evans may have been talking the back-to-basics line (which would become a hideous media cliche by September of 1994) but he wished to marry his own vision with that which he had, in a footballing sense, been brought up on. As the manager stated: 'It's always been my style to let everyone chip in with suggestions, just as I had been encouraged to do when I first joined the Boot Room'.
The 1994/95 season started with a bang and a deluge of goals. Only four years since winning the old First Division title – and well before the arrival of the game-changing Chelsea and Manchester City billions – Liverpool were seen as genuine title challengers, even if there chances were seen as much weaker than the new dominant force – a Manchester United that had finished a depressing thirty two points ahead of the Reds in the previous season. But Kopites, then as now, needed little prodding in order to dream and when Liverpool started the season with three straight wins and eleven goals scored, there was a sense that we could be re-acquainted with our perch. Amongst these early victories, the 3-0 hammering of Arsenal at Anfield will live long in the memory of anyone who was present, with the astonishing Robbie Fowler helping himself to a hat trick inside a delirious four minutes and thirty three seconds, a record that stood until last season when Saido Mane improbably accomplished the feat in just under three minutes.  The Kop – now ostensibly forced to sit – had a new hero and spent the game standing in adoration of a young man that was about to be christened 'God'.
To those that weren't around for the coming of Fowler, it's hard to describe just what it was that provoked such worship from Liverpool fans. Obviously his nerveless finishing and precocious ability was a big part of the draw, but there was so much more. Robbie was an icon, made for Liverpool fans; a squattish lad who didn't appear like a natural athlete, who didn't have particularly good pace, who – and even more so when footballers weren't so removed from the fans – looked like one of us. Had this lad wandered on to the pitch from the stands? But then that left foot would swing and Anfield would erupt. Robbie scored goals, from all over the pitch, a dizzying amount and this is perhaps encapsulated by his historic hat trick against Arsenal. Sometimes Robbie seemed bemused and self-deprecating (of the glut of goals against the Gunners he remarked: 'I didn't really know the goals came so quickly, I thought they were fifteen minutes apart') and though there were some indiscretions looming in his future, if anything, these merely added to his legend.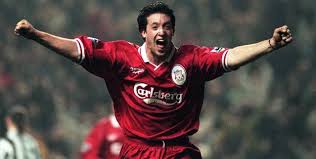 The rest of this article, which covers the contentious Stan Collymore and concludes with the 1996 FA Cup Final, is for Subscribers only.
[ttt-subscribe-article]