By Chris Rowland and Daniel Rhodes.
W/c Monday November 2nd 2015.
Welcome to our weekly round-up, a diary of news and events on the site, matters relating to LFC and the world of football generally.
The Week in Football – Liverpool FC:
Monday:
Lucas Leiva hailed the character of Liverpool after their 3-1 win at Chelsea and insisted the words of wisdom from Jürgen Klopp played a part in helping the team come from behind to get the three points. (LiverpoolFC.com)
"We conceded an early goal and during the last few months if we conceded a goal our body language maybe wasn't the best, but after the Southampton game the manager spoke to us and said you can't think too much about a goal if you concede it, and you just need to get back on your game.

"That's what we did I think and the goal came at the right time for us just before half-time, but even in the first-half I thought we were the better team.

"In the second-half I thought both teams had chances but we looked really solid defending and on the counter-attack we took our chances and I thought it was a deserved win.

"There's still a lot of things to improve on, but it's better improving and winning.
Liverpool manager Jurgen Klopp offered Reds winger Jordon Ibe his glasses after the 19-year-old misplaced a pass during a training session.(Metro)
Tuesday:
But Jordon Ibe has only good things to say about the new manager. He told Liverpoolfc.com:
"It was one of the most important things the new manager has said – we need to be a team who can be 2-0 down and know there is still time for us to get a goal.

"It could be in the last 10 minutes, so it's just about having a mentality that is like 'it's now up to us to go and get two goals…and then a third one'.

"It was great for the team to come back from 1-0 down because it is difficult to do that and beat Chelsea at Stamford Bridge. It was great.

"There is a lot of learning in training. There are times when we are watching and he is explaining something. We have quite a few meetings where he shows us things on video from previous games. It's great to learn and I'm enjoying it.
Liverpool duo Cameron Brannagan and Ryan Kent have been included in the latest England U20 squad by manager Keith Downing. (LiverpoolFC.com)
For games during the forthcoming international break – words to fill you with dread.
Wednesday:
LA Galaxy midfielder Steven Gerrard, 35, could return to Liverpool – perhaps as a player – after discussions with manager Jürgen Klopp. (Independent) 
The newspaper claims Gerrard has spoken to Klopp "several times" in the last month.
"The manager is now convinced that Gerrard's presence will help define the standards of professionalism he expects around Melwood, Liverpool's training ground," adds the paper.
The Liverpool Echo, the Express, the Guardian, MailOnline and BBC Sport were all over this story too.
Then the climbdown began:
According to Reuters, Liverpool fans shouldn't get too excited just yet. Gerrard – now an LA Galaxy player – has been invited to train at the club during the American close-season.

But there have been no discussions about a playing contract, according to sources close to manager Juergen Klopp.

Still, no smoke without fire, as they say…
Liverpool manager Jürgen Klopp has recalled several of the club's on-loan players – including 18-year-old winger Ryan Kent, who has been at Coventry – to assess them over the international break.
The reason it highlights Ryan Kent? It comes from the Coventry Telegraph.
Liverpool have handed a trial to teenage Belgian goalkeeper Jonathan de Bie, according to the Daily Mail.
The Belgium youth international began his career with Anderlecht but now plays for KV Mechelen Under 17s and U19s.

The 15-year-old has been at Liverpool on a trial, taking part in a couple of games, and is likely to figure in another youth game later this week.
Thursday: 
Adam Lallana, James Milner and Nathaniel Clyne have been included in the England squad for the upcoming friendly clashes with Spain and France.
And Liverpool winger Jordon Ibe has also received his own call-up from the Three Lions, having been selected for Gareth Southgate's U21s.
England take on Spain in Alicante on Friday November 13 before facing France at Wembley on the following Tuesday.
Friday:
Jordon Ibe, or "Ibeeee", spoke about his new manager's influence:
"He's a great manager, I'm delighted to be working with him," the attacker said.

"He's showing me new things in training and obviously training is different now so I'm learning.

"Hopefully I can keep getting the experience I need and he can develop me into a good player.

"Everybody's doing well in training and we're just delighted as a group to be doing well now. Hopefully we can just keep winning games and make it a repetition now."

"I was delighted to get the goal, obviously,"

"It was a good through-ball from [Roberto] Firmino and I was just happy to get it on target and in and I'm happy for the team to win the game.

"I was just happy for the whole team in general.

"We got the points we need and now hopefully we can [keep] doing well and in our home games in the Europa League."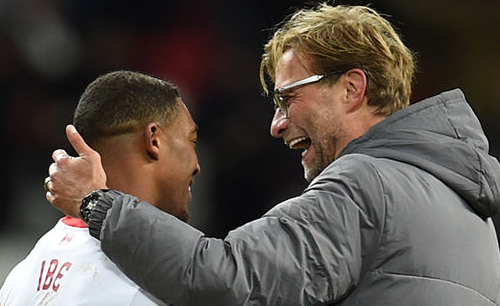 The Week in Football – General
Monday:
Aston Villa will name former Lyon boss Remi Garde as their new manager on Monday – replacing the sacked Tim Sherwood. (BBC Sport)
Speaking on his Sportsweek programme, BBC presenter Garry Richardson said a senior Chelsea player had told him he would "rather lose than win" for Jose Mourinho. (BBC Sport).
Chelsea owner Roman Abramovich is "agonising" over the prospect of sacking Jose Mourinho. (Daily Express)
Mourinho said very little to the media following his side's sixth league defeat of the season, but according to Blues' Brazil midfielder Ramires he "didn't say anything" to his players either. (Chelsea website)
Former England boss Fabio Capello wants to replace Mourinho if he is sacked.
And Mourinho is to be the subject of an individual legal claim from former Chelsea team doctor Eva Carneiro in addition to the action she is bringing against the club for constructive dismissal.
The Press Association are reporting that legal papers will be served on Mourinho this week as part of separate but connected claims against him and against the club.
The claim against Mourinho will be on the basis that he was instrumental in the actions against Carneiro in having her dropped from first-team duties and effectively demoted.

It means the Portuguese manager will have to appear in person at an employment tribunal unless the case is settled out of court beforehand. Under employment law, an individual can be personally liable for damages if victimisation or discrimination can be proved.
One bit of good news for the beleaguered Blues – striker Diego Costa will not face disciplinary action after appearing to kick out at Liverpool's Martin Skrtel in Saturday's 3-1 defeat – according to English Football Association sources.
Referee Mark Clattenburg is understood to have seen the incident and opted against issuing a caution, meaning there can be no retrospective sanction by the authorities.
The rest of this round-up is for Subscribers only.
[ttt-subscribe-article]