By Chris Rowland and Daniel Rhodes.
W/c Monday October 19th 2015.
Welcome to our weekly round-up, a diary of news and events on the site, matters relating to LFC and the world of football generally.
The Week in Football – Liverpool FC:
Monday:
There will be no "magic dust" according to Jürgen Klopp, and all he needs is some time for his side to become accommodated with his methods:
"I should teach them technical aspects? They know," he said. "We have to altogether help them to show it.

"This is not the biggest problem in life. We don't have to sprinkle magical dust on them 'and now you can play football.' They know how to play.

"We just have to create a situation where it is possible to do this. Pressure yes, but it is not the biggest pressure, these guys are running for their life.

"There is nothing to worry and say, 'Come on, try again'. Everything is okay.

"We have some very good players on the bench, or on the [treatment] table at home, and we need these players of course, 18 games until December.

"But we have young players and in situations like this you learn more about them than usual. They are all with us today.

"It is a chance for all Liverpool players in this moment."
The new manager didn't finish there though, and went on to praise some of the individual players:
"I am not sure how many games you saw like this from Adam Lallana. What do you think? I know him from Southampton and he can do 20-30 per cent more," he enthused.

"Coutinho? Do you not think he can play better football than today? Of course, he can.

"Lucas? You don't think he can play balls on the right and left side? He can.

"Emre Can? Learning between running and passing. He can learn.

"Milner? The complete football player, the perfect professional, a machine, everything is there.

"We start with this development and the most important thing is for the players to be prepared to be a little bit wild.

"You can run and then you can miss. No problem. Don't worry. Come back again."
Liverpool's "Number One" Simon Mignolet also had words of praise for his new boss:
"As you can see he is very enthusiastic and very ambitious," said the goalkeeper.

"On the line you can see that and it rubs off on the players. He is very positive and he wants everyone to go full blast, like he is as well. And that is good because it goes on to the young players and they can thrive on that.

"His sense of humour is different. It is not English, it is German. It's nice and he's a good man.

"Every manager has his own style and tactics and he worked hard this week to make sure we put them under pressure. He speaks with everybody and what is good is he gives people confidence.

"He wants us to go 100 per cent and that positivity, enthusiasm and ambition is a positive for every individual."
Midfielder James Milner, 29, believes Saturday's draw at Tottenham proved manager Jürgen Klopp has already made his mark at Liverpool. (Liverpool Echo) 
Tuesday:
Jamie Carragher was full of praise for Klopp, and analysed the tactical improvement during Monday Night Football:
 "I liked what I saw. Very rarely do you see a manager stamp his authority on a team from day one, but that's what he did.

"Over the week since he's had the job, we've been reading about what he is like as a manager – pressing, how much distance they are going to cover.

"Transition pressing was a massive thing for Klopp at Borussia Dortmund and it looks like it's going to be a really big thing for this Liverpool team.

"One thing Klopp likes is for four or five players to get around the opposition player on the ball. He sees transition as a great opportunity to score a goal.

"As soon as they lose the ball you can see they will keep pressing until they win it back. They're organised and you can see that has been worked on in the first two or three days in training."
Former AC Milan, Chelsea and Real Madrid boss Carlo Ancelotti, 56, says he was not approached by Liverpool before the club appointed Jürgen Klopp as their new manager. (Goal)
Delhi Dynamos left-back and former Liverpool defender John Arne Riise, 35, has criticised Reds full-back Jose Enrique, and told the Anfield club's striker Daniel Sturridge he will have to increase his work rate under new manager Jürgen Klopp. (Daily Mail)
Klopp believes he has the "complete footballer" at his disposal – 29-year-old England midfielder James Milner. (Star) 
Wednesday:
Imagine being a Liverpool fan, turning up at school, and finding Sakho visiting!
Liverpool defender Mamadou Sakho delighted youngsters when he made his first visit of the season to All Saints Primary School in Anfield on Tuesday.
The Frenchman, who has visited the school during the last two years as part of his ambassadorial role with the club's charity, the Liverpool FC Foundation, took part in sports and reading sessions as well as joining in with their daily mile run.

The Reds centre-back also joined in with translation games and led a fun singing session with the youngsters in French.

Sakho is actively involved in assisting the foundation's community coaches, who deliver football sessions at the school each week as part of their intensive 'On the Ball' programme, as well as helping pupils with their French language studies.

He said: "I really enjoyed visiting the pupils and staff at All Saints Primary School and helping deliver fun and engaging lessons.

"It's very rewarding for me to be able to get to know the pupils and the school well and use my skills and knowledge in such a positive way.

"It's very important to me to be able to support the Liverpool FC Foundation and give something back to the local community. Providing opportunities to young people is essential to help them to develop new skills and build confidence."

Andrea Cooper, head of the Liverpool FC Foundation, added: "Mamadou's continued support of the LFC Foundation's 'On the Ball' programme is fantastic.

"He brings out so much spirit, passion and commitment not only in the children but also in his role as an ambassador for the Liverpool FC Foundation. We are delighted to have him on board."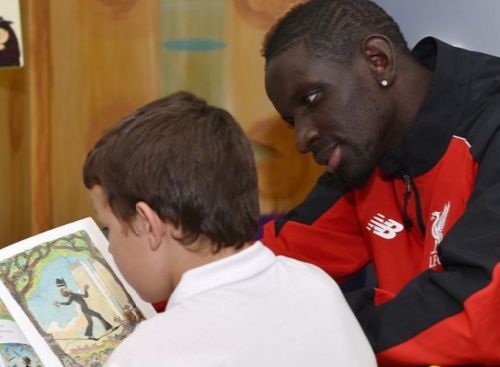 The rest of this round-up is for Subscribers only.
[ttt-subscribe-article]