By Freelance European Football Journalist Paul Wilkes. (Twitter: @paulwilkesfooty)
Brendan Rodgers walked out of the Goodison press room with his head down and gaze firmly fixed upon the floor. At the time it just looked like a man under pressure, though perhaps he was doing his best to avoid the sight of the yellow baseball cap-wearing grim reaper waiting patiently to take his seat.
After his final win over Aston Villa last week, Rodgers could afford a smile, as he evidently looked relieved.]
"I think I have shown in the early stages of my management – without being arrogant – that with a talented group of players I can compete at the top end of the league," said the manager.

"I know how to manage top players. If you give me the tools, I'll do the work."
He seemed to forget that he had been a large part of the group that had to select his so-called "tools" and it was him that wanted Clint Dempsey rather than the prolific forward Daniel Sturridge, who had helped himself to a brace that day.
On this occasion his positive spin was more going through the motions rather than providing a persuasive argument. His words were as unconvincing as the performances on the pitch, whilst his normally jubilant and assured demeanour was replaced by a sullen and subdued  one.
It has been reported that Rodgers took the fateful call from the owners to confirm his exit after the press conference, although the way he squirmed and sat uncomfortably in his chair, there's every chance his phone was vibrating in his pocket as he spoke with the media.
No one appeared to have any inclination that this would be the last time we would see Rodgers in the official capacity of Liverpool manager, although in hindsight the look upon his face indicated that he suspected the end was near.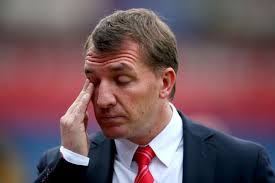 His convictions had been replaced by contradictions, whilst his 'philosophy' had changed so much that it had lost its meaning.
"I can definitely see us coming together more as a unit and as each game goes on that's becoming better," stated Rodgers.
Unfortunately he was the only one.
His shift of style made sense in the wonderful second campaign, as even Barcelona's Luis Enrique has realised that sometimes it's necessary to get the ball to your very talented attackers as quickly as possible and forsake your principles a little.
The problem comes when you make that many alterations, you begin to lose the clarity which you once started with. When I asked a former Liverpool coach during the title challenge what Rodgers' long-term plan was, he shrugged his shoulders and shook his head before replying "I don't know."
Was Lucas' tactical fouling in the centre of the pitch part of his ideology? It certainly worked and Roberto Martinez described it as "very, very clever," but as this was Liverpool's greatest strength in the 225th Merseyside derby should we not expect a little more after three and a bit years?
"We are disappointed with the goal, it's a mistake" Rodgers told Sky Sports immediately after the match, as he talked about Emre Can's attempted clearance rebounding off Martin Skrtel and falling into the path of a grateful Romelu Lukaku for Everton's equaliser. However, he had changed his tune in the press conference a few minutes later, as he described the moment as "unlucky."
It was this indecisiveness that also bothered Andy Carroll:
"He was telling me one thing to my face, then I'd leave the training ground and he would ring me and tell me a completely different thing," admitted the striker to The Times.
Steven Gerrard's assertion that he's the "best man-manager he has ever worked with" is starting to look more like Rodgers was willing to pander to the former captain's ego. At least the plaudits reserved for Jonjo Shelvey have slowed down. Whilst there are many sticks that can be used to beat Brendan with at present, selling the Swansea midfielder shouldn't be one of them.
Rodgers will resurface at another club in the near future and Liverpool supporters will be thankful for the 2013/14 title assault, along with his part in building the foundations for Jürgen Klopp's championship winning machine.