This game has already been billed as the clash between the 'Special One' and the 'Normal One'. However, instead of pointing to a massive managerial rivalry, this is just an easy eye-catching title which the media uses to draw additional attention and further hype to the game.
In reality, this clash shouldn't be viewed from the prism of Mourinho vs Klopp but a match that pits together two struggling teams who need to win this game. Therefore, the attention on the managers would need to be in terms of how they may impact on the game and help their team reach that goal, instead of searching for drama and controversy where there isn't any.
What's wrong with Chelsea this season? 
One of the main talking points up to now this season is surely the situation Chelsea found themselves in and how it came about. To understand what's wrong now, you need to look back at what happened last season.
The form of Fabregas and Diego Costa in the first few months of last season is often cited as the main reason behind Chelsea's sublime start during the 14/15 campaign. But while this is true, there is less attention paid to the fact that not only did these two new imports start in superb form, but essentially the whole Chelsea team (or at least the 14-15 players Mourinho used in his starting XI on a regular basis) all started firing on all cylinders. For all of Mourinho's tactical genius and man-management skills, there is something more general that helped facilitate all of his first-team players being on top form from match day one. This thing, which often goes completely unnoticed or undiscussed, is how the team was prepared ahead of the 14/15 season.
What essentially happened during last summer's pre-season preparation is that Mourinho and his staff made the conscious decision to have a shorter training period, but with greater intensity and focus on preparing the Chelsea side to be in something closer to peak condition (fitness and form-wise) right at the start of the season. The effect of this was clear – the Blues despatched all sorts of teams on their way to be unbeaten until mid-December, by which time they had effectively won the title.
In the second part of the season Mourinho and his side took a few steps back, mostly because lack of rotation and the efforts that went into enabling the amazing start began to take their toll. Chelsea went into their shell, becoming more defensive-minded and pragmatic in their approach in the remaining games. They only needed to ensure they would win enough points not to allow their nice cushion to disappear.
Fast-forward to this season and the contrast is obvious. Chelsea have started the season looking badly out of sorts on all levels imaginable. All of their senior players are out of form, nothing is really working tactically with the same efficiency as last season and the team have started the season with a series of lifeless performances.
And here lies the clue about what's wrong with the team: if only a few influential players had started the season in bad form or if only one or two specific elements in Mourinho's tactics hadn't been working, you could say it's obvious who or what is the problem. But when nothing is working tactically – Chelsea are defending terribly, their attack isn't functioning and their approach to build-up play and transitioning between the phases is close to non-existent – and there is not a single player you could point to being in something resembling a good form, it's much harder to be precise and sure about the source of the malaise that is still going three months and more than a dozen of games into the season.
This is until you realise that there was a deliberate change in how the management team approached this summer's pre-season training and their overall preparation for the new season. Mourinho himself was quite open about this in an interview for the Chelsea official site back at the end of August – basically the opposite type of pre-season preparation had been taken. Instead of last summer's shorter but intensive and very specific tactical and fitness preparation, the Portuguese manager and his staff decided on having a longer and looser variant this summer, on top of already giving a longer summer break for all of the players.
Last summer's sharper and more focused training sessions gave way to a more relaxed and slack approach with Mourinho himself saying the idea was instead of being in peak condition and form from day one of the new season. He envisaged his team would start to improve after  only four weeks into the new season. Perhaps Mourinho's idea was that last season was an exception, and perhaps he also thought the way his side had to be 'managed' for the second part of last season – to prevent a total physical collapse – was not a good long-term strategy.
As such Mourinho and his staff decided on the more orthodox and typical modern way of periodisation – having their team gradually hitting their peak throughout the season in order to last the whole race, and have the capacity to compete properly on all fronts (something that clearly didn't happened last season, especially after the early boom).
The problem though, again as Mourinho himself verified, is that the different and looser type of pre-season routine backfired massively. Something that, by his own admission, Mourinho didn't foresee, especially when it comes to the extent of how hard it hit his players. Suddenly, the lifeless performances, the fact not a single player is in good form let alone close to last season's heights and how bad Chelsea are in what has always been Mourinho's main areas of strengths (defending, efficient way of attacking, pressing and transitions) could be easily explained and understood.
How Mourinho may approach this game
There is little doubt that this is a must-win game for Chelsea and especially Mourinho. If the Portuguese manager is to buy himself more time to fix his team's on-pitch issues (and all of them are resolvable, even with that very same squad), he needs to start to win games; and soon. The more his side continues to struggle, the more the perception will be that the only problem is him and the only way to actually fix it is to replace him.
However, the thing with Mourinho is that traditionally wanting to win a game doesn't necessarily mean he is going to urge his team to attack right from the start and look to dominate the game, pinning back the opposition for the majority of the game. One of football's oldest cliches says that "the best form of defence is attack", while another points that "you can't score goals if you're not attacking". But Mourinho has already showed that it's perfectly possible to actually win a game and be dangerous going forward when you're mostly defending and looking to first and foremost nullify the opposition. This is what makes assessing Mourinho's possible strategy so difficult.
Still, given the necessity to win this game, it's easy to imagine Mourinho lining-up with his most attack-minded approach. This may be particularly preferable to him in case both Costa and Pedro are fit to start this game. Matic is back available from suspension, so he and Fabregas will once again be deployed in midfield with one of Willian or Oscar occupying the advanced midfield position and Hazard and Pedro down the flanks.
With that line-up Mourinho will surely try to put pressure on Liverpool right from the first whistle, meaning he would urge his team to press aggressively when out of possession before attacking directly and en masse whenever the ball is regained.
The Reds are set to continue with their 4-3-2-1 formation, so Chelsea will have to swarm forward if they're to succeed in blocking off Liverpool's passing angles and make their pressing efforts count for something. This would mean the defence will have to play a higher line, in which case it's easy to imagine Mourinho preferring to have the mobile Zouma as Terry's partner. The problem here is that with Ivanovic being doubtful for this, the young French defender will have to once again fill in at right-back.
This is unless Mourinho is prepared to be even braver and use another youngster – Baba Rahman – at left-back to allow Azpilicueta to slot in down the right with Zouma next to Terry. That variant seems most suitable for such an aggressive and attack-minded approach where the majority of the players will be instructed to attack and press from ahead with the team defending only with a few players (the centre-backs and Matic hanging a bit deeper), which will mean having pace at the back and full-backs who could quickly get up and down the flanks.
Another reason why Mourinho might prefer having two attack-minded full-backs instead of using Zouma on the flank and limit Azpilicueta's attacking input by playing him on the left is that with Liverpool being narrow, Chelsea will need to have enough additional attacking width to stretch the play and create more space for their influential attackers to do their magic in central areas and between the lines.
With Fabregas roaming to support the front quartet and two full-backs able to join forward, Chelsea will look very attack-minded with several players all able to provide the required moment of breakthrough. Hazard and Pedro are both capable to threaten on and off the ball and provide the additional threat to release the burden of Costa being the sole point of attack. With Oscar's clever roaming, Chelsea will have an advanced midfielder who is equally able to drop in and allow Fabregas to push on from deep, or drift wide and encourage the wide men to attack in more central areas (something both Hazard and Pedro relish).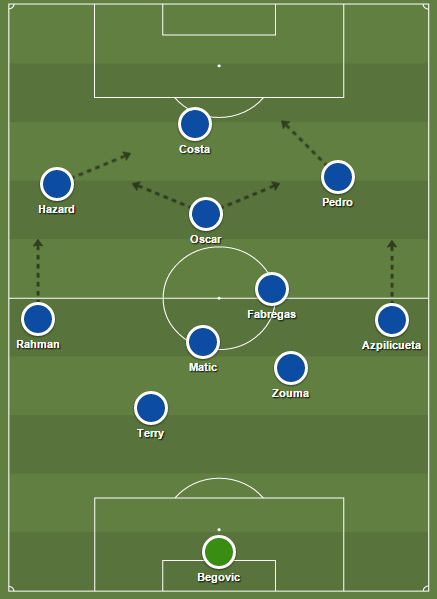 However, as much as the above variant seems the perfect fit in case Mourinho indeed wants to be proactive and attack-minded from the start, there are certain potential issues that might impact on the manager's decision-making and force him to be more pragmatic.
To start with, Pedro is still rated as doubtful for this game and it's very possible he could miss out. Add to this that all three of Hazard, Oscar and Willian played the whole 120 minutes on Tuesday in the cup game, while Costa was withdrawn in the 33rd minute (as a precaution, meaning that even if he starts here he might not be 100% fit), and Mourinho's attacking options are suddenly looking hampered.
If Pedro is unavailable it's easy to imagine Mourinho isn't as keen to start all three of Hazard, Oscar and Willian and risk having no-one on the bench able to provide freshness and some attacking impetus later in the game. As such it could be a case of the Chelsea manager deciding on a more reactive approach from the start, with Ramires sitting next to Matic and Fabregas pushed on as the advanced midfielder with Willian on the right flank.
With Chelsea not being asked to push forward, attack relentlessly and press immediately after losing possession, there would be less onus on attacking full-backs and mobile centre-backs. Instead Mourinho could once again play Azpilicueta down the left and use he and Zouma (from right-back) to tuck infield and help minimise the space either side of Terry and Cahill as a way to prevent being drastically exposed against Liverpool's dual presence between the lines.
Such a pragmatic approach could also be preferred by Mourinho because of how dangerous Liverpool could look retaining their 4-3-2-1 formation. Klopp's team will have the added benefit of the majority of their players being fully rested as the German manager made nine changes for his cup game on Wednesday. Mourinho could be extra cautious given the likelihood of Liverpool pressing from the start, as he knows better than anyone else that his backline isn't the best when put under pressure, especially when neither of them is on top of their game form-wise.
Mourinho might feel the extra danger provided by the combination of Liverpool's ability to press from the start and the inherent midfield overload their narrow formation provides is enough for him to start the game with the aim to first and foremost ensure his team isn't troubled defensively and has a clear route to counter-attack dangerously. The combination of Matic and Ramires will provide extra defensive cover for the back four, something needed against an opposition who will play will two advanced midfielders between the lines and side midfielders readily roaming high and wide up the pitch too. While to provide extra positional safety, the full-backs would be asked to tuck infield and create a narrow back four.
As a way to see his team deal with Liverpool's heavy pressing, Mourinho would likely use the two following ploys. The first is to have Zouma do the Ivanovic role and push high and wide down the right flank whenever Chelsea look to restart the game via a goal-kick or need to play out from open play. From that position the French defender (similar to his Serbian teammate) will act as the wide target-man, towards whom the ball will be directed as a way to bypass the incoming pressure.  Zouma should easily beat Moreno in the air and lay the ball safely to his nearest teammates (most likely Fabregas and Willian) who then would spearhead the counter-attacking charge. Similarly, booting the ball up front for Diego Costa to fight for and look to cushion it for on-rushing midfielders would also be a viable approach.
The second method will be to see Matic dropping near and often between the centre-backs to ensure an extra body at the back with Ramires also dropping deeper and using his agility and sudden bursts of space to dribble out of danger. This will also mean the advanced players will have to drop deeper too and prevent the team becoming broken. On paper all of Fabregas, Hazard and Willian are capable of doing this, but this season they have rarely done so often enough or efficiently enough.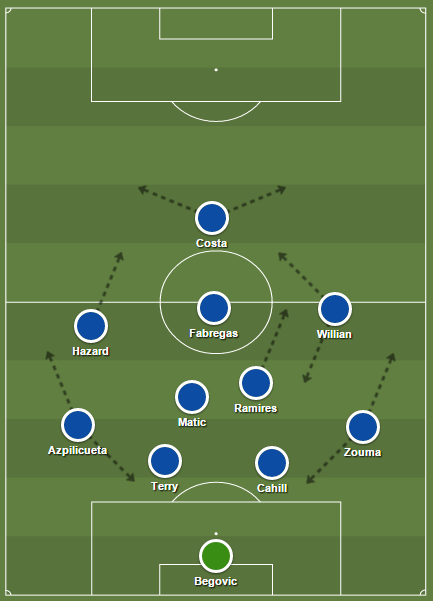 4-3-2-1 the way to go for Liverpool
Even at full-strength and when playing an attack-minded game, Chelsea lack extra attacking width as Mourinho rarely plays with two adventurous full-backs on top of all their influential attackers operating in central areas (even their wide men prefer to drift infield, both on and off the ball). Chelsea's main source of width is when Costa pulls wide to work the channels or in case Oscar (less so Fabregas) drifts wide from central positions with Ivanovic's bursting, but often clumsy on the ball, runs down the right being the only thing that provides that extra attacking width from directly down the flanks.
All this means Klopp retaining faith in his narrow 4-3-2-1 formation is not only likely but highly desirable. That particular formation seems the perfect fit for this game and against this opponent as it provides the inherent tactical flexibility to be able to deal with whatever challenge the actual game context puts forward.
The formation typically congests the midfield zone very well, which means the central areas are always well protected zonally and in terms of sheer numbers. This is always liable to force the opposition wide, from where the team's midfield numbers combined with Klopp's preference for heavy pressing means the opposition is under immediate threat of losing possession and being counter-attacked dangerously. All of this is a very suitable tactical arrangement to have against a team lacking extra attacking width and with the key attacking players are all preferring to operate in central areas between the lines.
Another important benefit of using this formation is that Klopp will be able to start (and adapt during the game seamlessly) with either a heavy pressing approach or a more defensive-minded strategy. Liverpool's extra freshness and Chelsea's usual struggles when being pressed aggressively makes it so inviting for Klopp to urge his team to swarm forward and press right from the start. As seen in the Spurs game, this will most likely have a bigger impact on how stable Liverpool would be defending and closing off the central space to then force Chelsea wide before regaining possession, thus completely denying the Blues opportunities to build-up their play in something resembling their usual and preferred method.
Alternatively, the shape would also allow Klopp to approach the game in a more pragmatic way, without taking any risks to press as one mistake can undo all the good work and allow Chelsea to pull ahead with an early goal. The formation's sheer numbers means clogging up the central areas is a given and from there the Reds could focus on a deeper defensive block and lure the opposition to step forward and spread out in attack. Then, in the moment when Chelsea would be most vulnerable – those gaps of a few seconds when they try to transition their shape forward and commit more players in attack – Liverpool could issue a well-timed sudden pressing to win the ball back and counter-attack dangerously by exploiting the more space left unprotected in behind.
Something else that will surely make Klopp retain this formation is its inherent ability to deal with being heavily pressed. Even in case Chelsea start all guns blazing and looking to dominate from the first whistle, the 4-3-2-1 formation will be able to weather the storm on a tactical level. In addition to its capacity to defend the central areas, the midfield numbers allow the team to easily play out from the back safely enough. As seen in the Southampton game, this is done not just with Lucas dropping nearer the centre-backs, but also with the side midfielders getting deeper to provide extra passing angles. On top of this, if Chelsea prove to be really dangerous with their pressing and occupying Liverpool's central players, the full-backs could be told not to push immediately forward and ahead of the ball (as in the Rubin Kazan game) but stay a bit deeper and always be in touch with the other deep-lying players in order to provide another passing outlet (this is what prevented Southampton's early heavy pressing having the desired effect).
Yet another benefit of going with that formation will be the flexibility it allows when it comes to the specific way of attacking too. Similarly to the behaviour out of possession, Liverpool would be able to be a threat both on the break and when it comes to build-up the play in a more considered and methodical way.
In case Liverpool play in a more reactive way with a deeper defensive line and some toned down pressing, the team could use the front trio to spread out and roam whenever an open space is left to be exploited. This will be particularly useful in case Chelsea try to press from the front right from the start and either leave their centre-backs isolated (in case the full-backs push forward) or the space between the lines is left unguarded (in case the full-backs remain deeper but the central midfielders are the ones to back-up the advanced pressing).
Alternatively, if Klopp wants his side to dominate more – especially if Chelsea start more conservatively and allow for this – by pressing heavily out of possession and holding onto the ball when regaining it – the 4-3-2-1 formation is naturally flexible and allows for different ways to create positional overloads without looking even remotely one-dimensional and stuck in that particular zone. As seen in the last league game against Southampton, the Reds initially focused on creating a positional supremacy down the right-hand side by having Milner drifting wide to join Clyne, with Lallana also operating there and mixing up his movement to be both the third man out there and the one who is going to make ghosting runs into the box. Something similar could be easily done in this game with the main difference Klopp might hope his players being fresher might provide that cutting edge that so often looked to ruin the plethora of good attacking moves Liverpool had but struggled to get the most out of in the Saints game.
In terms of personnel, Liverpool's starting XI is very much predictable with the main dilemma surrounding the front three unit. Benteke is confirmed to be fit and available for selection while Firmino's display on Wednesday could have easily played him in contention for a starting place, especially with his fellow Brazilian Coutinho struggling for form.
However, depending on Klopp's exact starting approach, it might be better if Benteke and Firmino are kept on the bench. The former might be fit, but he is yet to regain close to optimum match sharpness after missing the past month or so, and after only two cameos since he returned from his injury. Liverpool's initial aim would be to either press heavily or drop deeper and play more cautiously. In both scenarios having a not fully sharp Benteke might hamper the efficiency of the game plan as the Belgian won't be able to press relentlessly, nor he would be able to constantly run the channels and roam around to provide outlet on the break.
As such it might be better to play Origi from the start and count on his superior match-fitness to do the dirty work, closing down Chelsea's centre-backs and battling them all over the final third. When the initial strategy is based on suffocating the opposition – be it either by pressing them or by dropping deep and closing off the space by making the side more compact – a team can't really carry a passenger or a player who isn't fit enough to constantly run in the same way as if this team is expected to camp in the opposition half and spend the game dominating with the ball and just looking to create the suitable opening to find the breakthrough.
Similarly, Firmino is yet to find his rhythm and has had a similar stop-start beginning to his Liverpool career. He and Benteke would be better retained as potential game-changers, players who have superior all-round qualities and can be used to come in and provide the difference when the tempo settles down or an obvious pattern in how the tactical battle is progressing is more obvious and the manager can assess his options better.
Summary 
This is a game where each team can fear the opposition in equal measure, even if for different reasons. Liverpool's pressing capacity and incredibly suitable flexibility provided by their 4-3-2-1 formation for this game will keep Mourinho uneasy, while Klopp will surely be worried about his opponents' overall abilities and know-how.
Both teams could legitimately feel a bit unfortunate with the timing of facing this particular opponent. Mourinho could say if this was still Rodgers' Liverpool they would have been much more optimistic about winning the game. Meanwhile, Klopp can claim that if this game was a few weeks ago, he would have been far less concerned about it as despite their overall poor form, Chelsea have already showed signs of recovery in their performances since the latest international break.
All things considered, it is very tricky to foresee how this game will pan out, with both teams having a few possible starting approaches and ways to look to counteract the opposition and exploit their weaknesses. As such, it might be more important now how each team will start the game but how well and timely each manager will adapt to what is actually happens during the game.