By TTT Subscriber and freelance football writer Paul Little.
"You have to make sure you don't lose sight of who you are. Many young coaches change, for whatever reason – because of circumstances beyond their control, because things don't come out right at first or because success can change you. All of a sudden, they want to amend tactics, themselves. They don't realise football is a monster that you can only beat and face if you are always yourself: under any circumstance."

Sir Alex Ferguson's advice to Pep Guardiola,

Pep Guardiola, Another Way of Winning by Guillem Balague
"We've nothing to fear but fear itself" – Franklin D's great rallying call to the American people in the depths of the Great Depression. It's a line that's been on my mind since the horrible West Ham defeat. Naturally, it was amplified on Saturday evening as Liverpool played fear football again, lost again, and Twitter burned.
Brendan Rodgers has the fear and it's eating him and his Liverpool legacy game by game. And it's sad. Remember "death by football"? Poor old Brendan is suffering death by football – but not his football. Instead, a football that goes against his blood. A football that he's not very good at. A football he's been cowed into playing in fear of his job, submitting to all those shrill voices shrieking "You cannot win Brendan's way." Submitting to all those who have called him naïve. Submitting to all those who see Crystal Palace two years ago as proof, whilst ignoring the fact that it was "his" football that got Liverpool where they were in the first place. That almost got them there. We could almost touch it. Genuinely almost touch it for the first time in over 20 years.
But you can't play that way. Won't win that way.
When Brendan Rodgers strode into Liverpool, I like probably everyone else had rather serious doubts. But I was tired of Liverpool in many ways. Tired of what we'd become. And Rodgers' enthusiasm, his certainty in his young self and his idea for the club, fired my interest. It was a bold appointment, but having watched his Swansea and enjoyed his Swansea and become interested in his ability to play that kind of football with British players, I began to think – well, why not? Let's do something different with somebody different. Maybe with better players, but the same approaches – maybe we'd have something that would be at the very least engaging.
And it was. The first season struggling to bring tiki taka to Anfield and the clear sense post-Christmas that something was stirring. And then that brilliant second season. The slow but winning start, and then the explosion at Spurs that lit the red touch paper.
That whole period, right up to Gerrard's slip and the ensuing desperation at Palace, that despite the dismay, still left us with a shot at the title in the very last game of the season. All that was built on Rodgers' self belief, his ability to instil confidence in his players, to get them to be brave and play his way. Rodgers talked early on about how he would give those players the belief by telling them that he would shoulder the blame for any failure.
It worked. It worked brilliantly at times – and saw Liverpool jump incredibly from a seventh place team to a team a game from glory.
Liverpool were searing. They were energetic. They were fast. They were bold. They were fun. This was Rodgers' doing. I know some will insist that actually it was all down to Luis Suarez. But it simply wasn't. If it were true that Suarez simply covered up Brendan's failings, then why on earth did he not do likewise for Kenny Dalglish? Why didn't he score all those goals for the King?
The answer of course is because Rodgers built a platform for Suarez, opened the game up for Suarez and Suarez delivered. As did Sturridge and Sterling, and many others. This was good management. This was great coaching. This was inspirational stuff.
Since then, of course, things have been less good and less than inspirational. There have been extenuating circumstances. I'm not going to outline them again – but there have been. There was even a period where it looked like Rodgers had rediscovered himself, solved the problems of not having a forward line and solved the problems in defence with his 3-4-3 that almost changed Liverpool's season last time round.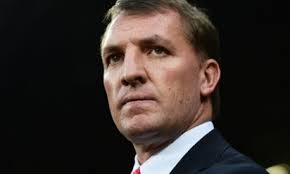 But it was perhaps here, at the sharp end of last season, just when he had somehow put Liverpool back in top four contention, that Rodgers let in the fear and lost his way. Suddenly after a defeat at home to United, he lost confidence in his new system. He started listening to those who said it couldn't work, that it'd be found out, that he'd be found out. And he lost his way.
Fear and doubt. A loss of belief. Joe Gomez this season epitomises all of this for me. Gomez is a talented defender plucked from obscurity. He's got a future, no question. But his selection – although bold in some ways – is also a lot about fear. Alberto Moreno was bought for a brave Liverpool, an attacking Liverpool. But now he doesn't play, because Liverpool are no longer brave, because Rodgers has lost his nerve. Instead, the talented defensive Gomez plays to stop Liverpool being exposed. He plays on the wrong side, unable to pose a threat going forward – but that has stopped being the club's philosophy.
Moreno was bought as part of Brendan's brave new world. But Brendan finds it hard to believe in it anymore. He can't see it clearly any more. And if he can't see it, then his players won't see it.
And it's a shame. It's a shame that Rodgers may go out playing someone else's football. I still hope he can find it within himself to go again. I'd love for him to at least try. And if it's to be his death by football – at least let it be by his football.