By Mihail Vladimirov.
Summary
10 team changes and different tactical set ups meant no comparison to last season's 1-6
Both teams used formations that were lopsided from their left side
The first half was possession-based and lacking in penetration, dominated by industry and caution
Safe ball retention and keeping things tight at the back were the order of the day
The sides were evenly matched in possession and passing accuracy, and cancelled each other out
Hughes' possession-based shape and starting XI revealed his overall strategy – to compete with Liverpool for possession and territory
Liverpool's midfield formation prove sound defensively but restrictive going forward
Lallana and Coutinho's roles duplicated each other – both tried to drop into a  left-of-centre space to pick up the ball and play it forward, and neither pushed ahead of the ball or roamed all the way down the right channel
Two significant half-time changes; Pieters off injured, replaced by Wollscheid, and Rodgers' tactical change to a more distinct 4-1-2-3
The 1-2 midfield triangle helped Liverpool to drastically improve their overall shape and passing flow
Liverpool gained better possession, more territory and eventually greater control over the game
Coutinho dropping deeper meant he was now able to pick up the ball from deep and face goal instead of playing with his back to goal
Can replacing Lallana immediately had a huge impact – the whole midfield unit was more balanced
Coutinho's moment of magic prevented the deserved 0-0, but Rodgers deserved credit for his in-game assessment and applying his tactical ideas 
Unsurprisingly, the build-up to this game was dominated by what happened at the same venue on the last day of the last season. But with no fewer than 10 changes between both teams' starting XIs – four for Stoke, six for Liverpool – this was always going to be a completely different game, before we even consider how differently each team may have set up tactically.
Ahead of this game, Stoke manager Mark Hughes had plenty of issues to deal with – important players sold (Begovic, N'Zonzi) or injured (Shawcross, Wilson, Arnautovic), amounting to several question marks about his potential starting XI and formation. Eventually he settled for what was essentially a lopsided 4-1-2-3 with three players making their debuts (Johnson, van Ginkel and Afellay).
For the Reds, despite several changes in Rodgers' starting XI there weren't any real surprises, based on  pre-season. Liverpool started with a similarly lopsided 4-2-1-3, with the expected midfield trio of Coutinho sitting slightly ahead of Henderson and Milner with Lallana and Ibe either side of Benteke.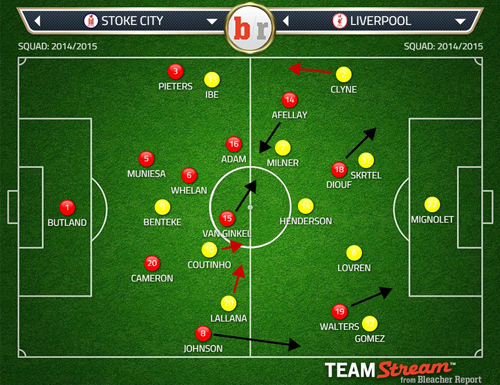 Evenly-matched first half
The first half was a relatively possession-based clash, lacking in penetration. It seemed safe ball retention and keeping enough numbers at the back was the order of the day from both managers, only occasionally interrupted by periods of scrappy challenges and sloppy passes to provide any excitement for the crowd. The teams had virtually identical possession statistics and passing accuracy (75.6% for Stoke, 76.4% for Liverpool), and they both posed the same lack of overall threat (three chances created and only one shot on target each).
As such it could be said the first half was mainly one of industry and positive caution – in that both teams focused on strong ball retention as a defensive strategy, not as in getting in two deep banks of four behind the ball – instead of technical quality and offensive brilliance.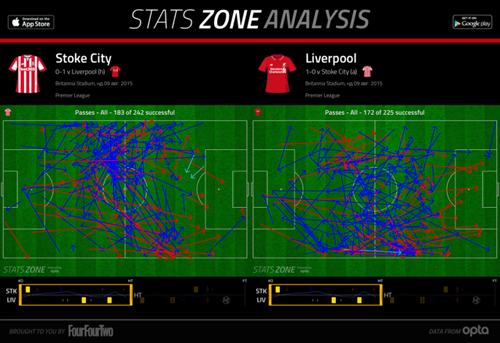 This wasn't really surprising given how tactically identical both managers' starting approaches were. Structure-wise, both teams were using formations that were lopsided from their left side, with Stoke's 1-2 midfield triangle matching Liverpool's 2-1 unit, with Afellay and Lallana the drifting infield  to make it 4-v-4 in the middle third. There were only subtle differences (more on this below), which proved not to be enough to diversify the teams sufficiently.
Stoke's lopsided 4-1-2-3
Hughes' preference for such a possession-based shape and starting XI over a more direct attacking or defensive-minded alternative, eg looking to play on the break, 4-2-3-1, strongly hinted at his overall strategy – to compete as much as possible with Liverpool for possession and territory, thus gaining overall control over the game. The use of Afellay as the roaming infield additional midfield player was crucial in providing the required passing angles to ensure Stoke were able to rival their opponent in that zone. The Dutch player played deeper and narrower than Arnautovic usually does on this flank, combining well with the nearest players to maintain possession. A few times he also burst forward with the ball in attempt to spark quicker passing combinations and open up space for others.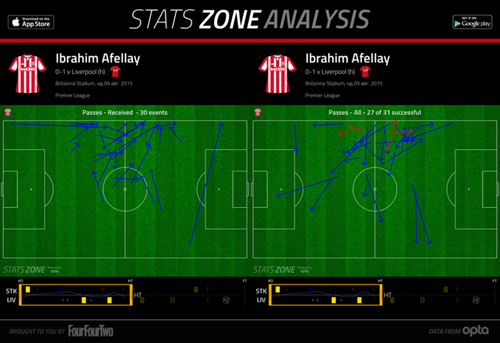 Adam and van Ginkel both played to the left – presumably in attempt to be closer to Afellay and ensure the ball was kept well over that side – and rotated well to have one of them push forward to the right to try and support the attacking moves. A few times this caught Liverpool by surprise, but as a whole they stayed predominantly in line with the ball and didn't burst forward off the ball often enough to be a viable threat.
The rest of this analysis is for Subscribers only.
[ttt-subscribe-article]