By Paul Tomkins.
All next week, in a daily series for TTT subscribers only, I shall be analysing the buying and selling of Graeme Souness, Roy Evans, Gérard Houllier and Rafa Benítez, before finally taking a detailed look at the record of the club since the summer of 2010 under three different managers, two sets of owners, a director of football and a transfer committee.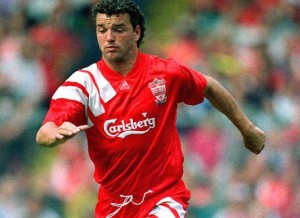 Who bought the best players? Who bought the worst players? Which managers' signings proved financial black holes? Which managers successfully bought players who improved the team and also made a profit?
People mock the notion of sell-on value, but when you look at how much two managers in particular wasted (and it's not necessarily who you'd expect), it's easy to see how Liverpool fell behind at certain points during the Premier League era. A flop who recoups 75% of his fee is in many ways only a 25% waste (plus the wage outlay and the failure to be a useful player in his time). Someone who is equally bad and recoups nothing is money down the drain; you don't get to roll the dice again.
All fees have been translated to 2015 money, now that I have the latest Transfer Price Index (TPI) data courtesy of Graeme Riley.
As an aside, if you're reading, Rio, you cost Man United £82m in 2015 money, hashtag overpriced English players*.
(*Although you were actually fairly good value for money.)
Brief News Update
All the preordered physical copies of "XI: Eleven Years of Analysis & Hair-Loss Following Liverpool FC" have now been despatched (these were available to TTT subscribers only, as a perk to those who support the site, with the print run limited to these preorders only).
The title will be released in ebook format in the coming weeks, and will be available to anyone who wishes to part with a few quid.