By Mihail Vladimirov.
SUMMARY
Liverpool started with a 4-diamond-2 for the first time in 2015
From the start, Stoke pressed high up
Liverpool were forced into rushed and poor passing
Stoke suffocated the visitors with their intensity out of possession
Stoke created the type of game that didn't suit Liverpool
The out-of-form Can was overloaded on Liverpool's right
Once Stoke had scored they immediately toned down their previous aggression and intensity out of possession and starting to defend deeper and with a more compact defensive shape
There was a lack of cover for Liverpool's exposed and vulnerable full-backs
Liverpool were congested in the middle, which was to be expected from the chosen personnel and formation
Liverpool again looked toothless going forward and lacking fluency or penetration
Liverpool made two half-time changes – Toure and Ibe for Can and Moreno – and reverted to a back 3
Liverpool's new formation didn't really address their problems
They continued with aimless possession and little final third penetration
This game summed up all of Liverpool struggles this season
Defensive errors, poor possession play, lack of attacking penetration and the chosen system and the players' roles within it making little tactical sense were all part of it
Given their recent good form, Hughes kept an unchanged side apart from between the sticks where the recently injured Begovic was reinstated in the starting XI ahead of Butland who had deputised for him.
For Liverpool, Rodgers made a few changes as Sakho, Lucas and Allen came back in from injury for Lovren, Ibe and Sterling. Confusion over how this XI would line-up was cleared once the game started, with the 4-diamond-2 making a comeback after being unused apart from a couple of brief in-game appearances during 2015. Coutinho and Lallana played as a double false 9 pair up front, with Lucas and Gerrard sitting at the bottom and the tip, respectively, of the midfield unit.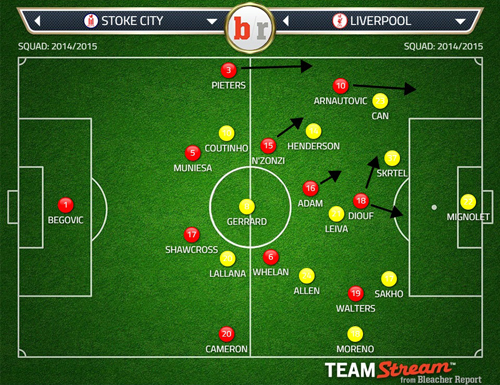 Stoke dominating
The main question in relation to Stoke's approach was whether they would decide to press and be aggressive out of possession (as they did in recent home games against Everton and Southampton) or adopt a more reactive strategy (as in their previous home clash with Tottenham). That Liverpool came into this game on the back of a really poor run of form, with the slow start and almost total lack of attacking cohesion and penetration amongst the defining features, may well have swayed Hughes to go for the more aggressive and proactive style of play.
As soon as the game started, Stoke pushed men forward in attempt to press from ahead. Their front six unit (attacking quartet and midfield pair) were given license to close down deep in Liverpool's half, while the back four offered the required covering presence in behind by staying largely in line just around the central line. However, despite their obvious efforts to close down energetically most of the time (and not just in sporadic bursts), the home side weren't really dispossessing their opponents per se. Instead, the benefit of their out-of-possession efforts came in how they forced Liverpool into poor and rushed passes.
Situations like the one in the fourth minute, when Diouf dispossessed Lucas who was dwelling on the ball and went on a dangerous run forward, with only Sakho's timely tackle preventing him going 1v1 with Mignolet, were a rarity. Most of the time Liverpool gave the ball away when put under pressure, which in turn gave Stoke opportunity to regain possession and attack quickly.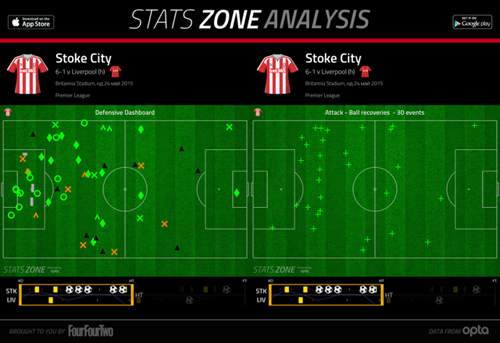 Stoke suffocated the visitors with their overall intensity out of possession, creating the type of game that wasn't really to Liverpool's liking due to the Reds' largely pedestrian play, with players who were not quick and/or agile enough, players lacking match sharpness and too many players who were focused on  ball-holding and possession. What Liverpool would have preferred was a calmer and slower game where they would have had the chance to use their many midfielders (seven in the starting XI) to knock the ball around and get on with their possession play in a more considered and methodical manner.
In attack, the hosts used their usual strategy with the main emphasis being on attacks down the flanks with that really interesting approach to attack differently depending on which flank the move is being channeled. Hughes' team is kind of reversible in that down the right the team always goes long due to Walters often being deployed there. In contrast, the approach down the left is always a more cultured one due to the presence of more skilled players who naturally complement and combine well with each other.
What Stoke showed as their main attacking patterns of play not only suited their usual strategy and personnel but it also aligned perfectly with what Liverpool's inherent weaknesses were for this game as a result of the choice of formation and personnel.
The rest of this analysis is for Subscribers only.
[ttt-subscribe-article]