By TTT Subscriber Bob Pearce.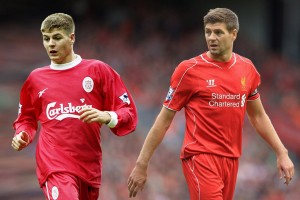 There will be plenty of places where you'll be able to read appreciations of Steven Gerrard's achievements. Some opinions may even go as far as to suggest that he is the greatest Liverpool player of all time. There will be plenty of people offering their insights into Steven's Gerrard's thoughts and emotions. There's no value in weakly echoing either of those here.
In the discussions about where Gerrard ranks among the Liverpool greats, the three L's of local, loyal, and longevity will always play a part in any assessment of his special place as a club legend in fan's hearts. But once history has been given the time to have its say we may come to see how perspective can be guilty of creating optical illusions.
I don't want to talk about Steven Gerrard 'the player'. I don't want to talk about Steven Gerrard 'the man'. I want to talk about 'Steven Gerrard' the fish (bear with me here, all will become clear!).
I'm going to start by asking you to visualise a graph in your mind that has a black line which traces Gerrard's reputation and status over his 17 seasons at Liverpool. There will be peaks and dips on your imagined line, but the overall trend will probably be steadily upwards from left to right.
Among the landmarks along that steady black line will be debut at 18, club captain at 23, lifting the European Cup at 25, the FA Cup at 26, and at 28 the first Liverpool player to be voted Footballer of the Year for 19 seasons.
The rest of this article is for Subscribers only.
[ttt-subscribe-article]