By Paul Tomkins  
2015 will be a big year for TTT, as we seek to revamp the site to improve what needs improving on the technical side, and further strengthen what's working in general. We want to add new features, implement improved commenting options and do a whole host of stuff, whilst retaining the feel and atmosphere that subscribers already happily pay for.
Rather than chase new subscribers (whom, of course, we always welcome) we need the existing hardcore members to help us to keep providing what they come back for on a daily basis. This is, and always will be, a niche site, for those who want more than the usual knee-jerk nonsense, and where we aim for considered, intelligent opinion rather than the belief that anyone is entitled to an opinion, even if that opinion is stupid and factually incorrect. It doesn't mean we're always right, but we put in the effort to be much better than those who prefer to churn out stuff with no regard to quality, insight and balance.
We don't run adverts, we don't do click-bait, and we have complete editorial independence and freedom to publish what we want; my only editorial policy is that the articles are well-argued. We rely on a subscription model to keep that the case, with six paid contributors , four of whom have TTT as their main, or only, source of income.
To help fund the necessary upgrades to the site I have put together a new anthology of my best writing since 2004 – the year that I began trying to turn football analysis from a hobby into a profession – first by writing profusely for RAWK, and, upon the suggestion of some of that site's members, when writing my first book.
Hence I bring you "XI: Eleven Years of Analysis & Hair-loss Following Liverpool FC"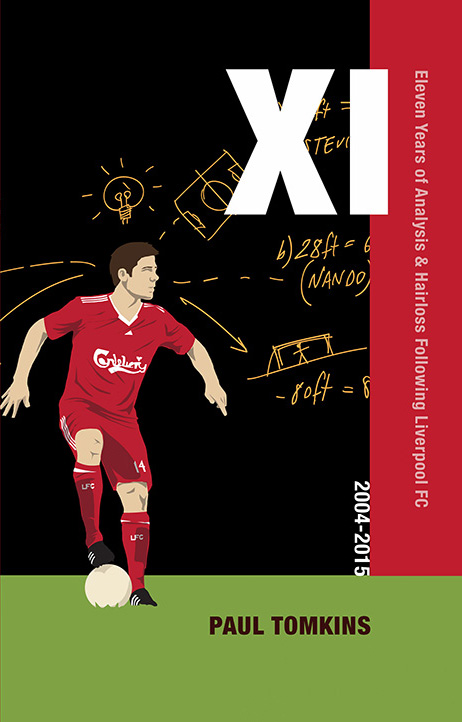 The original idea had been simply to bring out ebooks of my early titles, but I'm not sure that all aspects of those books have aged well. I withdrew "Above Us Only Sky" in 2007 after it sold incredibly well (my fastest-ever seller), as the first doubts about Gillett and Hicks emerged – the chapters on their ownership suddenly looked naive. Some of my other books also have what I now look back on as substandard analysis, with the kind of mistakes I see budding football writers now making.
However, the chapters on Istanbul (2005), Cardiff (2006) and Athens (2007) are all timeless, as they sum up big moments in the club's history. And in the eight years since that last Champions League Final there have been plenty of interesting stories to tell about Liverpool FC, including my meetings with people like Rafa Benítez and John W Henry, and all kinds of analysis about where the club has been going (and at times, going wrong). While I've produced a couple of anthologies in the past, and the site itself has has released compilations in 2013 and 2014, this will be my first true 'Best Of'.
The book will be available in all ebook formats to anyone (release date to be confirmed) via the usual retailers, but the lovely gatefold printed copies, which will be signed, will be produced for TTT subscribers only, to be purchased via pre-order; with the number of copies produced correlating with the number of orders. Once they're gone, they're gone.
The rest of this update is for Subscribers only, and relates to the revised plans in terms of improving TTT, as well as the links to order the book.
[ttt-subscribe-article]