By TTT Subscriber Anthony Stanley.
'There are three types of supporters at every club … those who, no matter who the manager is, they love their club and will love their manager whoever he is. The second group is those supporters who will accept you but to earn their real respect you will have to be successful – and that's fine by me.  The third group are the critics, and you can never change them.  Ever'.

Brendan Rodgers, June 2012.
Rodgers or Klopp – ?
Jurgen Klopp is clearly a very talented manager. Perhaps he's world class – despite the research necessary for this article, that's still hard to say.
Already some are scoffing at that.
Brendan Rodgers is clearly a very talented manager. But he has made some fairly glaring mistakes this season, and indeed, throughout his career. No research is necessary to make that statement. None, apart from watching Liverpool with the surgeon's attention to detail and concentration that most of us do.
Let us be very clear; no manager is bullet-proof and Rodgers may well be held accountable for his errors during the campaign. Last Sunday was probably the nadir for many; a microcosm of a deeply frustrating season, a return to the grim days of late autumn – rudderless, insipid, lacking an identity and any cohesion. Can any extenuating circumstances be used as an excuse? Perhaps for some aspects, but certainly not all.
Many Liverpool fans are livid right now; some may have calmed down but there is a deep and unsettling worry. Rodgers, a man who has become easy for rival fans to mock, is working under a massive cloud of doubt. The man who took over Liverpool after a ghastly American show and subsequently supplied ample ammunition for his doubters; the man who is portrayed as clueless by some, as the ghastly progeny of David Brent and Ron Atkinson; the guru for self-aggrandisement and vainglorious preening, all wrapped up in a dwindling, tanned frame. Most of us loved him last season but rival supporters never took to him. Indeed, many of our own have failed to see beyond the caricature.
But let us repeat: Brendan Rodgers is a very talented manager.
In a case of curious serendipity, just as the ghosts of November were walking in Anfield again, just when it appeared that Rodgers' revival was built on shifting sands and was sinking, Jurgen Klopp announced that he had taken his club as far as he could. He was leaving.
Borussia Dortmund has long been heralded as the model to which we, living under the shadow of cash-laden colossi, should aspire to. They showed the way; they proved you can take on a behemoth and win (though they have never had to take on four behemoths and win – Ed). Many fans are thinking right now that Klopp is the butterfly to Rodgers' plodding caterpillar; he is Brendan to the infinite power or Brendan AAA.
Is this fair? What are Jurgen Klopp's most notable achievements?
The German revolutionised and rejuvenated a badly struggling Dortmund; no doubts about that. He created a new golden age for them that, in the grim reality of the modern financial landscape, could not be maintained for more than a couple of years. His charisma and quirky eccentricity helped to forge a team of disparate players form far flung corners of Europe (and beyond) into a progressive and innovative whole.
But let us strip away the veneer a bit, just a tad. This is not meant to denigrate his achievements, merely contextualise them. Because football is never black and white; it is painted in bewildering and confusing flushes of grey.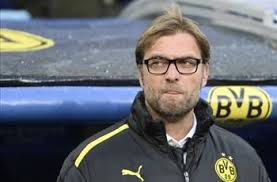 The rest of this article is for Subscribers only.
[ttt-subscribe-article]