By Paul Tomkins
Okay, so Liverpool won't win the league, and probably won't finish in the top two. But they have been the best team in England in 2015. On top of a league run that reads eight wins and three draws (DWWDWWWDWWW), they've progressed in the FA Cup and were very unlucky to lose to Chelsea over two legs in the other domestic competition.
While Brendan Rodgers has delivered only one acceptable first half to a season to date, all three of his campaigns have excelled after Christmas. Before Christmas he seemed to be treading water, as his critics circled; he looked the proverbial dead man standing. But yet again he's found a solution. Speaking as as a big fan of Rafa Benítez, I have to admit that the Spaniard also had some tricky first halves of seasons, before getting everything to line up later on.
Obviously you want the full season to be more consistent, but it's hard without a massive squad, and/or whilst integrating a lot of new players (and also juggling Europe). Rodgers has experienced problems in the first halves of all three seasons, some of which seemed self-inflicted (although last season, while not as good as the form that led to eleven league wins in a row in the new year, was actually pretty good, with the Reds top at Christmas). But he's solved problems each time, and perhaps vitally, he now seems to have learned a lesson in how his teams must play. He tried slower, more laid back players, and it just didn't work.
Indeed, so good are his team with the skill and phenomenal work-rate of Coutinho and Sterling up front that the hitherto unthinkable – choosing not to play Sturridge – suddenly seems logical. His critics cannot say he is now getting lucky on the back of Suarez's brilliance, or Gerrard's leadership.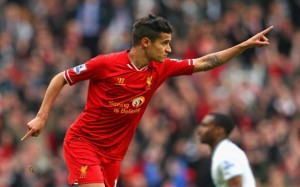 Last year's roller-coaster football has been replaced with a more balanced approach. Of course, there's nothing to say that it will prove more effective than fielding Suarez and Sturridge and playing a very open goals-based game, although that line-up was helped by a lighter workload in 2013/14, as well as two very experienced, world-class players at the top of their game. I've said it before in recent weeks, but this looks more like a proper side. It seems to be a fact of football life that some seasons goalscorers make the difference and at other times being a cohesive unit is more effective. (If you can be cohesive and score tons of goals you're nearing nirvana.)
You can have niggles and moans about any manager – they'll never do everything the way you want, be it tactics or selecting your preferred players – but Rodgers is really proving himself. I used to mark him down on his big-occasion results, but they are getting much better. I'm not sure I'm entirely comfortable with the lateness of his substitutions or the lack of rotation, but equally, the Reds have an excellent record over the intensely-packed 20-or-so games they'v just endured, and I'm not sure the current handful of injuries is any worse than you'd get with heavy rotation.
As fans we have to get used to the way a manger works and learn to trust him; it took me about two-thirds of Benítez's first season to reach that point, and while I'm getting there later with Rodgers, he's proving he's worthy of the benefit of the doubt when it occurs. Whatever happens over the rest of the season then he needs to be cut some slack.
The only major weakness is his European record, perhaps due to the catch-22 of limited European experience. But even this is slightly skewed by the fact that the majority of games have been in the Europa League, which is never a priority (I doubt he fielded his best side in most of the games, although that's a guess), while his six Champions League fixtures coincided with what, at best, can be described as a 'work in progress'. (At worst, a total shambles, with injuries and new players struggling.)
Rodgers has reinvented his side at least three times in three seasons. This is top-class management. Last season's success was based on the individual brilliance of Suarez, who then left, and Sturridge, who missed the first half of the season, plus Gerrard, who was reborn in a holding role. But it proved a 'limited time offer'. Gerrard was 34 going into this season, and when teams put a man on him he didn't have the pace of old to get himself out of trouble; and the 'SAS' were missing.
The latest winning formula involves ditching all strikers, perhaps born out of the necessity of Sturridge's injury, Balotelli's inability to stay switched on, Lambert's lethargic, legs-gone limitations and Borini's technical deficiencies. The call becomes whether Sturridge's less-intense style (admittedly a bit more urgent than Balotelli's, apart from when the Italian is fired up and starts charging around like a lunatic) is acceptable because of his brilliant goal record and great skill, or if the team can score enough with the young, diminutive duo, aged just 20 and 22.
Add the emergence of Ibe, 19, and given that Markovic, 20, is adapting to a new league and a new role, and you have four of the most important attacking players nowhere near their peak. At given that most top-level centre-backs are 25 or over, Emre Can, just 21, continues to amaze with his all-round game. Suddenly at 25 Sturridge seems like one of the older statesmen, and I'd just like to see him get back into the good habit – which Rodgers seemed to knock into him – of only shooting when it makes sense.
He's been a bit greedy since returning from injury, and the pace isn't quite there – but he's essentially starting his season in February. It may be next season before he's back to his best, so he may spend a bit more time on the bench, until he has the sharpness and the stamina required. My view is that it's equally logical to start with him and without him, with different pros and cons with each decision.
There's no Steven Gerrard anymore, which is a blessing. Compare the way that City seem tethered to Yaya Toure's weaknesses – although the Ivorian, unlike the Reds' legend, is not quite over the hill, and remains a force of nature going forward (unless he runs into Jordan Henderson). Injury has forced Liverpool to move into the future. Henderson will never be as good as Gerrard was – given that Gerrard is arguably the club's best in its 123 years – but long passing aside, he's now a better midfielder. Indeed, Henderson looks capable of being far better than anyone imagined. He had a bad dip earlier in the season, but has come back stronger, as the best players tend to do.
While young players usually improve – it's the natural curve of progression – the current Liverpool crop appear to be doing so at an unexpectedly good rate. Rodgers deserves a lot of credit for that. And the best of these right now is Philippe Coutinho, who looked like being Suarez's natural replacement as team fulcrum in the preseason, then lost his way. However, since the change of formation he is playing as well as anyone in England, and has started scoring sensational goals as well.
Liverpool are in the utterly bizarre situation of being able to wave goodbye to anyone aged over 26 without worrying. That is not to say they'd want to jettison anyone with nous and experience, or that players like Lallana (26) and Lucas (28) aren't very good at what they do, but the players you feel the club can't live without are mostly aged 19-25. Perhaps only Skrtel, now 30, would be missed, assuming that it's good Skrtel and not mind-fart Skrtel.
Hold on to the majority 19-25-year-olds and allow them to develop, and the sky could be the limit.