By Chris Rowland.
After being part of the Anfield fabric since 1958 and a largely unsuccessful player for his hometown club even before that, in the summer of 1983 Joe Fagan finally stepped up to the top job after Bob Paisley called an end to his unprecedented and unmatched period of success.
If Bob Paisley had had an unenviable task when he replaced Shankly in 1974, then Fagan, Paisley's right hand man during that time, had the challenge of following a man who'd achieved the quite remarkable haul of six league titles, three European Cups and three League Cups – the last three in 1981, 82 and 83 – in just nine seasons at the helm, presiding over a double trophy season in five out of those nine. Some act to follow. The only way, surely, was down.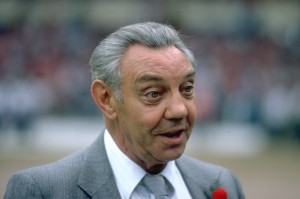 As it happened Fagan didn't make a bad start, taking all of one season to write his name in the record books by becoming the first British manager to win three major titles – the league, the European Cup and the League Cup, then in its Milk Cup denomination – in one season. His first. (17 years later, another Liverpool manager would also when a treble of major trophies, when Houllier landed the three cups in 2001. But in between, that ghastly event in 1999 happened, United's 'proper' treble, accept no imitations, blah blah etc.). Liverpool remain the only English club to have two treble seasons.
Principal pre-season signings were central defender Gary Gillespie from Coventry City and Irish striker Michael Robinson from Brighton. Goal scoring midfielder John Wark was signed in March, and striker Paul Walsh arrived from Luton after the season had ended.
League season:
The season didn't start very auspiciously, with a 2-0 defeat by Man Utd at Wembley in the Charity Shield followed by a draw at Wolves in the first league game. Two 1-0 wins were followed by a home draw against Southampton. It was not a start that gave the remotest clue of the history-making nature of what was to follow.
However, once Liverpool hit the front early in November, they stayed there every week from then on, right through until the title, the third in consecutive seasons, was sealed with a goalless draw at already-relegated Notts County. The only surprise was that Liverpool's dominance didn't win the title by 20 clear points. Yet at no point did it ever really look in any doubt who'd be champions – again.
This was an orchestra conducted by the imperious swaggering Graeme Souness, dictating the course of games whilst barely leaving the centre-circle, pointing and directing proceedings without seeming to break sweat. Hansen was his defensive equivalent, coolly breaking up opposition attacks and setting up Liverpool ones, often by little more than putting his foot on the ball and rolling it to the side to send an attacker down entirely the wrong Tube line, a feint this way, a carry that. Alongside him, Lawrenson provide the yin to Hansen's yang, a ferocious tackler blessed with blistering pace, his long-legged gait gobbling up the yards. Add Kenny Dalglish and Ian Rush and Liverpool had world quality through the spine of the team, ably supported by willing and highly capable generals such as Whelan, Nicol, Lee, Gillespie and Grobbelaar.
Liverpool finished on 80 points, three ahead of 2nd placed Southampton, with Nottingham Forest and Manchester United following on. There were 6-0 wins at Anfield against Luton and West Ham, and 5-0 against Notts County and Coventry. Though we only beat the latter 5-4 on aggregate after a rather startling, completely out of character 4-0 defeat at Coventry in December, with diminutive striker Terry Gibson scoring a hat-trick.
Despite having already played 66 games in all competitions so far, they then had the luxury of a 15 day break before the 67th and final match – the European Cup Final in Rome, against Roma.
Reds in Europe
The route to Rome:
Round 1 – Odense 1-0 and 5-0
Round 2 – Athletic Bilbao 0-0 and 1-0
Round 3 – Benfica 1-0 and 4-1
After a narrow 1-0 home win, the prospect of facing Sven Goran Eriksson's Benfica Eagles in the 2nd leg in front of over 70,000 in Lisbon's Stadium of Light was fraught with the prospect of elimination from the competition. but Liverpool produced a masterclass. An early Whelan header and a second from Craig Johnston gave Liverpool an unassailable platform for the second half. Nene pulled one back after 74 minutes but it was too little too late, and further goals by Rush and another by Whelan sealed a famous and convincing 4-1 win and 5-1 aggregate. It was a clear warning to the rest of Europe.
Semi Final – Dinamo Bucharest 1-0 and 2-1.
The semi-final is most noted for the Romanian side's physical approach to the first leg at Anfield, with Sammy Lee's first half goal all the Reds had to show for their endeavours, and for Graeme Souness getting his retaliation in with a jaw-breaking punch on a Bucharest player. The incident made for a hostile and partisan atmosphere in the return leg in Bucharest, with Souness singled out for special hostility by crowd and opposition team alike. If it bothered him, it didn't show, as he turned in a commanding performance. Rush gave Liverpool an early lead with a precious away goal. Although Bucharest levelled before half-time, Liverpool held firm, another Rush goal six minutes from the end sealing Liverpool's fourth European Cup Final in eight years.
Final – FC Roma, Rome, 1-1. Liverpool won on penalties.
This is how I recalled Rome '84 in 'From Where I Was Standing':
May 1984 and we were back in Rome, scene of the club's finest hour seven years earlier. The legions dusted off their 'Emperors of Rome' T-shirts to relive the glory of '77. This time, however, the opposition represented the greatest potential threat yet to Liverpool's supporters' good reputation in Europe. It was Roma themselves. UEFA had decided to stick with the originally planned venue for the final despite Roma's appearance in it – an interesting interpretation of the idea of a neutral venue for the final. The Italian club's first-ever appearance in a major European final would take place on their own home ground in their own city. We were cast in the role of the demons, the bad guys out to spoil the party and slay the dragon in its own lair.

It didn't feel fair at the time, and still doesn't. With the passion and near-hysteria that surrounds Italian football, the biggest match in Roma's history would create a super-charged backdrop, and the potential for crowd trouble spilling over the sides of the bubbling seething cauldron was all too easy to foresee. We knew it, the police knew it, the football authorities should have known it, but refused to contemplate switching the venue.

Our group was amongst the advance guard of Liverpool supporters to arrive in Rome, in mid-afternoon the day before the game. As our train, a normal service one this time, not a football special – once bitten … – slid through the grey drab outskirts, the bits you don't think of when you think of Rome, we saw a city ablaze with Roma's red and yellow colours, tower blocks festooned with Roma flags, draped over balconies, displayed in windows, fluttering from rooftops, and unforgettably, a monumental flag draped from the top of a tower block and covering much of one facade of it. How do you make a flag that big? On the streets, Roma flags flew from the open windows of horn-blowing Fiats and, balanced precariously on the pillions of a million motor scooters, unfeasibly large clusters of swarthy youths, three or four to a scooter, waving their flags, punching the air and shouting 'Forza Roma!' in wide-eyed excitement, rider pumping the horn mercilessly. On every street corner, hastily erected stalls sold flags and colours and klaxons and all manner of Roma paraphernalia, the red and yellow fluttering in the bright sunlight. And still over twenty-four hours to go, it wasn't even match day yet! The match had the city firmly in its grip, its very air tingled with the anticipation. It felt like a city on the brink. Just light the blue touch paper and stand back.

Yet, as we sat drinking in the city centre's American Bar that Tuesday evening, for all the world like a bunch of tourists, the contrast between the scare stories and vivid headlines in the UK newspapers – 'Roman Wall' and 'City of Fear', accompanied by grim photos of phalanxes of riot police – could not have been more stark. Whilst families and friends at home were being whipped into apprehension on our behalf, a glance at the Italian newspapers told a very different story, one of British violence at the Orgreave coking plant in Yorkshire during the seminal miners' strike of 1984. Later that evening there would be a few minor skirmishes between Romans and Liverpool supporters in the streets near the Trevi Fountain, but the tension never spilled over into the predicted large-scale confrontations.

The spectacle awaiting us on match inside the Olympic Stadium was overwhelming. 12,000 Liverpool supporters were lost amidst a flag-waving, horn-blowing tumult of 50,000 fanatical Italians mounting an assault in sound and vision. Fire-crackers, smoke bombs and searing red flares, huge flags gradually being unfurled to cover entire sections of crowd, klaxons and thunderous chanting and singing, an insane cacophony. It will stay in our minds forever. The odds seemed insurmountable. You could almost have forgiven the Liverpool players for refusing to leave the sanctity and sanity of their dressing room. 'It must have been like this at the Colosseum', muttered someone behind. The sight that greeted – if greeted is the appropriate term – the Liverpool players as they walked from the tunnel must have made even players of their vast experience quake. A cascade of rockets and flares exploded into the sky releasing clouds of red and yellow smoke, an almost unbroken bank of Roma banners waved, the noise deafened, the Italians in almost hysterical fever pitch. But amongst Liverpool's fans a very British defiance in adversity kicked in, and the 12,000 sang and shouted themselves to a standstill in an effort to lift their team and counter the overwhelming odds.

History shows that we went and antagonised the hordes by winning, and in the most antagonising way possible at that, sudden death penalties. 'Sudden death' seemed a disturbingly portentous term to describe the fate awaiting us outside the ground afterwards. Predictably, given that we'd just beaten the home team on penalties in their biggest ever match, there was mayhem. As the 12,000 stayed inside the ground to witness the presentation of that mighty trophy to Liverpool Football Club for a fourth time and the lap of honour, the Italian fans vanished, emptying over three-quarters of the stadium in what seemed like seconds. We guessed where a fair proportion of them might be. Sure enough, when the time came to take a deep breath and find our way back to the city centre, the pandemonium began. Sounds of shouting and sirens and howling dogs carried towards us on the still night air, from what seemed like every direction, a psychological onslaught before the physical one began. Groups of Liverpool fans kept returning to the ground with tales of roads being too dangerous to pass along. Most decided to wait anxiously for a while to see if the trouble died down a bit and whether the police would be successful in clearing a way through the Italian fans and keeping them at bay. Our coach, when it finally came, was attacked and hit repeatedly by bricks, stones and bottles as it came to cross the river Tiber back to the city centre. Several windows were cracked and two exploded inwards, showering glass over us. The city centre was unnaturally, eerily quiet, as if under curfew, and very tense. Rome was not going to be the easiest place to celebrate. All the bars we tried were closed to us – except one. The owner of one small back street café bar was more than happy to welcome us, because, as he proudly proclaimed, he was a Juventus supporter, and as such a friend of anyone who defeated the detested Roma. You can only speculate how much his feelings towards us had changed twelve months later.
The game itself? 1-1, Phil Neal putting Liverpool ahead, Pruzzo equalising just before half-time, extra time, penalties, Brucie's wobbly legs, Alan Kennedy's winner after we'd gone 1-0 down in the shoot-out when Steve Nicol missed the first one. It took plenty of what Alan Hansen would call 'grit and detairmination' for Liverpool not to buckle in that seething bear-pit of a stadium that night.
The League Cup
Our League Cup journey was noteworthy for just how protracted it was. In those days it wasn't just the semi-final that was played over two legs but, for some reason, the 2nd Round where all the top clubs entered.
Having despatched Brentford 4-1 and 4-0 in that round, it was back to West London to Craven Cottage for a 1-1 with Fulham. It was the same score in the Anfield replay, so guess what – another replay, back at Craven Cottage where we finally prevailed 1-0. What would Joe Pepper or Matthew Young have made of all that?!
There was another replay in the 4th Round against Birmingham City, winning 3-0 at Anfield after a 1-1 draw at Birmingham. It happened yet again in the next Round, 2-2 at Sheffield Wednesday before another 3-0 Anfield conclusion.
Liverpool got the semi-final draw they wanted – but if lower league Walsall seemed like a passport to the final, the West Midlands outfit had other ideas. They came away from the first leg at Anfield with an unlikely 2-2 draw. But Liverpool beat The Saddlers 2-0 at Fellows Park in the 2nd leg to reach their fourth successive League Cup Final – and the first ever Merseyside derby at Wembley. There would be two more within the next five years. After a goalless draw at Wembley, Graeme Souness' goal at Maine Road in the replay secured Fagan's first trophy.
The one that got away – the FA Cup
After a 4-0 home win over Newcastle in Round 3, Liverpool exited in the next round, 0-2 at Brighton.
The squad:
Grobbelaar Neal Nicol Alan Kennedy Phil Thompson Hansen Lawrenson Gillespie Beglin
Wark Whelan Souness Lee Johnston
Rush Dalglish Hodgson Robinson
Stats
Liverpool played 67 games in all competitions including the Charity Shield, with nine in the European Cup and 13 in the League Cup, winning 22, drawing 14 and losing six league games.
Four players – Grobbelaar Lee Kennedy and Hansen – played all 67, with Lawrenson only missing one, Rush two and Neal three. Souness also played over 60 games.
Average league attendance at home was just 32,021 – football was not the popular currency in the 1980s that it has been since the Premier League and Sky learned how to hype it.
Fagan's team scored 118 goals, 73 of them in the league, almost unbelievably nearly 40% of them by one pencil-moustachioed Welshman, who scored 47 goals (five fewer than Suarez and Sturridge combined last season, which gives some idea of the scale of Rush's goalscoring), 32 of them in the league. Only Kenny Dalglish and Graeme Souness also reached double figures with 12 each.
The following season produced no trophies but yet another European Cup Final, the club's fifth in nine seasons. It would be the game that finished Joe Fagan's reign as he resigned in tears following Heysel. Enter Kenny Dalglish as player-manager …
With thanks to www.lfchistory.net as ever for being an invaluable source of information.