By Mihail Vladimirov. 
Summary:
This match revolved around Spurs' 5 v 4 overload in the middle, coupled with the fascinating 1 v 1 duels on the flanks. 

With Kane dropping deep, it created a difficult situation for the Reds' back three; they had Dembele, Eriksen, Lamela (plus Kane) creating overloads and dragging the defensive unit all over the place. Added to this Mason pushing forward, and the lack of a natural holding midfielder, and it was clear why Liverpool struggled to cope with Tottenham's attacking threat.
Due to Spurs' dominance, Liverpool adapted and played on the counter-attack, successfully using their wing-backs (especially Ibe) with Markovic often moving across, helping cause overloads, and link the play.
The second half started how the first half ended, with the home team enjoying possession, but unable to create anything from it because Spurs sat deeper and the Reds had no-one or space to target behind the away team's defensive line.
Spurs were happy to sit deeper in the last twenty minutes, either looking to hit on the break or keep the ball in their own half.
With Lucas and Sterling out, it was interesting Rodgers opted to play Gerrard for a third time in six days and give Sturridge his first start since the end of August. Allen remained on the bench, while Borini was once again out of the match squad. Liverpool continued with their 3-4-2-1 shape with Ibe remaining at wing-back and Markovic in the front three.
For Spurs Pochettino didn't have any injury concerns. This and the good form of his team meant Spurs unsurprisingly went unchanged for this game.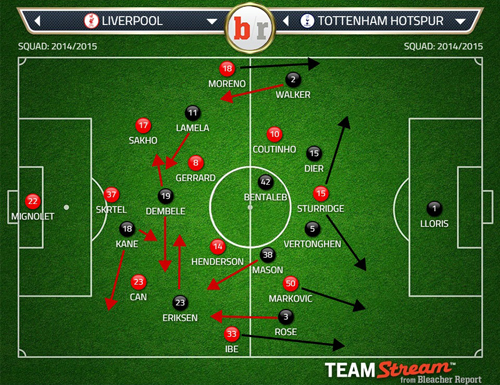 This was a hugely enjoyable game between two similarly attack-minded teams who often struggle defensively, both tactically and due to cheap individual errors. The game saw at times some superb attacking football, but poor defending, sloppy touches and wayward passes were another major feature throughout the game (which further contributed to the good attacking play and creation of goal-scoring chances). As a whole, the game could be summarised in the following simple way: neither team defended well while both had their diverse attacking strategies working fine.
Tactically the clash was all about Spurs dominating 5-v-4 in the midfield zone while out wide it was the superbly exciting 1-v-1 duels between extremely pacey and tricky players constantly battling each other up and down the pitch. At one end Liverpool's 3-v-1 supremacy at the back helped them partially limit the damage caused by Spurs midfield overload, while at the other end Sturridge was largely handled well by Vertonghen and Dier (bar the moments they themselves put him through on goal with poor backpasses).
Spurs' 5-v-4 overload
As soon as the lines-up were announced it was easy to foresee the visitors would enjoy a numerical advantage in the midfield zone and especially between Liverpool's lines. This was because of Eriksen and Lamela expected to drift infield from their wide starting positions and, helped by Dembele, create a 3-v-2 advantage against Gerrard and Henderson. That particular numerical supremacy was the base of Spurs' main tactical advantage and the source of everything good they created in attack.
The rest of this post is for subscribers only. 
[ttt-subscribe-article]