By Mihail Vladimirov.
SUMMARY
Markovic and Allen replaced Gerrard and Ibe
Palace set up reactively, just as Newcastle did under Pardew when Liverpool played there
Ward and Ledley stayed deep and close to each other rather than staying tight on Coutinho and Lallana
Chamakh and Campbell got back and close to the midfield quartet whenever Palace were out of possession
As a result, Liverpool had plenty of the ball in the opening quarter but no space in advanced areas
Palace's approach was largely predictable, except Chamakh staying tight on Allen
Pardew's idea backfired on his side
Liverpool reacted impressively to Allen being man-marked
Liverpool channelled their play towards the right-hand side, where the free space and unoccupied players were
This suited Can and Henderson
Allen pushed further forward where Chamakh did not follow him
Liverpool had plenty of deep runners and better attacking fluidity
Emre Can was playing more like an extra midfielder than a third centre-back
Henderson had space in midfield to do a proper box-to-box job
At half-time both managers made a substitution
Replacing Chamakh with Puncheon and changing to a 4-1-2-3 (4-1-4-1 out of possession) was a smart move by Pardew
Rodgers not only replaced Markovic with Balotelli but also make a wholesale change to his side, from 3-4-2-1 to more of a 3-1-4-2
Liverpool's half-time changes initially blunted their attacking fluidity
Liverpool's two goals came in the period when they looked less dangerous going forward than after going a goal down in the first half
Even after two more subs, Palace continued in passive mode, lacking intensity and urgency
Liverpool spent the rest of the game taking the sting out of it with their calm and assured ball retention
For this game both managers had some injury worries. But whereas Rodgers had the strength in depth to ensure there was not too great a drop off in quality, Pardew was hit hard by the absence of his two most reliable midfield players, Jedinak and McArthur. Fortunately for Palace though, their most mobile centre-back – Dann – and Ledley – their third most important midfielder – were passed fit to start.
As such Pardew expectedly started with Ward as one of his central midfielders and played a very reactive 4-4-2 formation instead of going for a three-man midfield shape or a more adventurous style of play.
On the other side, Rodgers made only a couple of changes and played with a full-strength team – Allen came in for the injured Gerrard while Markovic started instead of the cup-tied Ibe on the right flank.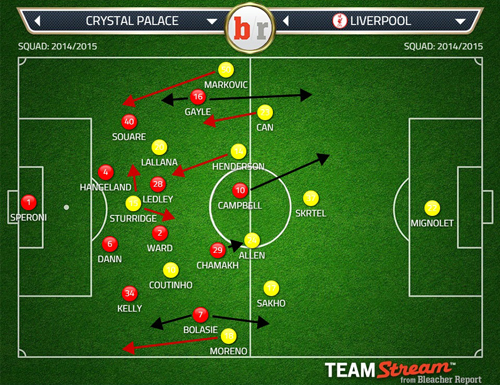 Palace's Newcastle-like approach
The way Pardew approached this game was identical to the one he used in his last game against Liverpool as Newcastle manager. Interestingly, back then Rodgers for the first time used the current 3-4-2-1 shape, even if the way it was supposed to function and the personnel executing it were completely different to its current incarnation. As such it wasn't a major surprise that Pardew opted for the same strategy as at the start of November.
The rest of this analysis is for Subscribers only.
[ttt-subscribe-article]